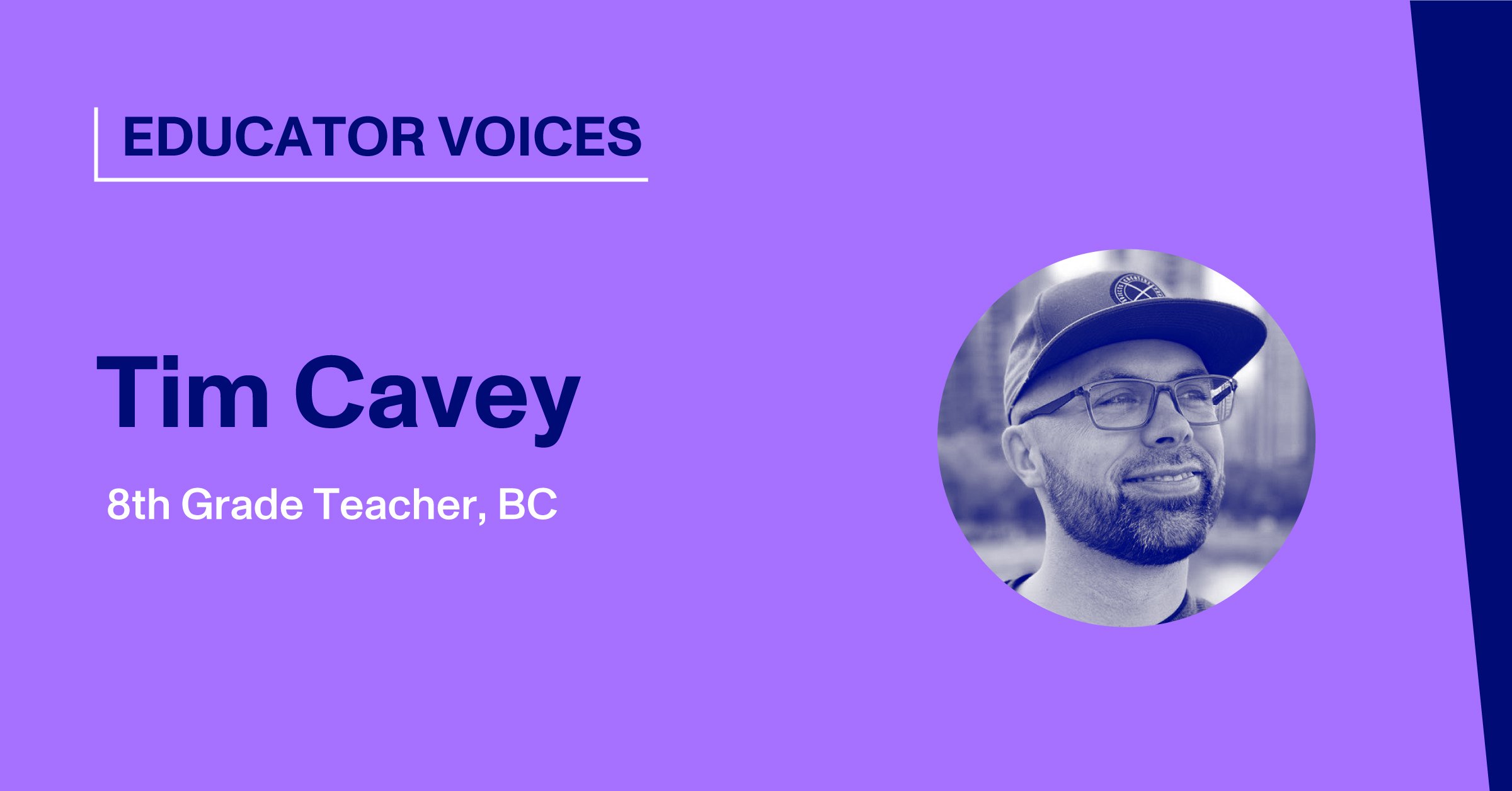 "Teacher on Fire" Tim Cavey on Maintaining Community & Continuity
April 7, 2020
Tim Cavey is an 8th-grade educator teaching at a private school in Surrey, BC, Canada. He is currently in his 18th year of education and pursuing a Master's of Educational Leadership degree.
He started his Teachers on Fire podcast in 2018, where he profiles agents of growth and transformation in K-12 education. Each week, he chats with an inspiring educator about their highs and lows, passions and goals, and the voices and influences that are shaping their thinking and inspiring their practice.
The Paper team (virtually) sat down with Tim Cavey to ask for his take on school closures. He offered words of wisdom for educators and some tips on adapting to remote teaching.
Tim's take on #quarantinelife
When we spoke to Tim in late March, he had recently asked educators on Twitter to share one thing they have learned about the #quarantinelife so far. When we flipped the question on him, it was easy to resonate with him:
"One of the tricky things is that with the quarantine life, the boundary between home life and work life is gone, and my wife and I found ourselves working until 8 pm yesterday, and we were like, 'what are we doing?'"
There's something about leaving the school as a teacher that helps you move into a different mindset, and with the quarantine life, it's going to be a bit of a challenge to draw that line.
Speaking further on maintaining the work-life boundary, Tim explained how he even keeps his phone out of the bedroom at night to avoid social media deep dives and connecting with other educators. The home environment also poses a challenge of staying focused on tasks.
"Because we're all stuck at home, and we're all looking at screens right now, constant messages are coming in from Slack, Twitter, Facebook, Zoom." To stay productive, he recommends closing all the different channels from time to time when you need to focus on your work.
How Tim's school in Surrey, BC is adapting
Tim's school started remote learning on March 30, 2020. On that day, he began conducting morning online check-ins with his students at 9:00 am every school day. These take place on Google Meet, and his students can join by email or Google Classroom. He believes this practice is essential to maintain a sense of community and continuity in their learning. He recognizes that his students may sense a loss of these, so he's hoping to encourage interaction and collaboration through applications such as Seesaw and Flipgrid.
Schools also have to adapt to different families' schedules during this time, so his school will be putting aside their daily bell schedule. "Some students are babysitting their younger siblings; they have other responsibilities. There will only be a few activities each day, and students will do them as they have time to do them," Tim explained.
His advice to teachers
Given the high stress and anxiety that the education community is feeling, Tim believes that now is the time to communicate and share as much as possible and resist possible disconnection from one another. "This is the time to plug into your professional learning network. I would still say the majority of teachers don't really understand the community of support on Twitter, for example, or increasingly on Facebook groups, blogs, and podcasts. There is so much you can access."
Lastly, he recommends being patient with ourselves and advises against comparing ourselves to others. "As soon as we start comparing ourselves to 'rockstar teachers,' or teachers on our own staff who are doing amazing things, we can start to feel down on ourselves."
It really is about just having a growth mindset and saying to yourself: 'I'm just going to learn one thing a day. I'm just going to figure one thing out a day.'
"It might be clumsy for a while, but as long as teachers are on that journey of improvement, then things will only get better."
Tim's advice draws on the importance of a growth mindset during times of immense pressure. Huge changes won't be made overnight, and it will require all the stakeholders in education to do their part in helping teachers adapt.
More from Tim Cavey
To hear more of Tim's tips and experiences, follow him on Twitter. Be sure to also check out the Teachers on Fire podcast and magazine. You can also follow the podcast on Instagram, Facebook, and Twitter.