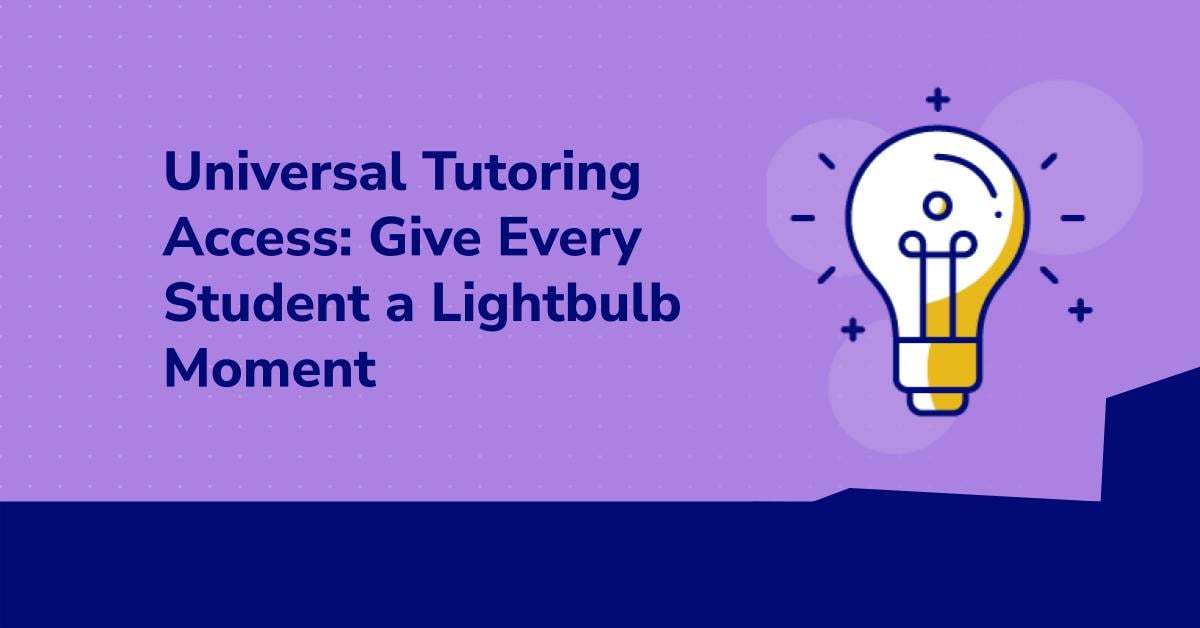 5 Reasons To Provide Universal Tutoring Access Across Your District
February 10, 2022
How do you decide which students don't get to join your tutoring program?

Admittedly, it's a bit of a provocative question, but the framing here is important.

Some schools may think of tutoring programs as a targeted intervention intended to support only the students who are struggling most.

It's a well-intended approach, but it overlooks something important: Nothing great is accomplished without working hard. As such, all students struggle from time to time—that's just an indication they're pushing themselves to learn more, whether that means putting in some extra practice on the essentials or pursuing an enrichment activity.

Though it can seem financially daunting, there are some cost-effective ways to roll out a district-wide tutoring program that's open to all learners. Here's why it can be worth it.
1. Universal access aligns with equity goals
Some students have access to tutoring help outside of the classroom, but others don't. Even free after-school programs sometimes aren't a good fit for students who need to work in the evenings or help care for family members. How do you make sure tutoring is within reach for all learners who need—or want—it? You give it to everybody.

According to a case study from the Val Verde Unified School District, when schools started using Paper's 1:1, 24/7 tutoring platform, students from low-income households accounted for 78% of sessions in the first two months.
2. Supporting all students means tutoring is available for learners at every level of academic performance

Students and families recognize the importance of providing additional assistance for learners who need a boost. At the same time, if tutoring programs are too restricted, some community members may feel like individuals who are meeting or exceeding standards are getting left out. Universal access means everybody gets to share in the rewards.

When all students stand to gain from a tutoring program, nobody can be singled out for participating in this beneficial academic initiative. A higher level of inclusion reduces the potential that students who participate in a tutoring program will be stigmatized. The same thinking has influenced a recent bill in Colorado that would provide free meals for all students.

By offering universal access to a tutoring program, districts can send a clear message: The opportunity to ask for extra help isn't a punishment or something that students should try to outgrow. They're also saying that the district is committed to helping all students—including those who are already meeting expectations in their classes—to reach their full potential too. Building positive associations with such a program can help schools further cultivate a passion for lifelong learning among the student population.
3. Readily available tutoring can assist students with diverse needs

Universal programs provide assistance for students across the board. While some learners may benefit from one-on-one support for accelerated learning, others can seek out enrichment opportunities to grow further in areas where they already excel.

Students may also find that some subjects are easy for them while others are hard. With flexible programs that offer assistance in all subject areas, these individuals can ask for help as they complete difficult material while also using the same platform to seek out new challenges related to their strengths.
4. Higher usage means more data
Larger data sets empower more strategic decision-making for teachers and administrators. When students buy in across the district, educators and school leaders may be able to harness the information generated in a tutoring program to help inform where additional instructional supports and further guidance are needed.
5. Tutoring interactions can complement your integrated approach to social and emotional wellness

Promoting student well-being has long been a leading priority for schools and districts, and the additional strain of the pandemic has made these initiatives absolutely vital today. Back-to-school guidelines from the Centers for Disease Control and Prevention (CDC) underscore the importance of working hard to balance interventions intended for addressing lost instructional time with proactive plans for ensuring student—and teacher—mental health.

Effectively implemented universal tutoring programs can back up these efforts. By taking some of the instructional burden off of teachers, outside tutoring programs can help elevate the well-being of staff members, allowing them to be more fully present for students. Teachers who feel supported can devise new avenues for ensuring connectedness within the classroom.

In addition, 1:1 tutoring interactions—completed in a friendly, judgment-free environment—give students further opportunities to build confidence in their own abilities. Tutors may also be able to flag potential issues if their students exhibit concerning speech or behavior during a session, allowing schools to intervene early.
Making it happen
With the right tools in place, it's possible to implement an effective universal tutoring program in your district for a fixed, manageable cost per student.

If you're interested in exploring funding opportunities that would allow you to turn this vision into a reality, check out our ebook for information about how to navigate federal funding.