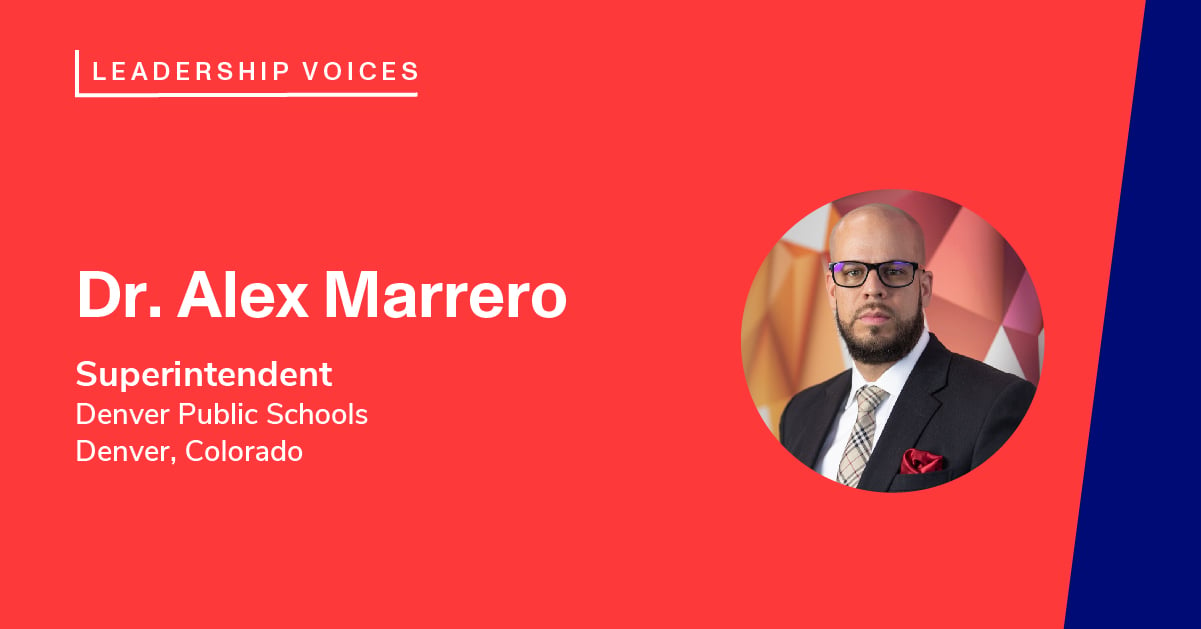 5 questions with Denver Public Schools Superintendent Dr. Alex Marrero
November 8, 2022
Originally hailing from New York City, Superintendent Dr. Alex Marrero is just over a year into his tenure at Denver Public Schools (DPS)—and he says he's ready to do the work of ensuring equitable access to educational opportunities to all DPS students.
Marrero landed in Colorado after assuming leadership positions in New Rochelle and other New York state school systems. Following what he described as an intensive listening and learning tour, the administrator began executing a multipronged approach to tackling key priorities for the district, including renewed efforts to focus on educational equity, pursue positive academic outcomes, and support teachers.
In an interview that has been edited here for length and clarity, Marrero expounded on some of his key goals for Denver schools and how he plans to achieve them.
As someone coming in from the outside, what do you think makes Denver Public Schools unique?
What I see as the beauty of Denver Public Schools is that we have a true portfolio of offerings for every scholar. We call it a family of schools. So, if you know that you want to go to college, we have myriad ways for you to get there. At the same time, there are some schools that are doing an incredible job when it comes to work-based learning, apprenticeships and going straight into a successful career.
If I can add a second thing, it's that Denver Public Schools really has equity embedded in its work. I inherited a system that has a Black Excellence Resolution influencing students in terms of curriculum, exposure, and shifting mindsets. We also have a consent decree related to multilingual education. That's how you hold the superintendent and the district accountable.
What are some of your key priorities for the immediate future and over the long term, and how are you pursuing them?
First of all, for our immediate goals, we believe in making sure that our adults are taken care of. I have a very basic saying that I'm going to keep stressing: Teaching leads to learning.
We want safe and welcoming environments at all levels here. So we've been making sure that everyone has at least one person they feel intimately connected with. We're not taking that lightly—especially as we're recovering from the pandemic.
Second, I'm focusing on grade-level texts and tasks. We've regressed. We're no different than many districts, if not all districts, across the nation. Grade-level texts and tasks are two very simple things that my entire ecosystem can get behind—all 200-plus schools.
Now, in terms of where we're headed, this is where the work gets really, really exciting. There are three areas on our road map that will reshape the DPS experience so every learner thrives.
For the student experience, we will create environments, pathways and opportunities that expand learning experiences for youngsters so they can flourish and be ready for the post-pandemic world.
In terms of the adult experience, DPS staff members will intentionally collaborate across schools with those who know our students best, including their families.
And as far as the system experience goes, we're building equitable systems and partnerships that break historical patterns of injustice.
What kinds of resources are being leveraged within the district—or outside of it—to achieve these goals?
Whenever possible, we engage with our partners to make sure that we can expand the learning experience for our youngsters. In particular, we're using an accelerated trajectory to prioritize support for our marginalized students.
As I mentioned, we're also fostering opportunities for collaboration. When I came on board, I would see School A do something very well. Then, maybe a couple of blocks away, I would visit leaders at School B. I'd notice that if they implemented what School A was doing, it would help them address some of the challenges they were facing.
Additionally, we're focused on recruiting and retaining a high-quality workforce, and we prioritize diversity. For example, we were in Puerto Rico a couple of weeks ago for recruiting.
I believe in being a community-led, district-supported system, so we engage with our families and our communities. They'll tell me if we're headed in the right direction. That's the best accountability that a superintendent can have, when the community says, "Keep it up!"
What is DPS doing to promote college and career readiness?
Once upon a time, I was a college adviser, so this is in my wheelhouse. Here at DPS, our goal is to get our learners on track to graduate and to be ready for careers, college and life. Students here have access to rigorous coursework, work-based learning, and career tech programs that are aligned with the labor market and high-demand industries. I think this is an area many districts need to focus on. Participating in an apprenticeship and graduating with more than just a high school diploma is going to become the norm soon.
High-demand industries in Denver range from technology—including cybersecurity—to health-related industries and engineering. These are the areas where we're looking to build partnerships. Our pathways include work-based learning opportunities, career and technical education (CTE) coursework, concurrent enrollment, and AP and International Baccalaureate courses.
We do something unique here in Colorado called Individual Career and Academic Plan. It starts in middle school to support the exploration of career opportunities and planning for secondary and postsecondary learning. It's tailor-made to be student-first and student-centered.
[READ: "CTE in education: 3 ways to improve career pathways for students"]
Is there anything else you'd like to share that we haven't already covered?
As educators, our core function is education. No one should ever dispute that. But here at DPS, our mission is equity. And as a community, we have a collective responsibility: educational equity. If we're all aligned on that, then although we may have a lot of bumps—because this is not easy work—no one will ever feel misguided or jaded in terms of our "why."
But I also know that we can't do it alone. Not to be cliche, but the whole notion that "it takes a village" couldn't be more appropriate as we recover from the pandemic. The village is the community, of course, but even beyond that, I acknowledge we need support. So my hands are open to anybody who wants to help us on this journey.