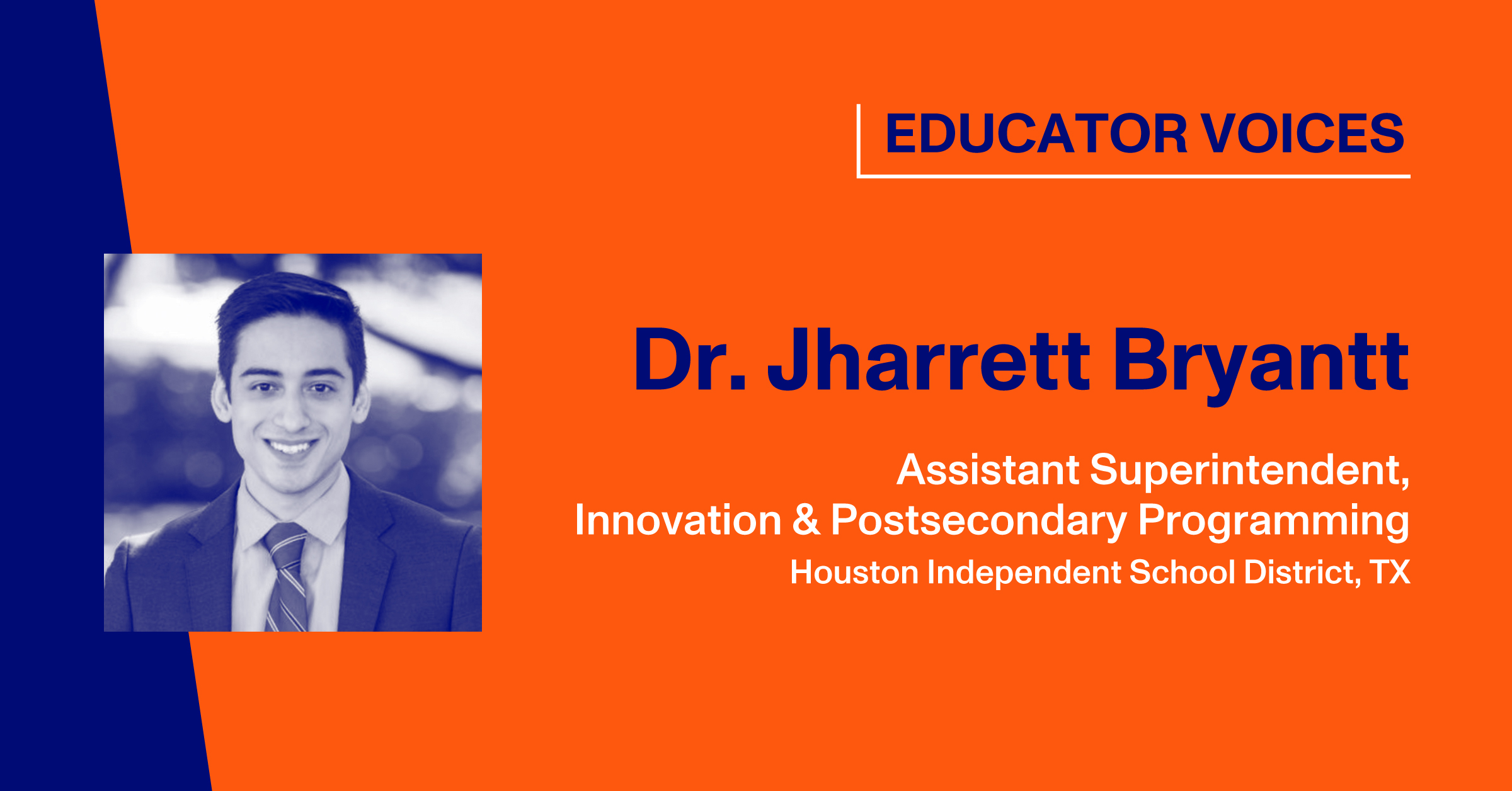 7 Questions with Dr. Jharrett Bryant
September 4, 2020
Dr. Jharrett Bryantt is the Assistant Superintendent of Innovation and Postsecondary Programming at Houston ISD, the largest public school system in Texas and the seventh-largest in the United States.
He was named as one of Forbes 30 under 30 in education in 2019. Dr. Bryantt is passionate about closing the college access gap; he works on increasing the number of high-achieving, low-income students enrolling into four-year colleges and has co-authored over $22.5 million in grants.
In this interview, edited for length and clarity, Dr. Bryantt gave his perspective on what postsecondary success looks like in a post-COVID world.
1. HISD is beginning the school year on September 8, with virtual instruction occurring through October 16. How do you think distance learning this year will be different from spring?
This past spring was very eye-opening in that yes, schools provide education for children, but they also provide those socioemotional supports that students need to thrive. Even before this pandemic, in Houston, we invested a ton into socioemotional learning into services that meet students' non-academic needs. The pandemic made us double down on that huge investment, and now we're looking at the fall. I think one thing that's going to shift is that yes, we need to engage, but we also need to keep our eyes on the quality of instruction. It's no secret that, in Texas, schools will still be assessed and held accountable for academic performance, and we can't forget that. In Houston, we have hundreds of schools and hundreds of thousands of students. We need to ensure that all students are caught up to speed because we don't want the pandemic to negatively impact their pathway to post-secondary options, especially for our seniors.
2. How is your district preparing the incoming class of 2021 for timely graduation and post-graduation success?
Something that Houston ISD has done is double down on making sure students are college and career-ready. We've done a lot for that prior to the pandemic. I think that the pandemic has just made us realize how vital the pathways to postsecondary success are. We don't know if students don't pursue these credentials, what options they have to provide for their families or themselves. If anything, it just underscores this sense of urgency.

For seniors specifically, we have to advocate for many things that we didn't think we had to advocate for until it came up. Even in the spring, just making sure that students' transcripts are understandable to colleges was really important; understanding and communicating a grading policy that's understandable not only to colleges but is aligned with what's going on regionally. Moving into the fall, it's something that we're still thinking about a lot. What are GPAs going to look like? How do we combat the fact that we may or may not be able to offer the same number of courses that we have?
[READ: How this Texas High School is Supporting its Students in Preparing for College]
3. How was standardized testing affected this past spring? What challenges are you anticipating this year?
We have thousands of students in community college taking college coursework, but students need to have a particular standardized test score even to take those dual-credit courses as a high school student. So the problem is that students couldn't take those assessments the past spring. Now according to how we did things in the past, they're not eligible to get their associates degrees or even take college-level courses while they're in high school that would've allowed them to enter community college with less debt or no debt. So we're advocating to change those things and get rid of those requirements. I think people are realizing that a lot of those restrictions weren't even necessary in the first place. I'm very passionate about getting rid of these requirements to take college-level coursework.
One of the things I am concerned about is that most districts can't commit to hosting an SAT anytime soon. Many of our students will not have the same access to these entry points into higher education. The other upsetting thing is that for people of means, they still do. There are ways to take these tests, and that's the thing that I always keep in the back of my mind. I know that at the end of the day, the students that really need to take that exam to apply to Stanford will take that exam, but I need to advocate for the over 10,000 seniors in HISD that may not have the same pathways to take those assessments. Even if you wanted to pursue a career certificate, there are assessments that you need to take. So this isn't even just about students applying to a four-year college program; this is really for all students.
4. What role do you see technology solutions playing in leveling the playing field and delivering equity to your students?
Watch Dr. Bryantt discuss leveling the playing field through technology below:
5. What are some of HISD's initiatives for college and career readiness?
When I first started at HISD, there were almost 30 high schools that didn't have a dedicated college counselor at all. Some schools had a counselor-student ratio of one to thousands of students. Over the next five years, we raised over 20 million dollars from the philanthropic community. We also were able to get the Houston ISD trustees and Senior Administration to invest in ensuring that every high school has a dedicated college counselor, and some have multiple now.
We have a dedicated middle school counselor at the bulk of our middle schools now, and we're even doing a pilot where we have college counselors at the elementary school. We have 90% of our 7th and 8th graders who've thought about "what are all the different career options for me? What do I want to pursue?" and there's evidence to show that they know what it takes to get that credential even before they enter high school. We've also invested a lot of time and resources into partnering with data management entities to track what counselors are talking to students about, and how often.
A lot of people have been talking about interacting with students via text over the past couple of years. In Houston, we worked with Harvard University and a school in Pennsylvania on texting as it relates to summer melt probably close to 8 years ago—the data shows that when you text students certain information over the summer between their senior year and college, they are more likely to go to college.
6. How is your team at HISD approaching the issue of college enrolment?
I was very impressed that many students were enrolling in college during the pandemic. When I started at HISD, I was a college counselor for a program called Emerge, which finds our high-achieving students who are low income, and we get them to top colleges on full-ride scholarships. We've sent thousands of students to these colleges on full-rides, and we're now in six different school districts. The pandemic gave me a lot of anxiety because we pay for these students to go on college tours and fly up to the colleges to experience it after they get in, and for in-person SAT preparation.
All the things that a high-achieving low-income student would need to thrive were put in Jeopardy due to the pandemic. I had to think, "how is this going to impact a student's willingness to go to Harvard if they never visited? Will this impact our matriculation numbers?" because, of course, all this had to happen in the spring. It turns out that most of our Emerge students did end up matriculating to a top college. In fact, our numbers are probably better than they have been in a while. Part of that is because we weren't inventing everything from scratch. We didn't see a pandemic coming, but we did see the role that technology and data play.
7. Any other significant challenges related to college readiness that you've had to overcome during this time?
One of the biggest challenges that I've had to grapple with was how do I get students their advanced placement scores? Advanced placement postsecondary course work is something I'm very passionate about. Unfortunately, we had been helping these kids prepare for these tests all year long, and then March comes, and there was so much uncertainty. We had to cancel our school-day SAT, and AP exams were in flux. We pivoted right away; we had these virtual opportunities for students to study and for teachers to convene and hone their craft.
I mean, these kids were thrown a curveball. They were preparing for this exam all year long, and while the college board pivoted to virtual, they completely changed what the test looks like. It went from this long multiple-choice test with an essay at the end to two open-ended questions that the students had to answer in 35-minutes. That's really scary. We spent a lot of time investing in preparing for those tests, and they did well in the end, but we had to really work for that. We're all working ten times harder to get one time the output.