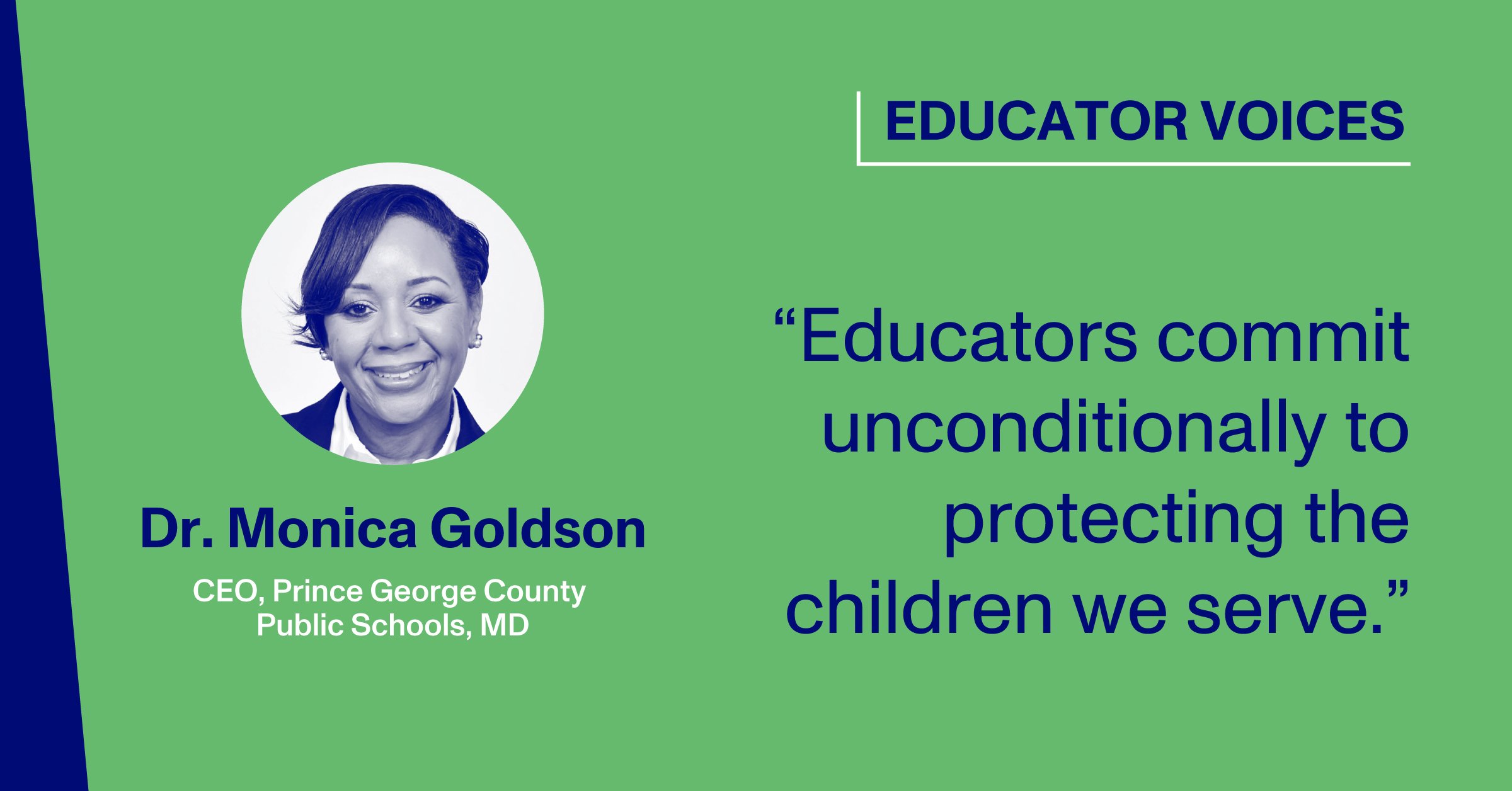 Dr. Monica Goldson on the Safe & Equitable Reopening of PGCPS
August 11, 2020
The strains and dilemmas that the last 6 months have put on district leaders are palpable.
We reached out to Dr. Monica Goldson, who runs one of America's largest school districts, to learn about the myriad considerations her team has been facing regarding the upcoming school year.
Being hailed by many as a leader in its region for its safety-first approach to reopening, Prince George County Public Schools (PGCPS) recently announced the rollout of a distance learning plan, for all grade levels, through the end of the second grading quarter in January.
"Educators commit unconditionally to protecting the children we serve. That commitment does not change with unforeseen circumstances or inconveniences, even during a global pandemic," stated Dr. Goldson in a recent tweet about distance learning this fall.
"Thanks for the opportunity to talk it through, because every time we talk it through, it allows us to know that the decision we made is the best for our students," she said as she shared her leadership team's decisions and experiences with PAPER.
I watch the COVID-19 numbers daily, so I do believe that the decision we've made is going to protect our community, but will still allow them to learn as best as they can at this time.
After the uniquely challenging spring and summer schooling, local communities are counting on districts to get remote learning right this time. As they prepare to do so, it's clear that educational leaders like Dr. Monica Goldson do not view any consideration too small.
New year, new approaches
There were a lot of lessons learned from spring's distance learning. For PGCPS, a big component of the planning for fall has been based on community feedback through surveys.
We learned that we need a balance between live and taped lessons. We found our elementary students really appreciated the live lessons. Our high school students thought they wanted taped lessons, and then they yearned for the social interaction piece in live lessons. So we will be balancing that.
The way that this will be achieved is by "leveling up" live sessions by training teachers to use breakout sessions within virtual classrooms, and how to use a variety of technology tools that foster interaction.
Another outcome of their team's diligent collection of community feedback has been to create "parent support centers" where parents can seek help in navigating technology and managing their child's learning at home.
In terms of instructional support for students, Dr. Goldson is teaming up with EdTech organizations, local library systems, and nonprofits to develop solutions for the looming learning losses.
"One of the areas that families were asking for assistance is in virtual tutoring, and other assistance after school hours," she explained.
[READ: How Val Verde Unified School District is Ensuring Equitable Instructional Support This Year]
The district is undoubtedly being thoughtful about overcoming the gaps in support that come with the distance learning model: PGCPS teachers will also be receiving extensive training and tools to meet students' needs.
When school resumes, students will have a full school day of online instruction, five days a week. Small group instruction and supplemental support services will be offered in-person for English Language Learners and students with special needs.
On a designated day every week, we will have small-group instruction that will allow the teacher and the paraprofessional to provide direct support that these groups of students need. And we will still offer speech and language support therapy for our special education students; our supplemental services will continue.
They are also taking a proactive role in the socioemotional wellbeing of students. "We realized that there's a socioemotional component that we have to address so we've also built in 30-minute lessons at the elementary level every day around providing socioemotional support. And at the secondary level it'll be immersed throughout the content areas."
Moreover, the district will be focusing on ensuring the holistic safety and wellbeing of high-needs students. Now that they have settled on the distance learning model, the designing of safety protocols must be adjusted accordingly.
The team is considering how to use technology "to monitor student usage on platforms and where they are going online, as well as monitor their wellbeing at home.
We are providing our teachers with tools to identify child abuse even virtually, telling them what to do if a child has been absent for several days. And we're really using our nonprofit partners to literally go to the home, to knock on the door, to locate those students. We're also training teachers to look out for anything that is potentially alarming in the writing and responses that a student has provided, that may require attention.
It has been Dr. Goldson's goal to get mental health providers in all their schools. "So we're grateful that in the fall we will have 80 mental health providers in our 206 schools. We'll be able to provide one-on-one or family therapy and support virtually and in small groups in-person if necessary."
The bottom line
There are no perfect approaches to reopening schools during this crisis. Though COVID-19 has been a particularly damaging blow to it, our education system has long been complex and imperfect.
As Dr. Goldson puts it, the responsibility of educational leaders remains the same regardless: To make sure that difficult decisions are driven by what is best for all students.
With respect to going with the distance learning model, "any decision that any superintendent makes right now is going to be difficult because it is all going to be different from the norm. But we've got to do what's best for our students and our staff."
[ALSO: The Fulton County Library System Launches Unlimited 24/7 Online Tutoring]