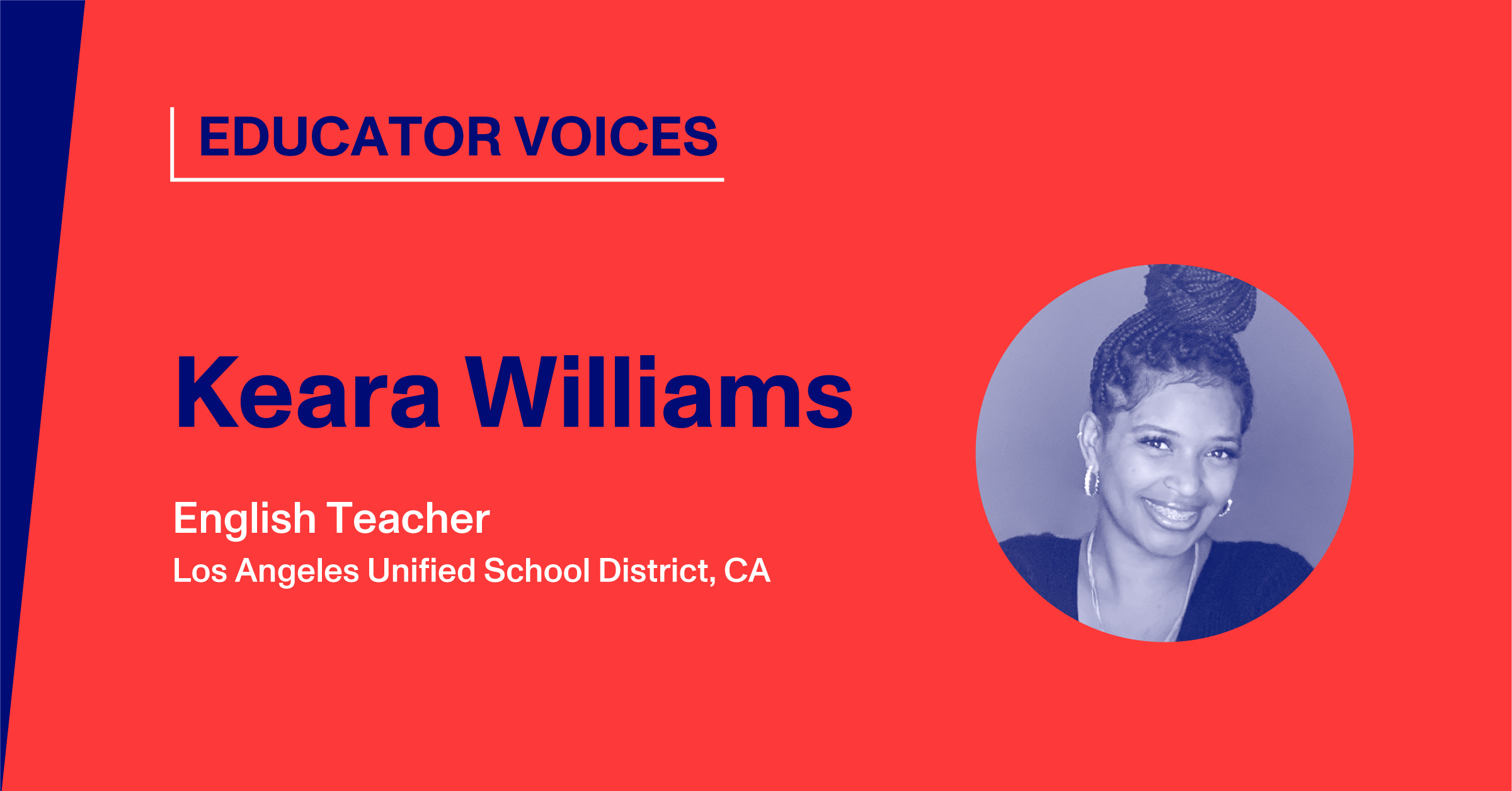 This LAUSD Teacher Worked Hard to Get Her Students to the Finish Line
May 26, 2020
In the shift to emergency distance learning, the issue of chronic absenteeism in the public education system has only been exacerbated by the disparate health, economic and socio-emotional impacts of the current pandemic. Thousands of "logged-out" students continue to be a concern, with teachers unable to hear from them, let alone collect their assignments.
Los Angeles Unified School District (LAUSD) announced that teachers connected with about 96% of high school students online in April, their first full month of distance learning. Encouraging, but this number left thousands of students still unaccounted for. Keara Williams is among hundreds of teachers across LA working to make connections with students, not just to facilitate online learning but also to ensure that they are safe and healthy.
In an LA Times article that gained Keara widespread media attention, the high school teacher stated that two-thirds of the juniors in her class had not responded to her messages about assignments since the early days of distance learning. This led Ms. Williams to take on the mission of finding her logged-out students. She spent weeks phoning students' homes relentlessly until she reached someone in the family, gauged their situation at home, and figured out a plan with them to make sure the student got the most out of online learning.
"A lot of numbers were disconnected," she mentioned to the LA Times. "A lot of Spanish speakers, so I had to pull in my grandmother, who is bilingual." On another call, she found herself bargaining with a student, asking him to finish a draft before he watched any more Netflix: "I can look at it and give you feedback. You can strengthen it, and then I can grade it." Before hanging up, she asked that he also reach out to his other classmates to make sure they finish their assignments.
The Paper team reached out to Keara Williams to hear more about her inspiring efforts, though she was quick to admit she's not the only teacher making them. Teachers like Keara are going to extraordinary lengths during this crisis to check in on their students during distance learning. They're leveraging their strong existing relationships with students to ensure they don't fall behind. Students of color and students from low-income homes, especially, need this—they need teachers who come from similar backgrounds to them to reach out and reassure them that they will get through this.
Keara's phone calls shed light on the inequities of distance learning: Many students were logged-out due to disadvantageous circumstances, such as a lack of internet. Since then, Keara told us that teams of teachers at her school have dropped off hotspots and laptops. Last month, their school had not heard from a significant number of high-needs students, and thankfully that number has since decreased.
Ms. Williams is trying to strike the right balance between being flexible and sympathetic while also making sure the work gets done. She has continued to call parents and students, checking in on their wellbeing, as well as urging them to keep up their learning. She has been accepting assignments on a rolling deadline basis: "Just get the work in; that's all that matters."
Before school closures, when a student of hers would be having a difficult day, Keara would have them sit next to her in the classroom, even if they mostly sat in silence. "Body language can be a way to hear a student's story, and it can make a difference." Nowadays, she can't physically see them, and she misses them immensely, as they surely miss her, and she realizes that students need a reminder that they have support, even from a distance.
"Students lost more than just a physical building; they lost a large chunk of their community. Finding ways to redefine that is crucial," Keara told the Paper team. "Before asking for assignments, just a simple 'how are you?' can go a long way." She even recommends having conversations that are not always centered on academics. "Students need to know that teachers have not forgotten about them." Keara teaches juniors and seniors, many of whom abruptly had to say goodbye to high school forever.
They have lost out on so many milestones that the rest of us hold so dearly in our memories. Many are asking if the work is even worth it. I've said, 'Yes, it's worth it, and you all are going to graduate!'
As we learned more about Ms. William's professional history, she mentioned that though she usually tells people she "stumbled onto teaching," her family has recently reminded her this isn't the case. "My aunt was telling me that it's always been in me. She said I was the big cousin who would play "School" when I was six. I used to assign worksheets and problems, and I would grade them, and I'd yell at my sister and my cousin when they wouldn't do it!" she laughed.
At LAUSD, Keara is also involved as a Black Student Union advisor and is part of her school's instructional leadership team. She has also received a Building Bridges Award from her school, which recognizes her for being skilled at creating and maintaining relationships with students and families in and out of the classroom.
As our conversation progressed, it became clear that even before her efforts during the pandemic started gaining media attention, Keara was already known as a compassionate teacher, committed to building relationships with her students: The kind of teacher who keeps a keen eye out for students who often need someone to advocate for their needs, or even give them a gentle push in the right direction.
Stories such as Keara's serve as a reminder that teachers across the country, who already went above and beyond for their students pre-COVID-19, are facing even greater demands from their students during online learning. As the pandemic aggravates socioeconomic inequities in our education system, it puts a strain on teachers, particularly teachers of color, who find themselves answering the call of providing academic and socio-emotional support to their most vulnerable students. It is critical that all teachers make sure they're expending their energy sustainably.
To avoid burning out, Keara has made it a point to spend time cooking and working on her Spanish during the week: "We should all find hobbies or talents right now." She also emphasized the need to set personal boundaries. "We have to take steps back from our work. I won't respond to emails after a certain hour, and I do not do work on the weekends." For Keara, this does not mean she cuts off contact with her students every Friday. Rather, she veers the communication away from students' essays and attendance to more casual conversation and check-ins.
"For me, talking to them about life falls into my 'me time" routine,'" she says—but she knows when to turn the switch on and off and advises that other teachers should set their own boundaries based on their own capacities and circumstances.