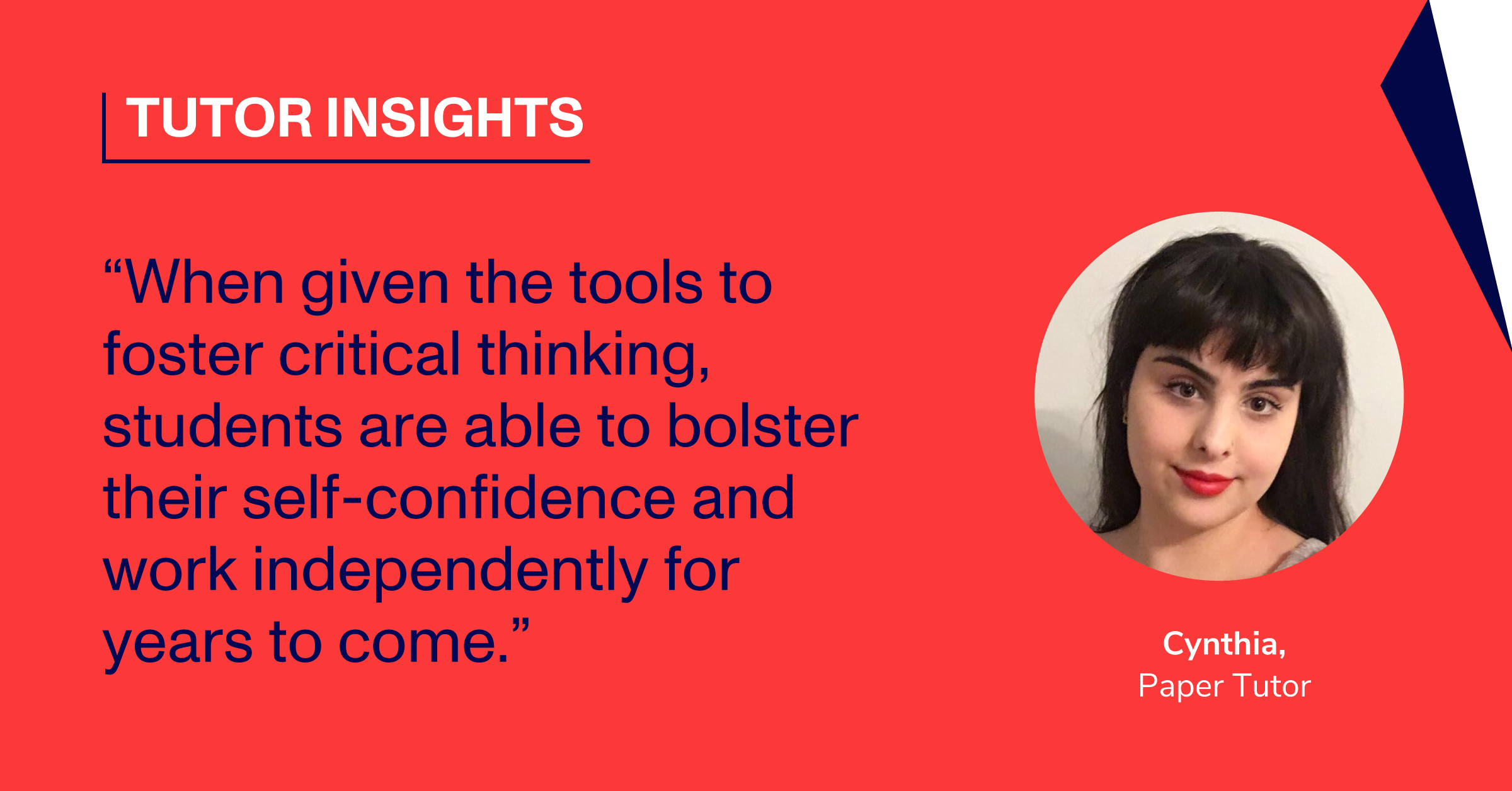 Helping Students Develop Lifelong Critical Thinking Skills
October 13, 2021
This post is part of a series written by Paper's tutors. This week, Cynthia describes how Paper tutors help foster critical thinking skills.
Helping students decrypt "abstract" topics in the classroom
In the context of the classroom, all school-aged children are exposed to new ideas regarding history, introspection, ethics, and literature. While these wonderful concepts help us to expand our horizons, many students are overwhelmed by the abstract nature of the humanities discipline. It may feel difficult or frustrating to examine documents from the past, which speak to us in voices we're unfamiliar with. Some students may express a general disinterest in flowery topics and difficulty in connecting the dots of human history.
That's where Paper's enthusiastic humanities tutors come in! Helping students understand historical documents by sharing study tips, and models of note-taking gets them excited to engage with humanities. Given the tools and support needed to foster critical thinking, students can bolster their self-confidence to work independently for years to come.
New challenges and new horizons
It's no secret Covid-19 has brought on a plethora of changes and challenges for students, parents, and teachers alike. Notoriously more introspective and independent-thinking-based topics such as philosophy, political science, history, and theology continue to seem daunting to students of all ages.
By fostering the creative skills required to make topical connections, tutors can help students become more effective learners, renewing their confidence both online and in class. Every student has the potential to be a history buff of sorts. Our job is to provide the necessary tools to have a solid foundation for critical thinking.
Both parents and teachers have been encouraged by seeing how Paper tutors can rekindle a sometimes-dwindling interest in social sciences.
"Hacking" the inquiry-based method to bolster understanding
So, how do we prepare students to engage with historical and political concepts? The inquiry or Socratic-based method Paper enshrines in its program has been a longtime helper to educators everywhere.
The inquiry-based method is the ultimate tool to encouraging students to reflect and recognize patterns. Picture this: you're unpacking a historical document with a student who has never heard of the political system of communism: This document directly references the Cold War, and the assignment asks students to unpack its contents and analyze them. There are large gaps in the student's knowledge, and they're quickly beginning to lose hope (and focus). In this scenario, the inquiry-based method requires tutors to establish what the student knows and doesn't know so far.
It's a great idea to ask students to consider examples, separate events in history (which they can draw connections from and are familiar with), and use their everyday knowledge to put historical documents and themes into their own words. We can turn a tutoring session around completely by giving them the freedom and encouragement to explore historical topics relative to their own lives—along with helpful tricks and resources for memorization and further research. Moreover, this gives students the tools and self-confidence they need to succeed long after they've left their Paper session. Our job is not only to help the student understand this specific homework but also to identify strategies for approaching future texts.
Perspectives on Student Success
As we have seen, building confidence, enthusiasm, and critical thinking skills are certainly a process. While some students may enter our classroom less-than-jazzed to grapple with abstract historical concepts, we will see them return again and again with renewed interest when exposed to the right approach. By focusing on building study skills that students can employ in the long term, we can help them succeed and continue examining the world around them.

Cynthia, Paper Tutor
Paper supports students and educators in school districts by providing unlimited 24/7 multilingual live help and essay review. Who are our tutors?