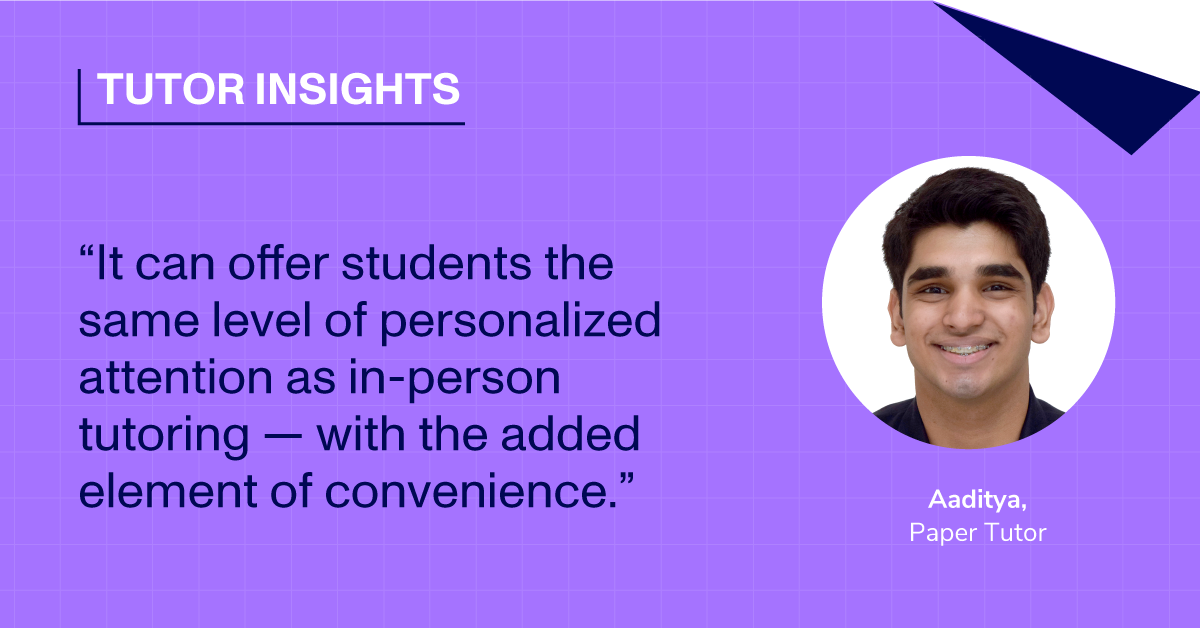 Why Students Gravitate Towards Online Tutoring
December 22, 2021
Paper tutor Aaditya shares his experiences as both a tutor and a student to explain why 24/7 online tutoring models are gaining prominence.
Limitations of in-person tutoring

Going through the International Baccalaureate (IB) program in high school, I personally had both a chemistry tutor and a math tutor. I would usually see them once a week for one to two hours, and we would cover topics covered in class and go over the problems that I didn't understand.
While both my tutors were amazing teachers and extremely helpful, the in-person tutoring delivery method was not the most convenient.
Often, I would have to prepare questions in advance, and due to the time constraint of my tutors only being able to work with me for a few hours, we didn't always have the time to cover topics fully in depth. The more pressing issue, however, was that my tutors were not always available to me. So, if I had any critical concepts that needed to be covered immediately, I would have to resort to google and try to understand the question on my own until I could see my tutors that week again.

Looking back, while my tutors gave me all the help I needed, I feel that an online tutoring delivery method may have helped even more.
What makes online tutoring different?

No time constraints.

Oftentimes, students don't know what questions to ask a tutor until they stumble onto a problem that they do not understand. Through traditional, in-person, tutoring methods a student would have to take note of that question and wait until the date of their tutoring session to ask about it. This can be a problem because if a student cannot understand a problem it can often be demoralizing. And if similar questions come up, they might not even want to attempt them until they can see a tutor.
It is in these situations that the advantages of online tutoring become apparent. Through an online tutoring delivery method, students are able to ask for help at any given time. As soon as they get stuck on a problem, they have the ability to connect with a tutor online and get the support they need to understand the problem. Furthermore, this help is available to students 24/7, whether at 2:00 pm or 1:00 am, whether for 5 minutes or 5 hours. This level of flexibility that online tutoring allows students to rest assured that learning is always within reach.

With online tutoring, students have complete control of when they want to learn and for how long. In high school, due to scheduling constraints, I could only have sessions on Saturday mornings. Sometimes I would be too tired to retain any information or pay attention to what I was being taught. With online tutoring, however, students are free to see a tutor whenever they are feeling the most productive. They can also easily return to notes and transcripts of previous sessions whenever they need.


No fear of judgment.


Furthermore, they have the option to leave the session at any time if they start to feel overwhelmed or tired. The option to take breaks during tutoring sessions is extremely valuable when learning. A good break can allow students to clear their minds and come back ready to learn at a higher level.

One of the underrated advantages of online tutoring is that I believe it makes it easier for students to communicate with their tutors and ask questions that they may not necessarily ask in-person tutors. Some students tend to be shy or embarrassed about asking certain questions, and the mask of being online may help them to be more open. Personally, I always struggled with asking my tutor all the questions I had out of fear of judgment. However, I feel that an online tutoring environment can help take out that fear so that students can ask any questions they might have.

As we move into an ever more digital age, I believe online tutoring can offer students the same level of personalized attention as in-person tutoring with the added element of convenience and comfort.

Aaditya, Paper Tutor
Paper supports students and educators in school districts by providing unlimited 24/7 multilingual live help and essay review.
Who are our tutors?