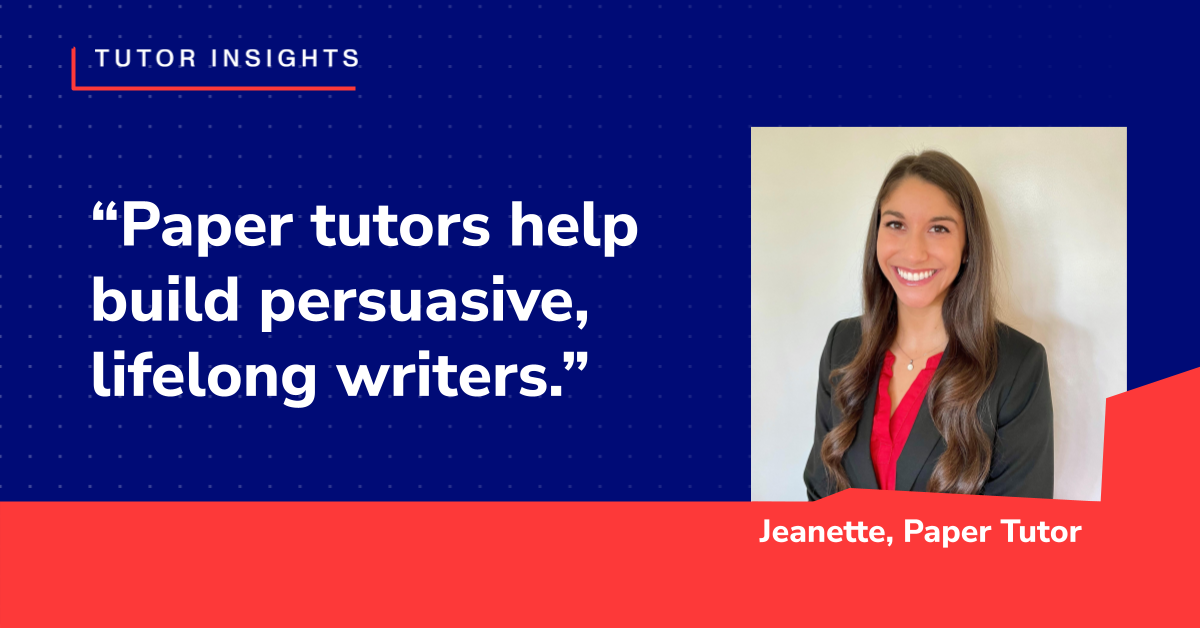 How Paper Tutors Prepare Students for Writing in Higher Education
February 11, 2022
Jeanette explores the distinctions between writing for secondary school and higher education, and she shares how Paper tutors help students bridge the gap.
Writing is all about transitions
The transition from secondary school to higher education can be daunting for many reasons. It is a time of incredible transformation. Young adults close one chapter of their lives and enter a new period of exciting experiences.

Amid all this, students will also transition to new learning modalities, including advanced research and writing. The first encounter with a lengthy research paper can often feel like an impossible task, even for the most seasoned writers. Luckily, Paper tutors can help ease that anxiety so students can transition to college-level writing with confidence!
Reinforcing the basics
No matter where a student is in their writing journey, Paper tutors are ready to help. Students who may be missing foundational writing skills can always rely on our services for guidance and support. Tutors regularly work with students to identify areas of growth.

This spans all the essential functions of writing, including crafting a strong introduction and conclusion paragraph, ensuring that all body paragraphs support the paper's topic, and checking for proper grammar, spelling, and punctuation. This way, students who need to refresh fundamental concepts before transitioning to college can confidently do so with Paper tutors.
Developing expertise
After ensuring that students have conquered the essential principles of writing, tutors work with
students on an essential cornerstone of their papers: writing concise, persuasive thesis statements.

Let's be honest—thesis statements can be tricky, especially in higher education. It can be easy to get lost in the subject matter of a paper or feel uncertain about the direction of an essay. Thus, tutors have developed questions that prompt students to think deeper about their argumentation, and they work diligently with students to craft compelling thesis statements. Tutors also provide support for developing skills and expertise that students can take with them to their subsequent writing assignments.
Shaping the structure
Once students have established the central pillars of their essays, tutors ensure that students have clear, identifiable structures. Secondary education often emphasizes the traditional five-paragraph essay format for most of a young writer's educational journey. Therefore, it can be challenging to write essays that utilize additional paragraphs to support the paper while still maintaining a logical flow of ideas.

To aid in the transition to writing for higher education, tutors help students format their ideas in a manner that is easy to follow. To help accomplish this, tutors identify areas where students can elaborate further on their ideas, provide more in-depth analysis, and—when necessary—conduct further research.
Giving credit where it's due
Proper citations are also essential in higher education. Neglecting to cite your sources accurately could result in a failing grade or even a trip to the dean's office to address plagiarism accusations.

If this is a concern for students, then fear not! Paper tutors help develop this crucial skill too. By identifying areas that require additional citations, tutors ensure that students avoid plagiarism and use precise citation formatting in their writing. In addition, tutors provide citation resources that students can reference for all future writing assignments.
Helping with the finishing touches
Once students have all the major components of an excellent essay in place, it's time for the finishing touches.

One significant way students can enhance their writing is by ensuring that their work is clear and concise. Professors will look for students to communicate efficiently, and Paper tutors look for the same. Writing concisely can take some practice, so tutors often identify one instance where writing can be more concise and encourage students to apply this skill throughout their writing.

Furthermore, a well-known secret to exceptional writing is the almighty power of revision. Many
students skip this essential step. However, simply by working with Paper tutors, students practice this skill, sometimes without even realizing it! Tutors provide valuable feedback that initiates the revision process, and they do so by utilizing an inquiry-based method, which prompts students to think about their revisions and make decisions about their writing with the guidance of an experienced tutor.
Building confidence and inspiring lifelong learning
Students transitioning to higher education can always rely on Paper writing tutors to practice and develop essential and advanced skills, regardless of where they are in their writing journeys. We understand that writing can be difficult or even intimidating because we've been there before ourselves.

But through compassionate guidance, Paper tutors help build persuasive, lifelong writers who feel confident utilizing their skills in higher education and beyond.

Jeanette, Paper Tutor
Paper supports students and educators in school districts by providing unlimited 24/7 multilingual live help and essay review.
Who are our tutors?