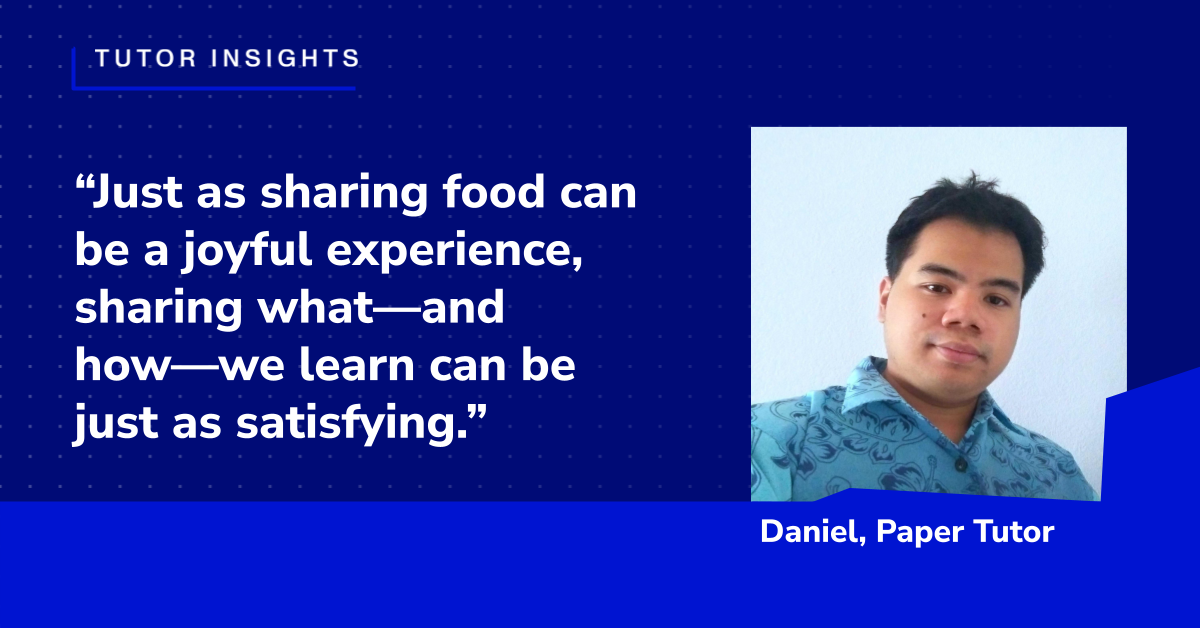 Learning from students: A palatable insight on instructional strategy
April 11, 2022
Daniel discusses how a student shared an ingenious technique for working through fractions. It had him thinking about how tutors can keep their eyes peeled for new insights—and it made him a little hungry too.
Food for thought
A few months after I started at Paper, I had an astounding tutoring session with a learner who was looking for help with fractions. Sometimes, the most amazing things can happen in simple, ordinary moments.
As we proceeded through the session, the student told me they needed help, specifically, with dividing fractions. Here at Paper, tutors rely heavily on the Socratic method, so I asked the student what techniques they usually use when dividing fractions.

That's when it happened.

They told me that their teacher taught them to use the "KFC" method. "Wow!" I thought to myself. "That sounds like a delicious lesson!"
As we discussed the strategy further, the student told me the term stood for:
Keep: The first fraction is kept as it is.
Flip: The student should flip the numerator and the denominator of the second fraction.
Change: Lastly, the division sign is changed into a multiplication sign.
Updating an old recipe
So what lesson did I get out of this new-to-me mnemonic?
Previously, whenever I explored this topic with my students, I noticed that it could be a difficult concept to grasp. I remember it also being challenging for my peers when I was first learning about it in school.

Math can be a difficult subject to comprehend. And as a tutor, it's important for me to remember that not everybody learns the same way.
Just as sharing food can be a joyful experience, sharing what—and how—we learn can be just as satisfying.
This amusing mnemonic has a nice ring to it, and I can tell it's got the perfect crunch for some of my students. With that, I'll definitely be adding it to the menu during future sessions.
Learning about this term also gave me a crucial reminder of one of the most enjoyable aspects of tutoring: We, as tutors, often get to learn from our students too.

Daniel, Paper Tutor
Paper supports students and educators in school districts by providing unlimited 24/7 multilingual live help and essay review.
Who are our tutors?