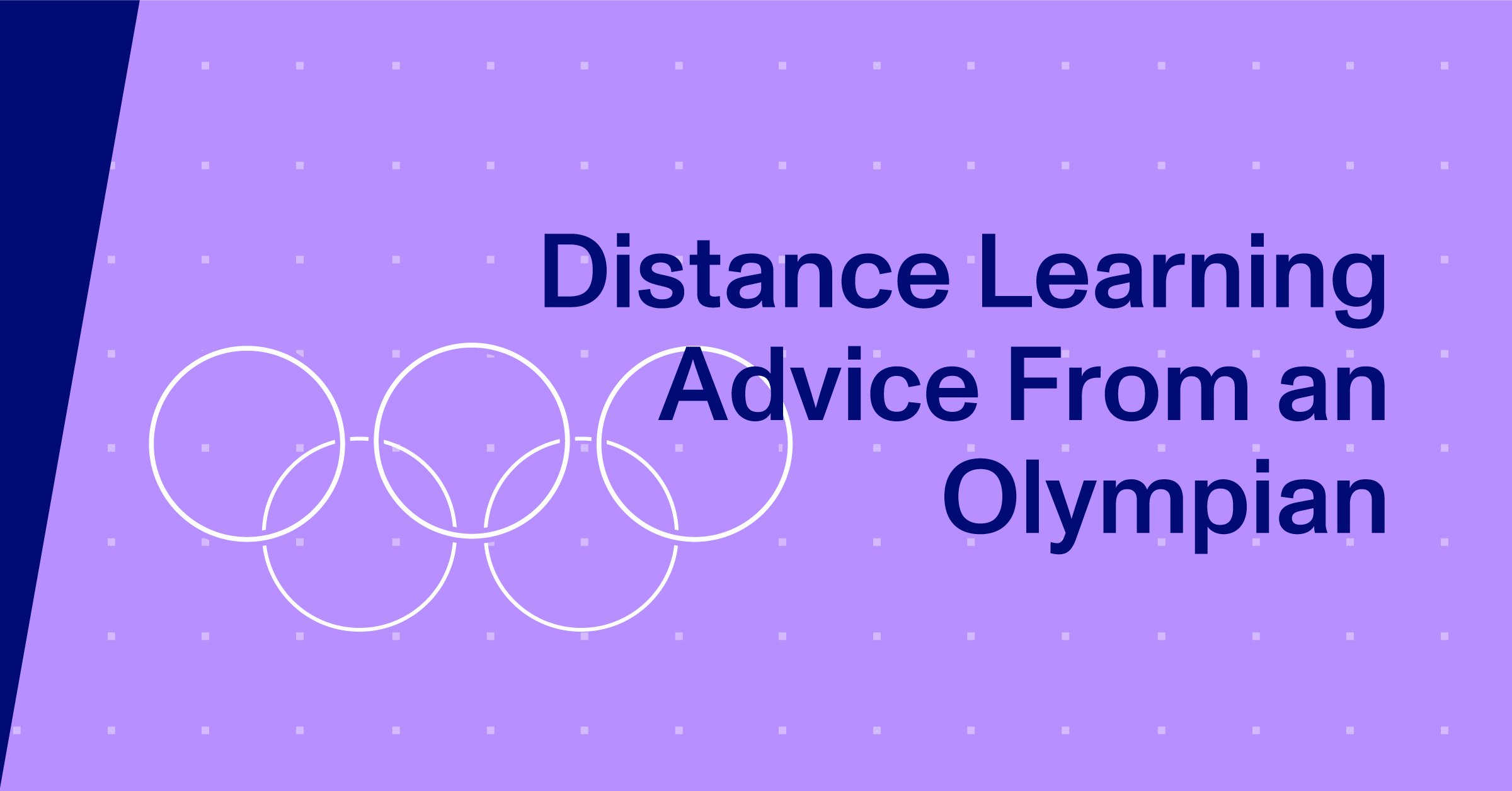 Olympian Jacqueline Simoneau on How to Be a Distance Learning Champion
April 20, 2020
Olympian and Paper learner Jacqueline Simoneau sheds light on what it takes for students to make the most of distance learning, and how Paper has helped in her academic and athletic pursuits.
Learning remotely is hard; really hard. This is the harsh reality that students and parents have had to accept. For an indefinite period of time, we're all going to have to find ways to learn and to work, and it's up to us as individuals and families to do this effectively.
Here at Paper, we thought it would be a great idea to ask someone who knows the ins and outs of setting an effective remote learning schedule. We didn't have to look very far to find Olympian Jacqueline Simoneau, who's been using Paper for many years and is a veritable champion of time management and remote learning.
Jacqueline Simoneau is a Canadian Olympic Team member for Artistic Swimming. She represented Canada in Rio and will be again representing us in Tokyo. A Montreal native, Jacqueline has been a lifelong student-athlete representing Canada on the international stage as an example of success and discipline. She's featured in the CBC Documentary "Perfect", which gives an inside scoop to the hardships of the Canadian Artistic Swimming Team in their attempt to qualify for the 2016 Summer Olympic games.
Jacqueline's education
Jacqueline graduated CEGEP in Health Sciences in December and she is currently waiting for the results of her university applications. We asked Jacqueline if she always knew she wanted to pursue school, and we were awestruck from her reply:
I know this is a little strange but since the age of five, which is quite young, I always had two goals, which is to go to the Olympics, become an Olympian, and go to medical school and become a doctor. Those have always been my two goals.
Jacqueline applied to medical school, dentistry, physiotherapy, occupational therapy, and neuroscience. In the meantime, she is taking an online class in neuroscience to see if she enjoys the subject.
A day in the life of a student-athlete
Jacqueline's days are looking different nowadays with the COVID-19 pandemic. When she trains in sports centers, she usually wakes up around 5:30 or 6:00 in the morning to be at the pool from 7:30 in the morning until about 7:00 in the evening. She trains 8 to 10 hours a day and during her lunch break is when she does her schoolwork, on top of seeing a physiotherapist and a massage therapist. She gets home around 7:30-8:00 in the evening makes dinner, studies, and does the same thing all over again the next day. Her one day off is on Sunday, and that's when she plans her week ahead.
Though her schedule may sound daunting to anyone, Jacqueline finds that during offseason, she finds balancing school and artistic swimming manageable. "It's not too bad because we do a lot of cross-training. It's just speed swimming, weightlifting, biking, running or whatnot. So it's not really requiring a lot of mental function. But in my sport of synchronized swimming or artistic swimming, as it's now called, you need to be mentally there and focused because you have thousands and thousands of counts of movements to remember and you constantly have to be alert and your brain's always on," she explained, adding:
"After a long day of actual training during your competition season it's quite exhausting because you have hundreds of corrections to remember and then you get home and then you have all your schoolwork to remember too, but it's also nice because it keeps your mind off of training."
Where Paper comes in
Any student with a schedule even half as busy as Jacqueline's would appreciate readily available academic support whenever it fits with their schedule. Jacqueline has been using Paper for many years thanks to our partnership with Game Plan, the Canadian Olympic Committee's program for athlete preparedness in life following their careers in competition.
"So all of my classes are essentially taught in class. There aren't any online versions offered and it's challenging trying to learn the material on your own. Sometimes I'm exhausted with the time change and I'm reading the chapter but sometimes I miss something that's really key in a chapter and then when I get to an assignment or something that's the key part that I needed."
So just having someone there via [Paper] just to remind me 'Oh, just make sure you look over this' and then some bells ring in my head like 'Oh, yeah, this is something I just looked over quickly because I was tired, but then it's good to remind myself of these things.'
When asked about her favourite feature on Paper, Jacqueline knew it right away to be the 24-hour essay review service:
Feedback from Paper came by so quickly. I would be in training camp and my essay would come back with feedback. I'd be able to modify it really quickly and send it out again for some more feedback. And that was honestly one of my favourite favourite things, I've used it so much.
Jacqueline's advice to young athletes
As an Olympic athlete, you train your entire life to perform on the world stage. These years of hard work, determination, and discipline come with lessons to be shared. She had two points to share with young student-athletes:
"One is to celebrate the small successes and then secondly it's to not be too hard on ourselves. I find as high-performance athletes, we tend to be perfectionists, and very critical of ourselves. And it's easy, you know to get a mark back from a test or an assignment and you're disappointed in yourself because you feel if you would have had more time if maybe you didn't train as much, you'd be able to do better but try not to be so hard on yourself. I think that was one of the hardest things while studying, especially for myself knowing that I could probably do so much better if I didn't dedicate 50-60 hours of my week to training but it's to be understanding of your schedule and to celebrate the small successes and the small improvements as you go along."
We hope that the insights and words of encouragement provided by Jacqueline are as helpful to you, as they have been for us. We've learned that remote learning needs to be flexible and accessible, by anyone, anywhere, at any time. At Paper, we're proud to be part of the modern-day learning solution by providing the resources to succeed. Whether you're in the books, or in the pool we're here rooting for you and can't wait to see you succeed.