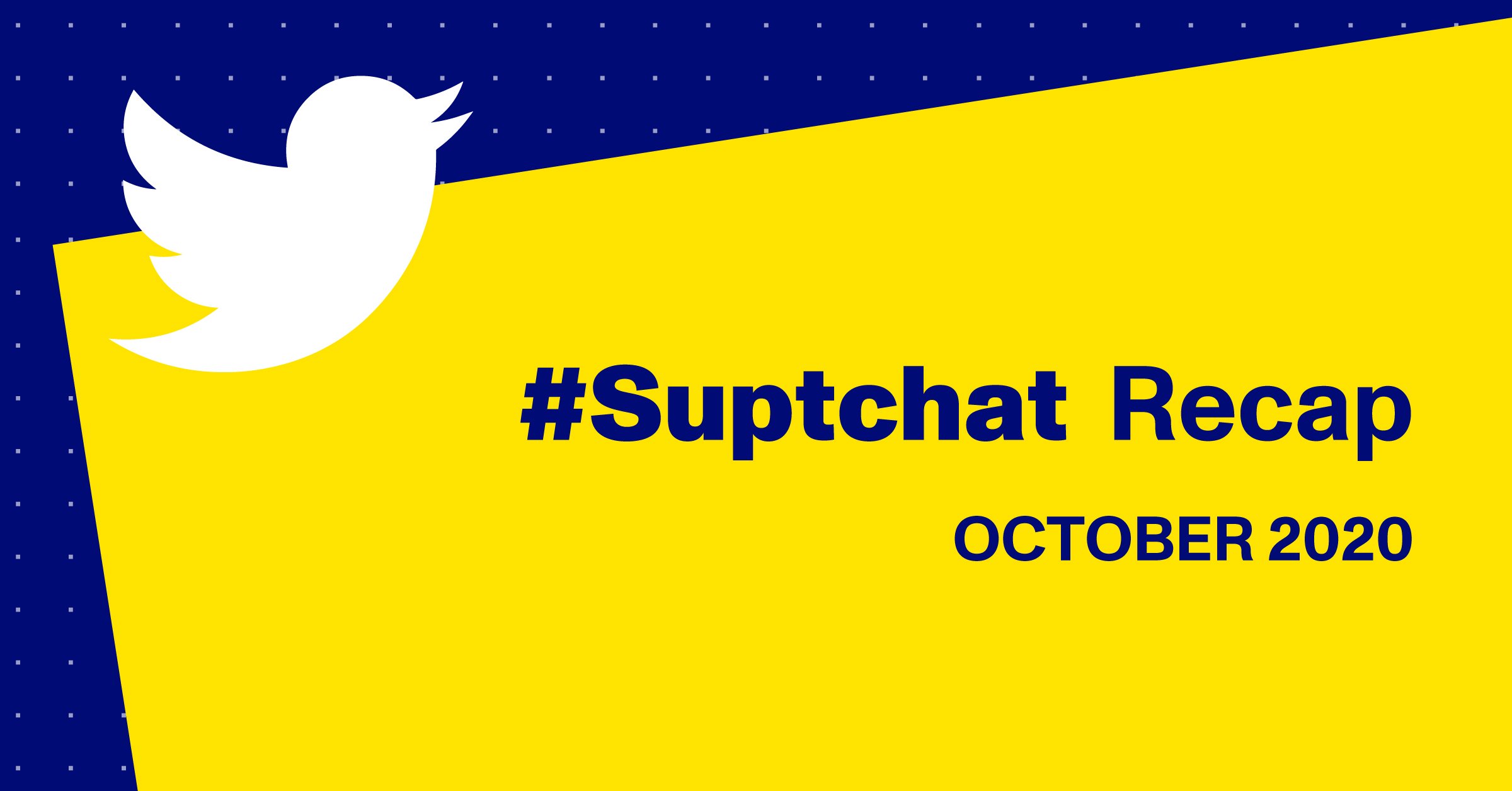 #Suptchat Recap: Connect to Get Better
October 8, 2020
In case you missed the #suptchat on Twitter last night, the Paper team is here to provide you with a comprehensive wrap-up.
Leadership is a journey—one that can't be taken alone. All leaders are a product of the guidance and support they receive from those who came before them; it's their duty to ensure that support is passed on to those who will come after them.
This was the focus of this month's #suptchat—Connect to Get Better. Participants came together to discuss the following: Leadership as a journey, listening, building relationships, showing gratitude to mentors and coaches, improving students' journeys, self-care, building diverse networks, and more.
In the spirit of connecting with and learning from one another, Paper will soon be hosting a live discussion series to foster dialogue and peer-to-peer learning between superintendents across the country. We will be announcing our incredible lineup of district leaders in the coming days. So stay tuned, folks!
Q1: When you think of leadership as a journey—who is your co-pilot?
Unsurprisingly, most #suptchat participants said thanks to fellow educators from their respective district: From board members to administrative teams and staff members.
Many others claimed their partner as their #1 co-pilot.
A very unique and interesting take on what co-pilots are:
Q2: How do you focus on being a great listener in order to build important relationships?
There was a lot of sage advice shared in response to this question. Nearly all answers indicated that being a good listener is a skill that no one has perfected, and the majority are continuously working on improving.
Here are some tactical steps one can take to be a better listener, according to these leaders:
Q3: In what ways has coaching supported you through tough times?
Every single participant last night was grateful for the guidance, support, and encouragement that they have received from coaches throughout their careers—especially when it came to making difficult decisions over the last year.
Good leaders know that they need to be both independent and dependent—not one or the other.
Q4: How are you dealing with the stress of your work and the world right now?
#Suptchat participants recognized that no matter how easy it can be to delay self-care in the face of chaos, it's important to care for yourself while caring for your school community.
[READ: Self-care tips by superintendents, for superintendents]
Q5: Give a shout-out to a mentor of yours and what s(he) means to you?
Q5 was bound to generate a torrent of heartfelt tweets about those who helped district leaders become who they are today: by always picking up the phone, by pushing them to be bolder and better, by setting an example of how to lead.
In return, some of these mentors responded with heartfelt shout-outs of their own.
Q6: How do you build a diverse network of colleagues to help you build empathy and serve all students?
As Dr. Bill Chapman put it, district leaders must seek the diverse perspectives of people from all backgrounds and experiences. "There is no way one individual can understand every issue/child is going through. By having people from all walks of life, you have a better chance of understanding different issues."
In this tumultuous year of increased isolation, many have plugged into online professional networks to build communities and share knowledge.
Q7: How are you helping your school or district interact with other districts across your state, the country, and the world?
Heightened levels of interaction between districts on a local and global scale this year have enabled leaders to share best practices and collaborate in creative ways:
[READ: What This South Carolina School District Learned from Finland]
Q8: Students are on this journey, too—what does success look like, and where should students be at the end of their educational journeys in your district?
Superintendent Dan Cox tweeted that this crisis is making our students stronger: "They care about the world around them, they are civic-minded, giving, and will never take the little things for granted again. I'm excited to see what they do!"
Preparing the incoming class of 2021 for timely graduation and postsecondary readiness is a serious responsibility—but with the right direction and resources, this resilient group can be set up for success.
[READ: 7th Largest School District's Assistant Superintendent Shares What Postsecondary Success Looks Like in a Post-COVID World]
Some closing remarks from #suptchat moderators:
For more, follow @PAPERLearning on Twitter. Click here to see the entire #suptchat!