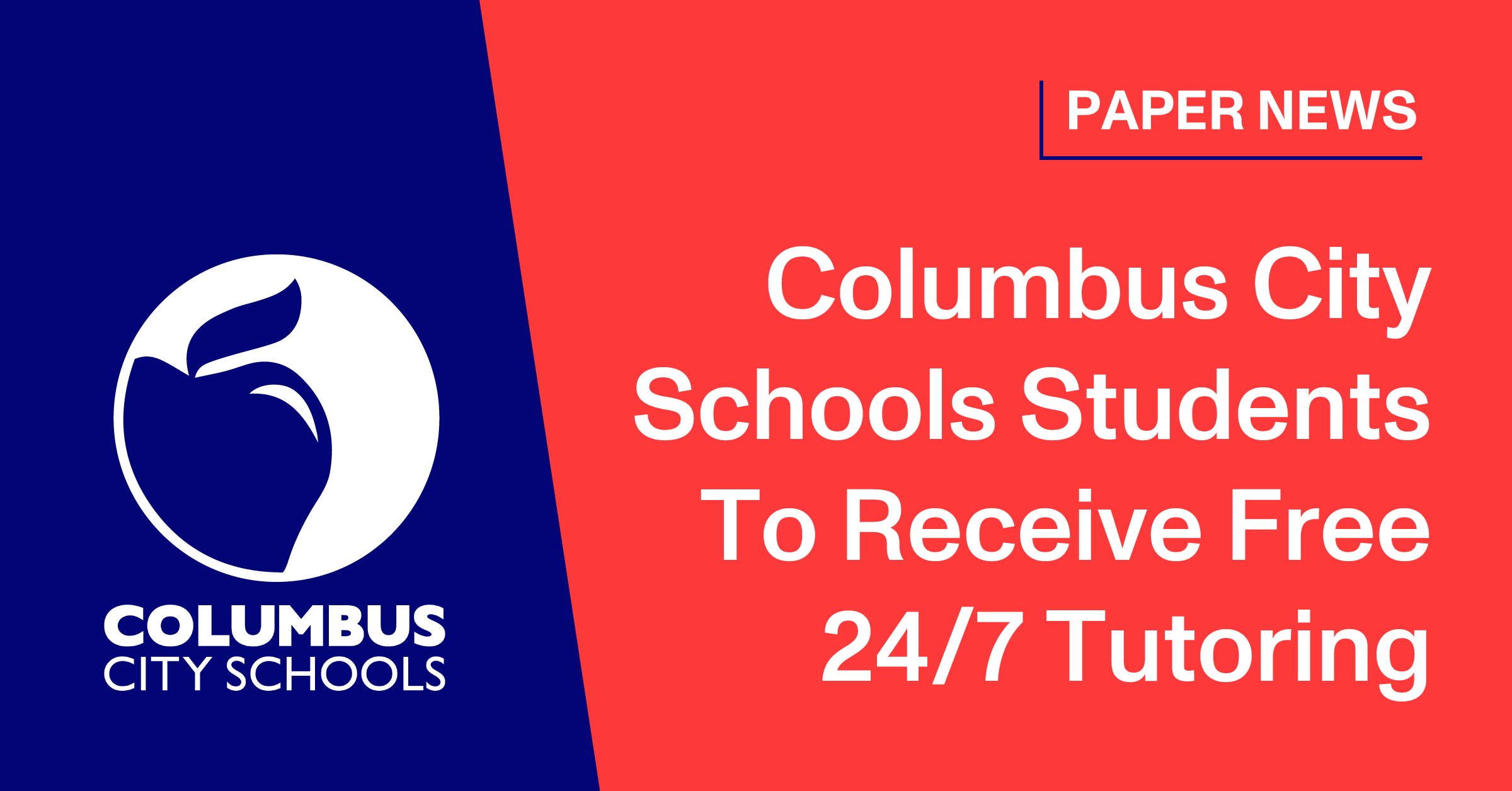 Paper News - Columbus City Schools Recieves 24/7 Free Tutoring
June 2, 2021
Columbus City Schools (CCS) has partnered with Paper, a 24/7 high-dosage tutoring program, to provide 24,000 students in grades six through 12 on-demand, unlimited, and 1:1 support from highly trained tutors.
Using relief funds, CCS will provide access to Paper to students taking part in the district's Summer Experience Program starting on June 14 first, followed by all secondary students as they enter a new school year on August 24.
Kenton Lee, Columbus City Schools Director of Secondary Curriculum and Instruction stated:
"For our secondary students, our first of its kind partnership with Paper will provide virtual chat-based tutoring in multiple content areas and languages. New educational research shows the impact in-person tutoring can have on student achievement. We have taken the idea a step further by offering support 24 hours a day, 7 days a week, not just within a normal school or work day. No matter your academic needs, work, or activity schedule, Columbus City Schools and Paper will accelerate student learning."
As the largest school district in Ohio, CCS recognizes that each student needs support in a different way and pace. The personalized, round-the-clock support from Paper's tutors forms part of the district's plan to accelerate learning, bridge equity gaps, and lend supplemental support both in and out of the classroom.
Paper's secure, virtual platform instantly connects students with professionals that offer personalized help across all content areas and grade levels in English, Spanish, French, and Mandarin. Students can access the platform on any device to get live homework help, study support, and writing feedback—at no cost to them.
"The urgent need for increased learning time cannot be overstated. We're proud to be partnering with Columbus City Schools this year to support students exactly when, where, and how they need it," said Philip Cutler, CEO and co-founder, Paper. "Our team of tutors is committed to alleviating the immense strains on educators, parents, and guardians as they continue to mitigate disruptions in student learning."
Paper's model of high-dosage tutoring aligns with evidence-based criteria outlined by the national EdResearch for Recovery Project. Paper also engages educators in the tutoring process, with analytics, data, and full visibility on student sessions to inform instruction and assessment.
By investing in intensive tutoring support for 24,000 students across the district, CCS is addressing the need for equitable, evidence-based solutions to recover and advance learning this school year and beyond.

About Columbus City Schools
Columbus City Schools, established in 1845, is the state of Ohio's largest school district, serving the needs of 50,000 students in 112 schools. The district, which employs more than 9,000 teachers and staff, is under the leadership of its 21st superintendent, Dr. Talisa Dixon, and a seven-member Board of Education. The mission of Columbus City Schools is that each student is highly educated, prepared for leadership and service, and empowered for success as a citizen in a global community.