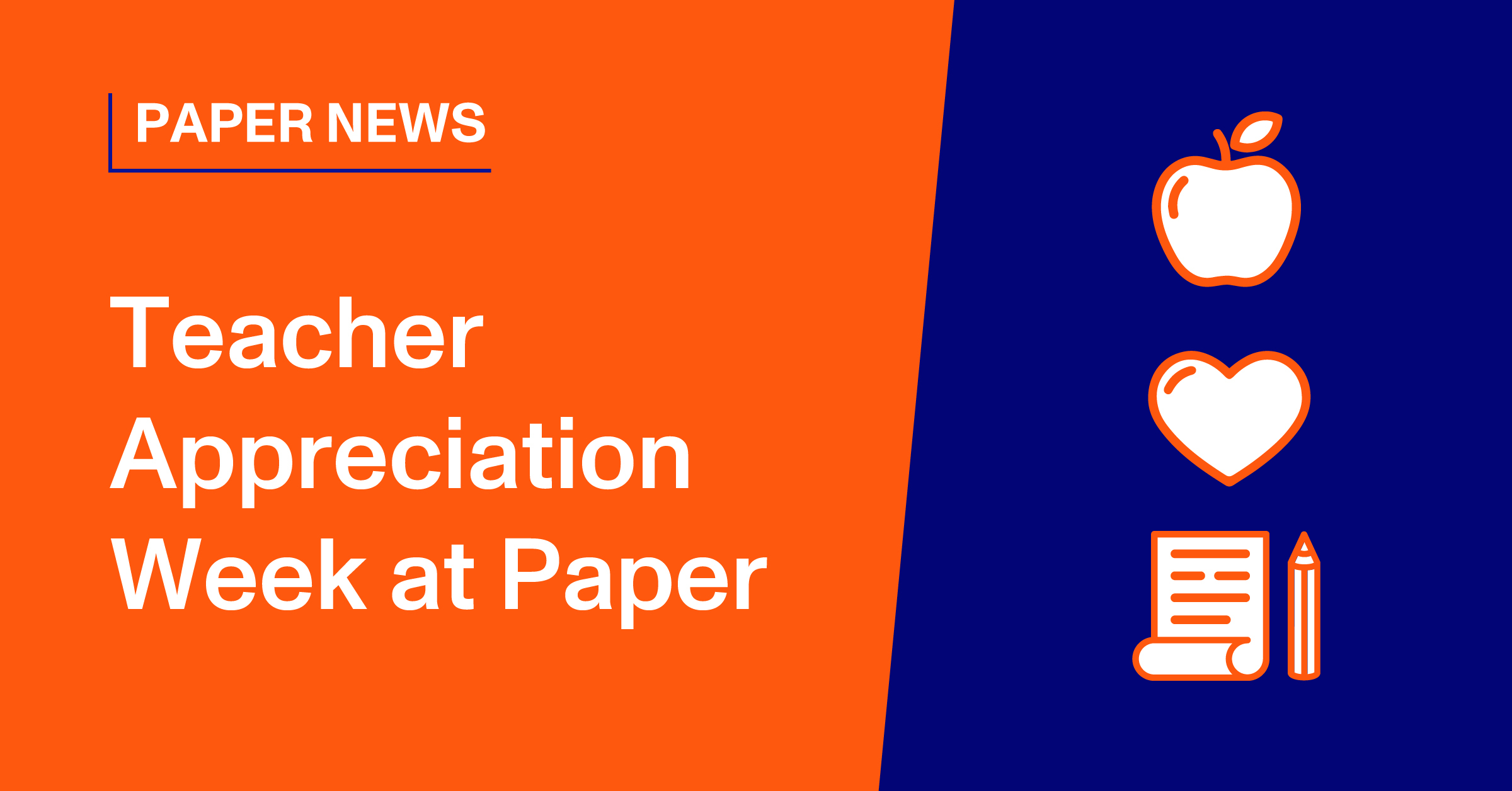 Paper Celebrates Teacher Appreciation Week with Free Wellness Events for Paper Teachers
April 20, 2021
There are so many incredible teachers across the nation who give so much to their classrooms and communities every single day—this is our chance to celebrate their efforts and show them just how much we appreciate them.
From May 3-7, Paper teachers are invited to participate in an array of free, remote wellness events handpicked by the Paper team. Like the rest of the nation, we owe so much to the amazing teachers who kept rising to meet every challenge. They've managed to provide structure and comfort every day no matter how scary and strange things were, and for that, we thank you.
Registrations are now open for:
Zen and Paper: Mediation session for mindfulness and calm
Mindfulness is a skill that can bring balance to anything and everything we do. Join us to learn how to increase calm throughout your day!
OM-age to Teachers: Yoga practice for all levels
Join our expert yoga instructor to work on your flexibility, breathing, and mobility. Whether you're a beginner or an advanced yogi, you'll walk away feeling refreshed and energized. (Yoga mat and comfortable clothes not included!)
Paper Jam: Dance cardio for all ages!
This dance cardio workout focuses on full-body movement, strength building, and most of all, fun! Join us for an electrifying workout—set to some of your favorite tunes—that will pump you up with endorphins and leave you sweating!
Art of Paper: Paint night for the creative soul
Get your creative juices flowing with a virtual night of art and fun! Live instructors will lead you through the creation of your latest masterpiece. Register by April 26 to receive a complimentary kit with a canvas, paintbrushes, and paint. Missed the deadline? You can still join but will have to come ready with your own supplies.
On top of these events, there will also be daily prize draws each day, from May 3 to 7. We'll be announcing the winners on Twitter, so make sure to follow @paperlearning to see if you've won!
Plus, Paper students want to share their appreciation for their incredible teachers too! We have collected thousands of nominations and will be selecting winners to be announced during Paper Teacher Appreciation Week! We will be sharing stories of students and teachers who have inspired each other to do and be better.
Finally, on behalf of everyone at Paper, please know that we have the deepest admiration for the work all teachers do. The resiliency and dedication teachers have shown us, not only this year but time and again, is nothing short of astonishing.
Every day teachers manage to make a difference in people's lives and shape our future for the better. This week of wellness, as well as the daily prize draws, are just a small token of our appreciation.