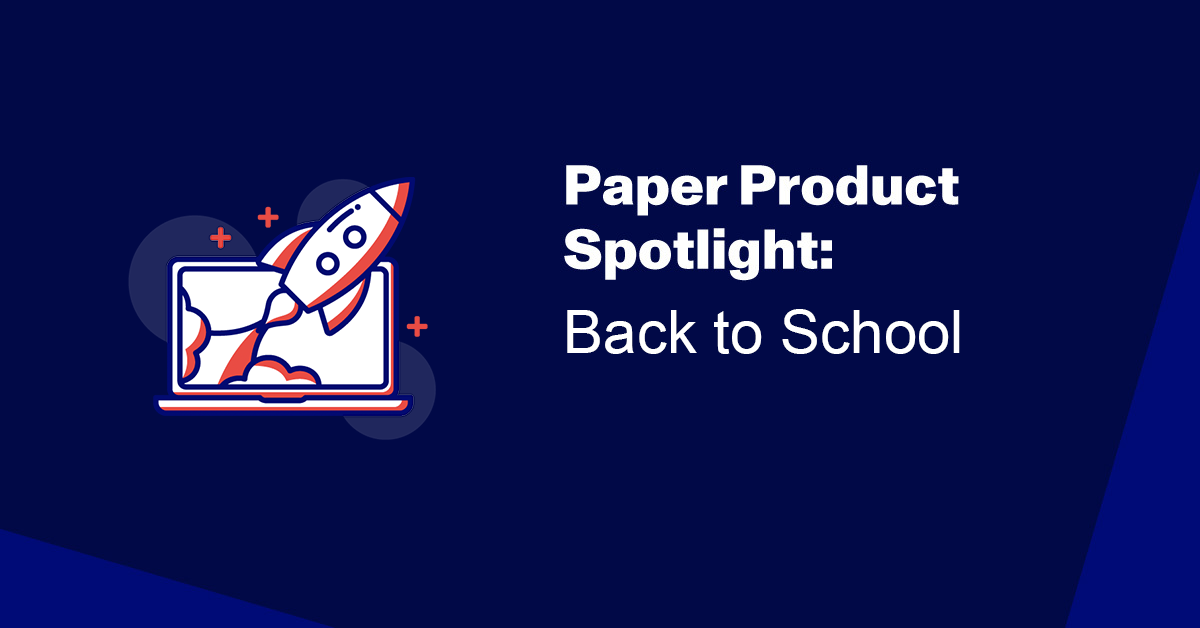 Paper™ product spotlight: Back to school 2022
August 15, 2022
Paper™ supports student-centered learning by giving students more control over their learning journeys. With that mission in mind, our product team has been hard at work creating products and features for the new school year that will help build confident, independent learners. The products and features below are available now as the school year winds up, and we're excited to see students use them to meet their learning goals moving forward.
Review Center
Students need constructive writing feedback on more than English essays. That's why Paper now offers feedback on various types of written assignments and projects via our new-and-improved Review Center.

This year, students can submit:
Essays (and related materials): Essays, outlines, short-answer questions, and bibliographies.
Creative writing: Poems, short stories, scripts, and creative nonfiction pieces.
Scientific writing: Pre-lab assignments, lab reports, and research papers.
Miscellaneous written projects: College application essays, résumés, book reports, letters, and more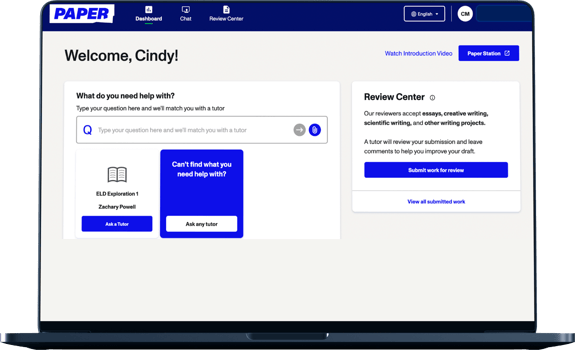 → Download Paper's Review Center overview


---
College and career support
Paper's Review Center is now a one-stop shop for students seeking advice on the many forms of written content they'll need to produce after graduation. Our tutors are able to assess various college and career documents, including:
College application essays
Résumés
Cover letters
Business letters
Emails
→ Download Paper's college and career support overview


Custom student groups
Equity is now a timely consideration for districts across the board, but it will remain critical
well into the future as educators work to ensure each student is on a level playing field. Despite
this, measuring academic progress—especially among groups of students who need a helping
hand—can prove difficult.

Paper's custom student groups feature allows district managers and administrators to
track platform usage and progress among specific segments of students. This offers many
benefits and possibilities across the wider district community.
→ Download Paper's custom student groups overview


Student Recognition
Now, teachers and tutors can formally give students the shout-outs they deserve via our Student Recognition feature. After assessing a session, teachers and tutors can send the learner a "Kudos" representing a job well-done.

Teachers or tutors can select from a variety of themed recognitions to send to students in the form of digital stickers. After a teacher or tutor sends recognition for a standout tutoring session, the student receives a notification.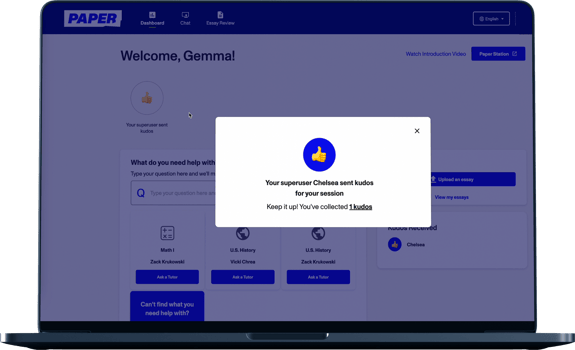 → Download Paper's Student Recognition overview

Google Chrome extension
Paper's extension for Google Chrome ensures the platform meets students where they already are—making it seamless to incorporate Paper into their daily academic routines. New in-extension chat and proactive outreach features make it easier than ever to access support from expert tutors.
In-extension chat: Live Help with Paper tutors is now accessible directly within the Chrome extension.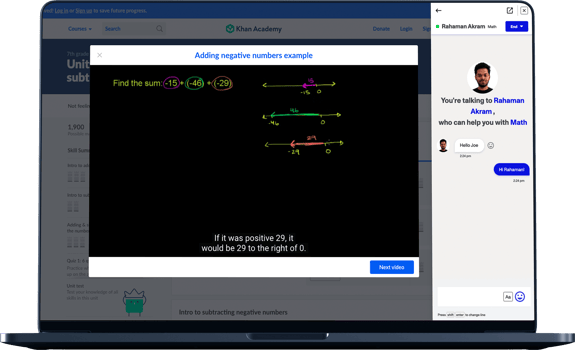 Proactive outreach: A Paper icon now appears on specific websites at the bottom-right portion of the browser window. Clicking that icon allows students to access the Chrome extension without disrupting their browsing.
Currently, proactive outreach is available on:
Google Classroom
Google Docs
Google search
Khan Academy
→ Download Paper's Google Workspace integration overview


Paper Math
By breaking down math problems into easy pieces and showing different ways to solve them, Paper Math makes practicing equations more fun, easy, and effective. It also stimulates right-brain thinking by encouraging exploration and discovery via an intuitive, engaging, and artful interface.
If you're interested in this feature, you can now access the Paper Math interactive preview starting Aug. 16! The full suite of Paper Math features will be coming very soon, including a problem of the day and full integration into the Paper experience.