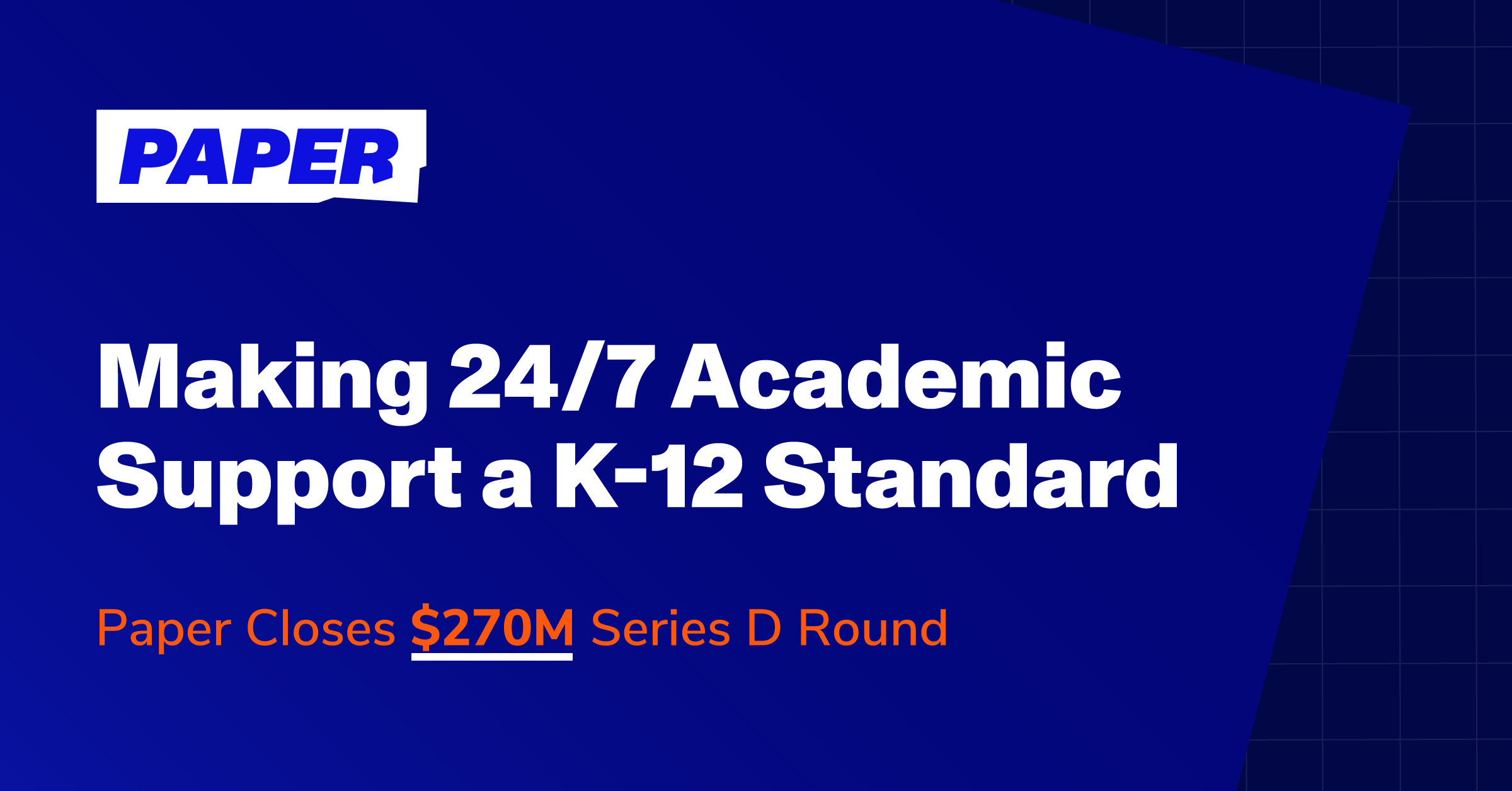 Paper Reaffirms 24/7 Academic Support a Standard for all Schools
February 15, 2022
At Paper™, we're on a mission to elevate every single student. With new investment into our company, our opportunity to achieve the mission is greater than ever.
I still remember my first class for my Bachelor's of Education at McGill University. I was in an auditorium with 270 other aspiring Kindergarten-Elementary teachers, every one of us eager to one day change lives through education. As I sat there, I imagined inspiring students with exciting stories and encouraging them to pursue their dreams. I wanted every one of them to reach their potential.
Despite my passion for teaching, I left the profession because I believed I had an idea that could level the playing field for every student. That was 8 years ago.
As excited as I was to pursue my own dream, I never imagined I would be writing what I am writing today.
This morning, Paper announced the closing of a $270 million USD Series D round, co-led by Sapphire Ventures and SoftBank Investment Advisers, with support from returning investors.

Returning investors include IVP, Salesforce Ventures, Framework Venture Partners, Bullpen Capital, Reach Capital, BDC Capital, and Red House Education.
This significant investment—our third in the past 13 months—is a validation of our sustained momentum in driving educational equity in partnership with school systems nationwide.
Why us?
As schools continue to ride the waves of change, one thing remains constant: Every learner is unique. Schools are embracing creative solutions to meet their needs. Paper is at the forefront of this innovation, providing school leaders with the staffing and technological capacity to provide unlimited, 24/7 tutoring that serves all students—when, where, and how they need help.
Personalized support for every student doesn't just drive equal opportunities for success. Built to serve the needs of the entire K-12 system, Paper also helps leaders tackle co-existing issues of teacher burnout and attrition: making tutors ubiquitous, so teachers don't have to be.
Over the last year, to support soaring demands, we've expanded our reach to nearly 2 million learners across 30 states and grown our world-class team by over 300%.
We've delivered impact in some of the nation's largest and most prominent school systems. In Southern Florida school districts, we've helped lift all boats with equitable access to academic support. At Richland SD in Pennsylvania, Paper's tutors have helped teachers avoid the pressure to be on-call 24/7 for their students. At District 99 in Illinois, we've improved learning outcomes across a variety of student demographics. In California, we've helped educators engage students and boost graduation rates.
What's next?

We've still only scratched the surface of what's possible at Paper—and in education at large. We are excited about leveraging this investment to broaden from 24/7 tutoring to address other areas of educational inequity such as after-school enrichment, early childhood education, and college and career readiness. We have our work cut out for us, but I know we're ready.
Our team of former educators and lifelong students will do everything to ensure that every bit of this investment translates into direct impact for our partners and their communities. We invite you to join us.
When I think back to that first day at McGill, I was full of energy, passion, and enthusiasm about education. Those emotions are more vibrant than ever: every Paperite keeps me focused on our mission, to which we are all committed.
Thank you to our partners, investors, and champions for sharing our vision of systemic transformation in education. I couldn't think of a better group with which to improve educational access for millions of students!
Read the full announcement

here

.
---
Philip A. Cutler
Chief Executive Officer
Paper