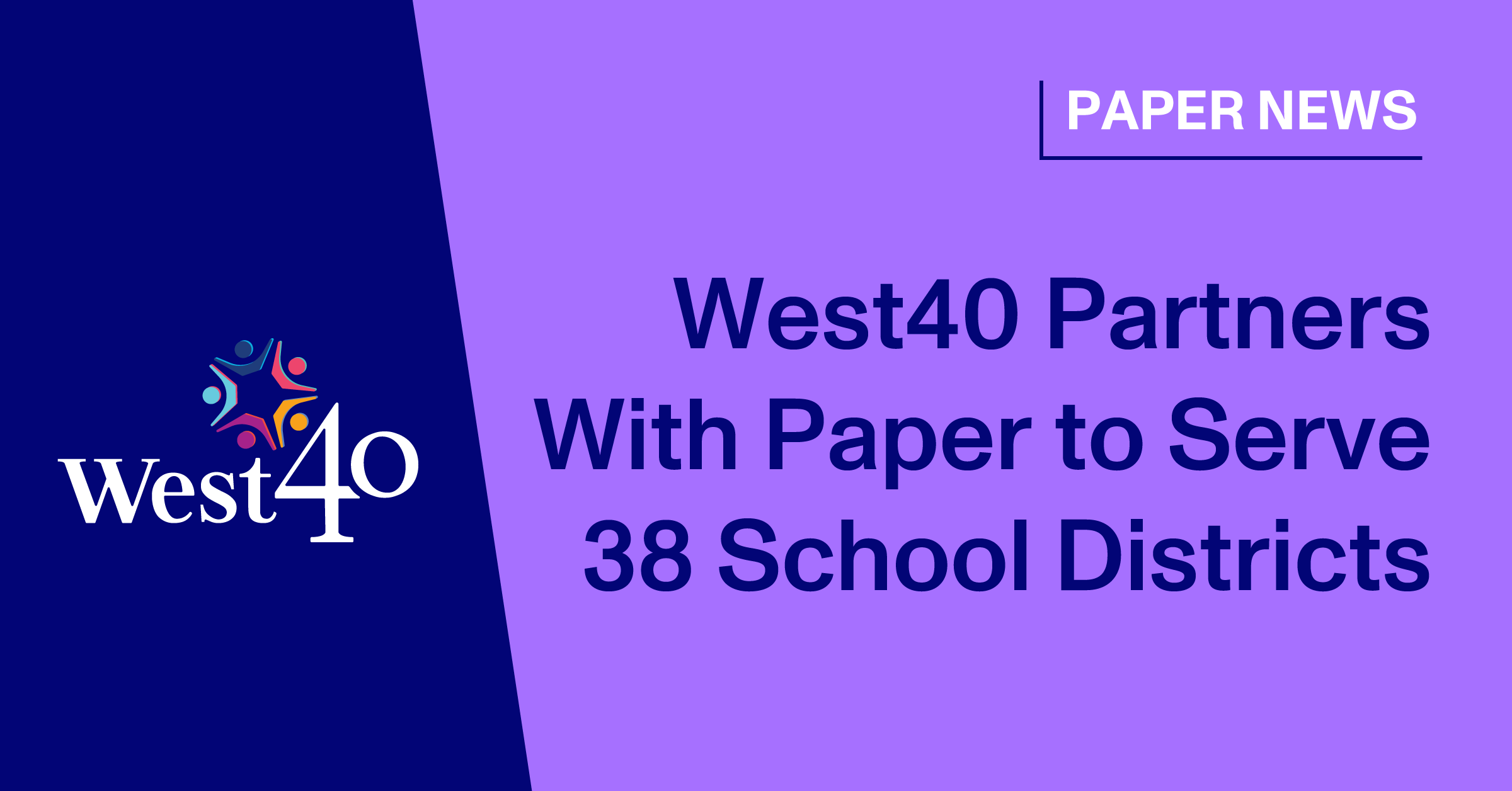 West40 Partners With Paper to Help Districts Provide 24/7 High-Impact Tutoring
July 23, 2021
West40 Intermediate Service Center #2, IL, has partnered with Paper, a 24/7 high-impact tutoring program. Through this partnership, all 38 school districts serviced by West40 will have access to standardized terms and opportunity for consortium pricing. This will support districts provide equitable, scalable, and cost-effective tutoring to serve all 92,000 students across the region.
High-impact tutoring has received much support in federal, state, research guidance on learning recovery. However, a host of cost, staffing, and logistical limitations can prevent schools from providing it as effectively, frequently, and widely as needed—that's where Paper comes in.
Paper's platform provides unlimited, 1:1 academic support to students—anytime, anywhere, at no cost to them. Paper's highly-trained tutors are available 24/7, providing curriculum-aligned live help and writing feedback in over 200 subjects in English, French, Spanish, and Mandarin.
Dr. Mark Klaisner, Executive Director, West40, stated:
When I first met the folks from Paper and heard about how they deliver their services, I used the phrase "too good to be true." We're very excited to bring Paper into West40 as a tutoring and homework support for our students. A number of our districts are thrilled that they can also have services provided for students 24/7, 365 and also available in Spanish.
"We're really excited to add this next level of support as we bring students back to school in West40 and be able to support them in their learning throughout this next year as we can and get back on track. I truly believe that the partnership with Paper is exactly what we need to help our students comfortably, successfully reintegrate back into school and get back on track," he added.
Paper tutors act as 24/7 virtual TAs, helping teachers extend their bandwidth, personalize instruction, and lighten their workload. Administrators and teachers also get visibility into all tutoring sessions, as well as actionable data on student engagement and progress.
Paper is already helping districts across Illinois implement evidence-based, high-impact tutoring while overcoming key challenges of cost, scale, and equity. "We're proud to partner with West40 to advance our shared mission of educational equity," said Philip Cutler, Paper CEO, and co-founder.
→ Learn more about high-dosage tutoring
Read more information about the West40 and Paper partnership. To understand how an implementation would work for your district, please contact:
West40:
Suzy Dees, Director of Professional Learning
sdees@west40.org / 331 201 9287
Paper:
Joshua Goring, Partnership Manager
joshua@paper.co / 438 409 8589