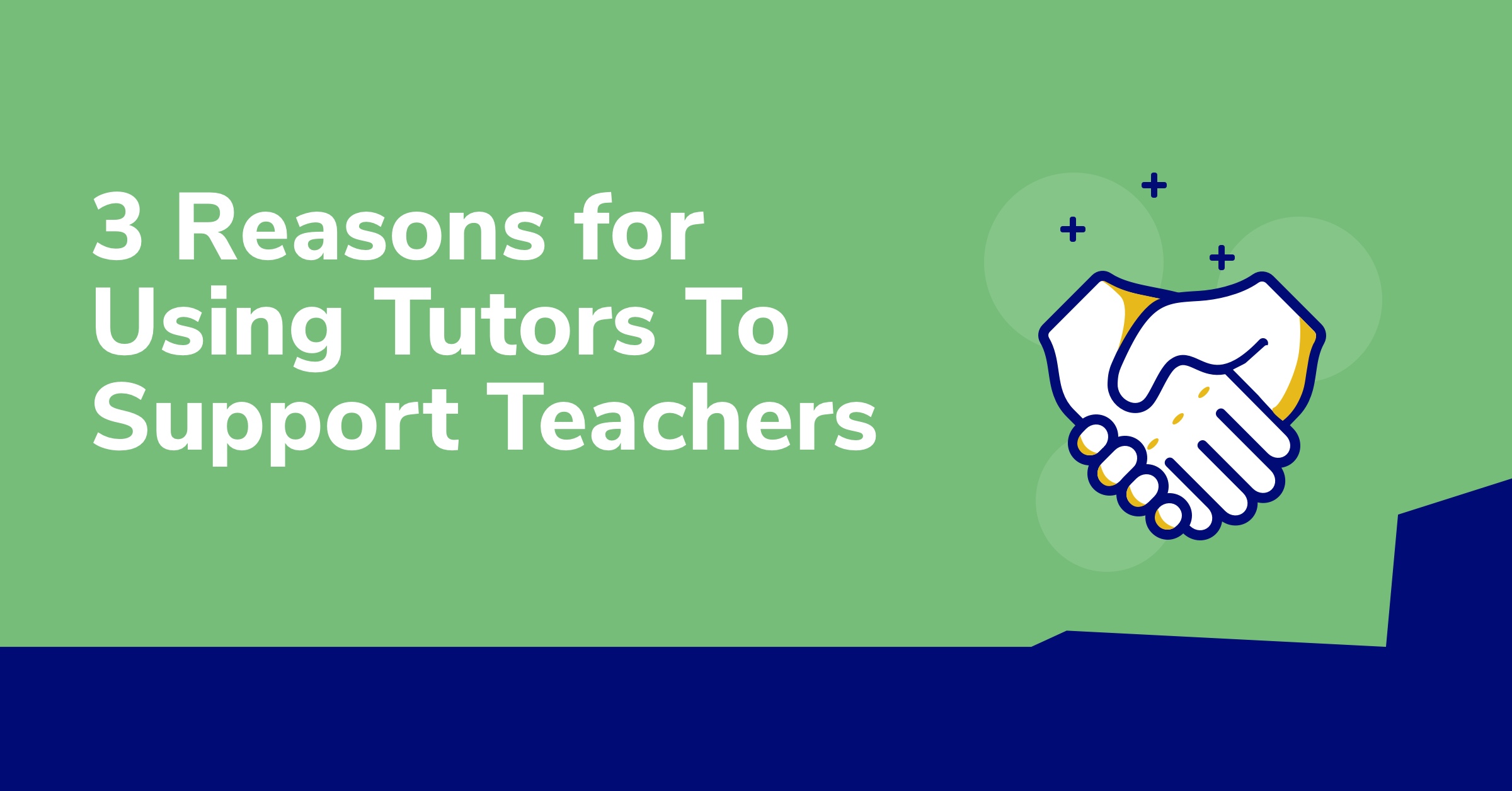 3 reasons district leaders are adding tutors in support of teachers
March 31, 2022
District leaders across the country are looking for innovative and effective ways to support their teachers. Many of these administrators are turning to tutors for assistance.
Here are the top 3 reasons district leaders are bringing in tutors to help give educators a boost.
1. Schools need more horsepower to accelerate learning
Traditionally, tutoring programs were often rolled out as a need-based intervention, supporting only specific groups of learners. Increasingly, however, education leaders are realizing that universal access to tutoring can have immense benefits for the entire school community, especially following the tumultuous times we've experienced lately.
Given the personal and academic interruptions students have faced in recent years, many districts are turning to evidence-based strategies that facilitate learning acceleration.
What is learning acceleration?
Learning acceleration refers to the process of providing students with support to address gaps in their understanding while maintaining current grade-level trajectories. Educators identify where students need help and provide them with just-in-time assistance, preparing these students to meet the learning objectives for their grade.
How tutors can help accelerate learning
Accelerated learning is a big lift, and teachers and students alike can benefit from the assistance of 24/7 academic support. In short, leaders can bring on more tutors to build the capacity needed for assisting every student who raises a hand.
Trained tutoring professionals who work one-on-one with students can provide an additional layer of encouraging, individualized support to get learners where they need to go—right on time.
2. Teachers are exhausted
After two years of the pandemic, it should come as no surprise that many teachers are feeling profound burnout. And when that extra stress gets too high, it can be hard to retain and hire enough teachers to meet the district's needs, further stymying efforts to elevate student learning.
According to Chalkbeat's review of data provided by more than a dozen school districts across the country—including several of the largest—overall teacher vacancies were up at the start of the 2021-22 school year. In one notable example, Los Angeles schools began the year still in need of about 500 teachers.
Tutors complement teachers in the classroom
Tutors can take over some of the extra responsibilities teachers have had to assume during the pandemic, like providing targeted groups of students with additional support one-on-one or in small groups. With a more manageable workload, educators may face lower levels of burnout.
[READ: 5 Ways Tutors Can Serve as Assistant Coaches for Teachers (Infographic)]
3. It all adds up: More federal funding is available than ever
The infusion of extra federal dollars means that there are new opportunities in K-12 funding today. With additional resources available for addressing the disruptions districts have faced since the onset of the pandemic, many leaders are using a portion of that money to invest in tutoring—an action that simultaneously supports students and their teachers.
Leveraging the latest funding to bring on tutors
Our guide to navigating federal funding in 2022 provides useful insights about how tutors can help support learning recovery in an equitable way. The ebook features real stories from district leaders on the benefits of Paper's tutoring support.
Tutors: A vital ingredient in the recipe for empowering teachers
Looking for more ways to help the educators in your district thrive? We're here to provide you with insights and inspiration to make sure your teachers have the support they need to show up for students.
Check out our latest ebook, "5 ways to empower your teachers with 24/7 tutors."