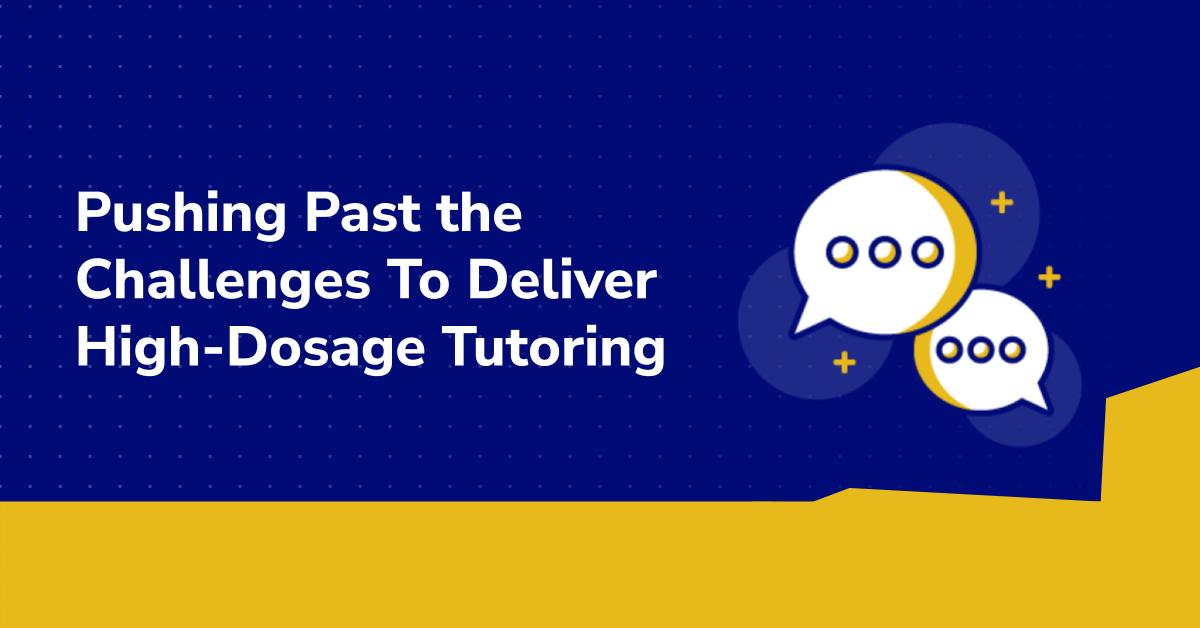 5 Challenges to Implementing High-Dosage Tutoring—And How To Pull It Off
February 14, 2022
The push behind high-dosage tutoring (HDT) has support from the highest levels of government.
In a recent speech, Education Secretary Miguel Cardona encouraged districts throughout the United States to support students who need help catching up by providing these learners with three weekly tutoring sessions, each lasting 30 minutes. Chalkbeat discussed the recommendations, noting that this approach to tutoring seemed aligned with HDT models.

However, launching large-scale tutoring programs can entail overcoming various obstacles and challenges. Fortunately, solutions are available.

We've identified 5 prominent hurdles that districts face on the road to high-dosage tutoring, along with strategies for moving ahead confidently.
1. Cost barriers

Everything comes with a price tag. Districts that want to roll out a new program have to think creatively about how to find the money required for the expert services their students deserve. In particular, usage-based pricing can make it difficult to ensure that you have the budget set aside to support as many students as possible.
Explore novel funding opportunities and innovative pricing
The good news is that there is an unprecedented amount of funding available to schools as they work to implement evidence-based strategies, such as tutoring, in an effort to address the impact that COVID-19 has had on their students and communities. If you'd like more information on how to maximize your use of these resources, we've put together a free ebook to help you navigate federal funding.
In addition, districts that remain open to innovative tutoring delivery models may be able to benefit from cost-effective, high-quality online programs, including from providers that offer predictable pricing through an unlimited usage model.
2. The staffing question
Who does the tutoring or manages the tutors? And how do districts ensure that tutors are qualified and accountable?
Many schools are already having trouble hiring enough qualified educators to meet the needs of their students. This places the prospect of staffing their own tutoring programs firmly out of reach.
To help solve this issue, some districts are turning to creative strategies like working with volunteers or incentivizing staff to take on extra responsibilities. The school's educators are encouraged to provide students with further academic support outside of school hours or to direct and supervise tutors.
However, the burden of taking on yet another role—on top of an educator's already demanding list of tasks—can leave many teachers feeling overwhelmed, possibly even leading to burnout. Furthermore, even the most dedicated volunteers don't offer the same level of accountability as paid employees, and recruiting qualified individuals from the community takes time. When students need help, the prospect of a delayed launch can be difficult to accept.
Use expert third-party vendors, partners, and organizations
Working with outside groups to help build out a tutoring program can be the ideal route for many districts. To ensure that a provider's tutors are adequately screened and trained, you'll want to watch for specific criteria when vetting a potential partner.
Look for organizations that:
Conduct thorough screening, background checks, and training.
Verify applicants' subject matter expertise in relevant areas.
Hire tutors directly instead of facilitating access to freelancers or independent contractors.
Promote inquiry-based models of instruction.
3. Maintaining quality as a tutoring program scales
Working with highly trained tutors is the baseline. Will you—or your partner organization—be able to find enough qualified candidates to meet the demand in your school district? Or to recruit, train, manage, and retain enough all-star tutors?
Even with a sufficient number of enthusiastic tutors available, districts need to guarantee that they can meet a variety of content needs while also supporting English language learners. It's possible to keep the tutoring program small, but there are compelling reasons to make this intervention more widely available.

[READ: 5 Reasons To Provide Universal Tutoring Access Across Your District]
Work with groups that can provide shared tutoring resources built to flex
A dedicated third-party vendor can help your tutoring program grow beyond these constraints by offering you access to a shared pool of expert tutors who are always available. Remote tutoring allows providers to match tutors from a core group of talented professionals to students far and wide, regardless of where your district is located.
4. Finding time for tutoring
Scheduling issues can present a real challenge for implementing HDT. After-school programs are a common method for launching a new tutoring resource. Unfortunately, these time frames are often insufficient for students with other obligations, like employment, caring for family members, and more. In addition, tutoring that takes place during the school day can offer further benefits.
Restricting tutoring hours to a set after-school schedule also means students who can't attend class that day miss their one shot at tutoring, and a gifted tutor may be left unutilized. Student workloads can fluctuate from one week to the next, too. No school wants its program to face the prospect of being understaffed one week and overstaffed the next due to the mixture of static schedules and shifting demand.
Seek out 24/7, on-demand tutoring support
On-demand programs provide the flexibility that's needed to ensure districts can support all students with varied schedules. They also make in-school support accessible, allowing teachers to tap into extra help as needed or desired.
5. Prioritizing equity in high-dosage tutoring
Many of the challenges we've already discussed are also central to concerns that relate to educational equity. If whole districts sometimes have trouble budgeting for a high-dosage tutoring program, many families will certainly see private tutoring as cost-prohibitive for their household finances. Even without monetary constraints, concerns like language barriers, finding a qualified tutor, and working around scheduling or transportation issues can make tutoring seem unattainable for students and families from historically underserved communities.
Elevate tutoring to assist with your equity goals
Making sure that tutoring schedules are fully accessible for all students is a first step toward ensuring equitable outcomes. In addition, forward-thinking districts can recognize that tutoring programs are a tool for addressing overall equity goals in the school community. All students stand to benefit from HDT, and providing multilingual, on-demand, 24/7 tutoring—delivered by tutors who reflect the diversity of your student population—can be a powerful tool for helping to close opportunity gaps.
Scratching the surface of HDT
HDT holds significant potential. Learn more about this essential topic by checking out our K-12 guide to high-dosage tutoring.