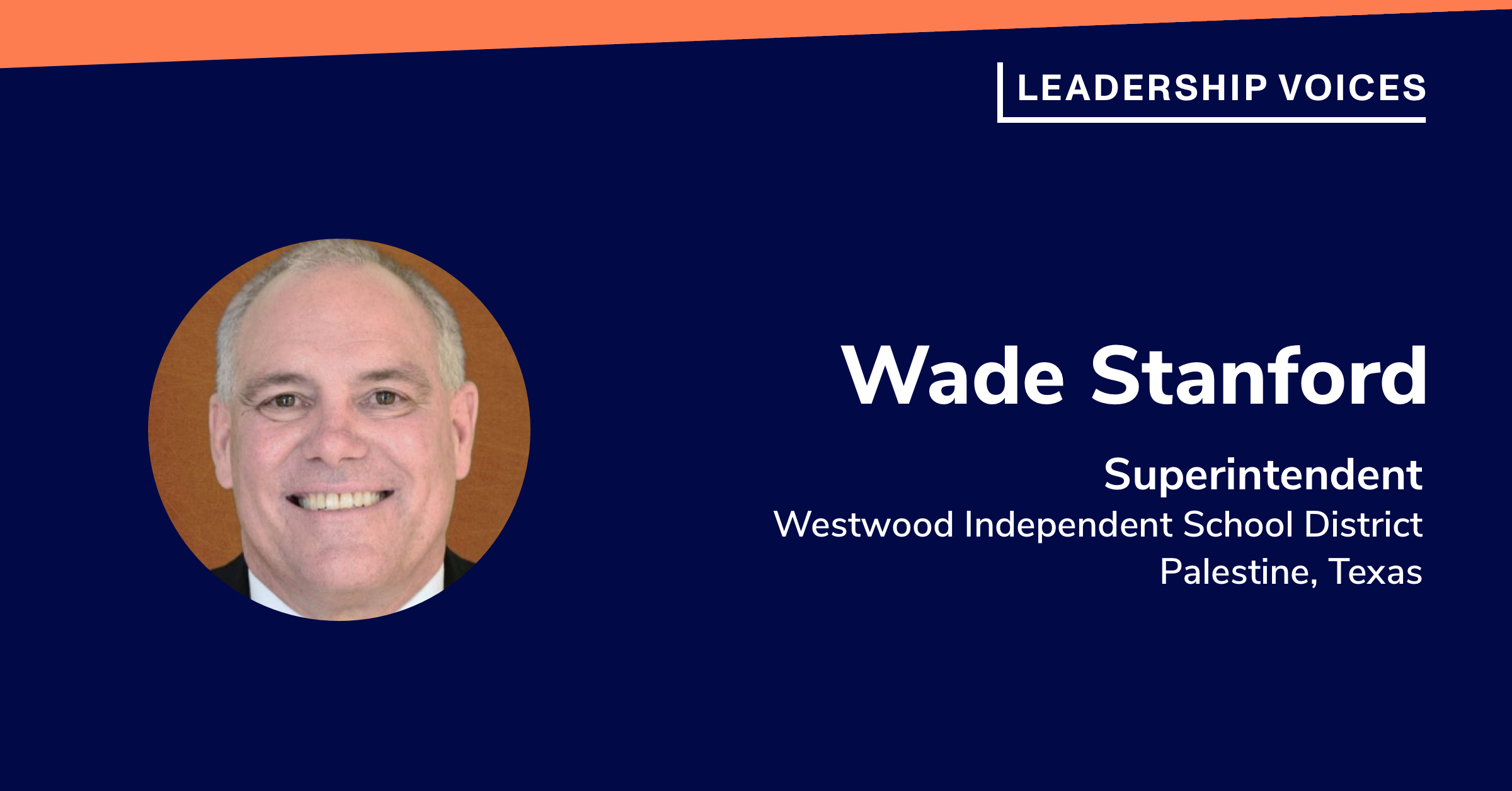 5 questions with Texas superintendent Wade Stanford
September 26, 2022
For four decades, Westwood Independent School District's Wade Stanford has held a variety of roles in education—from biology teacher to his current position as superintendent.
Even with this experience, the past few years have presented unique challenges that require equally unique solutions. In his interview with Paper™, which was edited for length and clarity, you'll find thoughtful insights from Stanford on how he's addressing some of the most vexing challenges in education as well as his big priorities for the new school year.
What do you think makes your district and community special?
A large majority of our parents and community members are working-class. They're very proud of their level of work—their contribution to the community, to the state, and to the nation. That shines through in our students. They take pride in who they are, their backgrounds, and their heritage.
With that in mind, the heritage of Westwood runs deep. We're the Panthers, and we believe that our district is one of the best ones around. When people come in and work for us or bring their students to our district, they feel this huge sense of family here.
What are you focusing on this school year in your district, and how does this compare to previous years?
I'm sure this is very similar to every superintendent across the nation right now, but safety and security are our primary focus areas.
Our next priority is the well-being of our staff and students. Here in Texas, we've dealt with not only COVID-19, but also the unprecedented winter freeze last year. I talk to our staff all the time about the struggles that we've seen.
What we went through over the last several years was this decision-making fatigue. We had to make so many decisions, and everything was at a life-threatening level. I don't think that we're wired that way. So maybe it's time to take some of those decision-making responsibilities off of our staff. We can give them more time to just live life and to do what they're passionate about—and that's teaching and interacting with kids.
There's also the academic progress that we need to see, given that we had two years of disrupted learning. We have to get the learning back, we have to get the instruction back, we have to get the engagement back, and we have to continue moving forward to avoid getting stuck in old ways.
How are you approaching teacher well-being and solidifying trust with teachers?
We do a lot of things monthly where we celebrate our teachers and other staff members. That's No. 1: demonstrating that appreciation.
Then, I think you start looking at salaries and compensation and trying to figure out how you can keep that competitive. Right now, we're doing a salary study with the Texas Association of School Boards to see where we stack up against 10 competing districts.
We also have to find ways to reduce workloads. We're trying out communication deadlines. Unless it's an emergency, all communication will stop at 5 p.m. and won't start again until the following morning at 7 a.m. We also don't send communications out on weekends.
So then you might say, "OK, what about that student who needs help and they're reaching out to their teacher?"
That's where the piece that we're very excited to talk about comes in, which is Paper. I look at it as a recruitment and retention part of the equation. If we can have access to high-quality tutors, 24/7, it's going to take some of that strain off our teachers and staff.
How do you think teachers can reengage students in a time when motivation can be lagging? How do we instill the love of learning again?
What we talk to our teachers about is the importance of ensuring kids in the classroom know who they are. It's critical they get to know these kids and build those relationships with them. After that, it's critical for teachers to be passionate about the subjects they teach and make them relevant to students' lives. All of that will further solidify the existing love for learning kids already have.
We have to really reach kids and make sure they want to come to class. I've said to our teachers before: "If you were to sell tickets for your best lesson—your most engaging lesson—would it be a sellout?"
When you start thinking like that, people want to say that's entertainment. And yes—it is! But students want to be entertained when they learn. They want to get something of value.
Is there anything else you'd like readers to know?
In Texas, we have the State of Texas Assessments of Academic Readiness (STAAR) test as well as state accountability metrics, and we recently received our revised results. As a district, we improved seven points following the COVID shutdowns, and our campuses largely improved their scores as well.
I think that speaks to a couple of improvements, one being leadership stability. I had a teacher tell me yesterday that stability has helped a bunch.
The improved scores also say a lot about community and pride—digging in deep and having grit. We're really proud of that. This is about more than STAAR results. You also see it in relationships. You see people valuing each other and wanting to be in classrooms together.