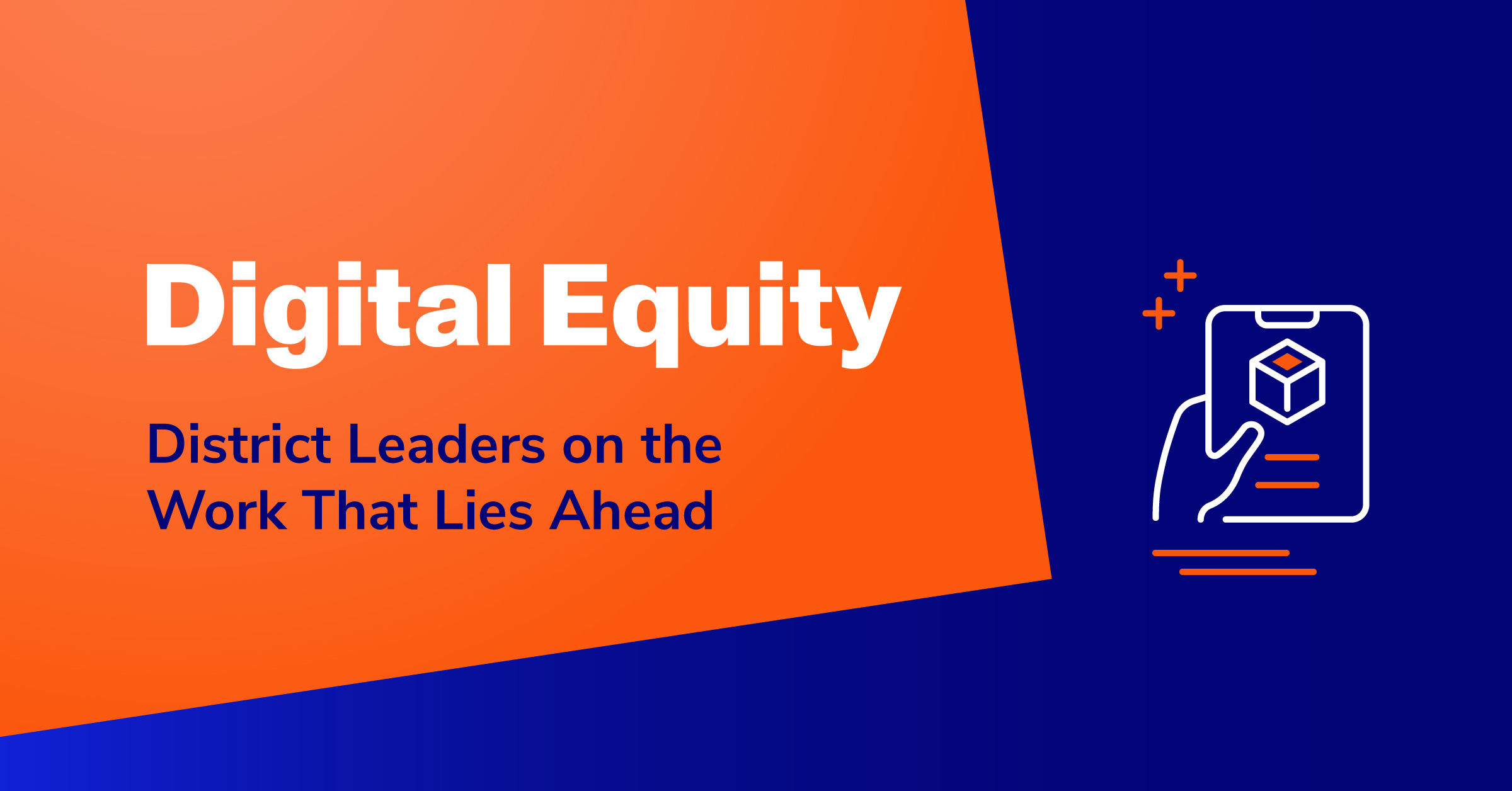 5 Things We Don't Talk About When We Talk About The Digital Divide
January 10, 2022
We've known for a long time that the digital divide presented challenges to meeting our equity goals. And while the pandemic was a catalyst in making significant headway, some old and new challenges still persist. Where does that leave us and where should we focus our efforts next?

We brought together three district leaders from across California to reflect on the progress that has been made in the last two years on closing the digital divide, and what work is still left to be done.
1. Navigate funding concerns around closing the digital divide for good.

Across the nation, school districts were able to rapidly mobilize access to the internet, devices, and other ed tech. While nearly a tenth of the population still lacks adequate access, we're in a much better place than before. Now, the attention is on how schools can sustain costs related to maintaining, repairing, and replacing technology considering that most of what is helping pay for it are recent emergency relief funds. School funds will look different after 2024—to avoid slowed progress on closing the digital divide, districts are figuring out how to improve their break-fix rates and sustain their investments from a budgetary perspective.
[READ: Navigating Federal Funds in 2022: Guide for District Leaders]
2. Find more sustainable solutions for connectivity gaps.

Agreeing that hotspots and Wifi buses have been more of a quick bandaid solution, many school districts are looking into more sustainable and cost-effective connectivity solutions, such as setting up their own networks and bypassing internet carriers to provide direct internet access to their families. After the initial investment, this approach can more than halve current internet access costs and provide more stable and secure connection.
However, the leaders noted that to achieve this, a key barrier to tackle is all the red tape around funding sources and how partnerships with private ISPs are currently structured.
3. Help parents and guardians feel more comfortable with tech.
As technology becomes increasingly integral to learning outside of the classroom, parental buy-in is a critical step in helping close the divide. While student success hinges on parents' understanding and engagement of technology, there is a long way to go in getting all families comfortable with it. District tech leaders shared some initiatives that have helped throughout the last 18 months:
Multilingual videos on each product on a website, plus an orientation that walks families through how to find that information on the website,

Virtual training sessions focused on DELAC, ELAC and Title I schools to walk through different programs and answer questions.

Help desk phone lines for parents to call during school hours to walk them through IT challenges they ran into, such as powerwashing a Chromebook.
4. Focus not just on access to tech, but also how it's actually used.
In some of their Title I schools, district leaders described how technology is being used mostly for remediation. Meanwhile, in the schools with more funding from PTOs, beyond catching up, students are also getting the chance to go into innovation labs and learn with technology in ways that make them excited to learn. District leaders must encourage all classrooms to not just focus on closing gaps, but also to use technology to push learning to new levels.
Closing the digital divide isn't just about the tech we provide, but also how it is employed to enhance instruction and the expectations we have for our students.
5. Mitigate the impacts of increased tech use on mental health.

Leaders are also having to mitigate the impact of a flood of technology into a cohort of students that are living through ongoing crises and learning disruption. With increased screen time and internet use across the board, schools are using technology to gather information on student mental health and setting up support systems to mitigate concerns—whether that's regular wellness check-ins from their educator or pop-ups and flagging systems built into their learning platforms. With 1:1 take-home devices, the amount of information students have access to is greater than ever.
Many students are taking charge of their learning and seeking out information on their own—some great and some not so great. Schools don't just have the responsibility to teach students how to read and write (and type), but also how to use technology in ways that promote digital safety and wellbeing.
[MORE: High-Dosage Tutoring: A Path for K-12 Recovery]
Special thanks to Franklin Barela, Director of Technology, Parlier USD, Stephanie Casperson, Director of EdTech, San Marcos USD, Ben Markley, Chief Technology Officer, Hemet USD, for sharing their invaluable insights and experiences.