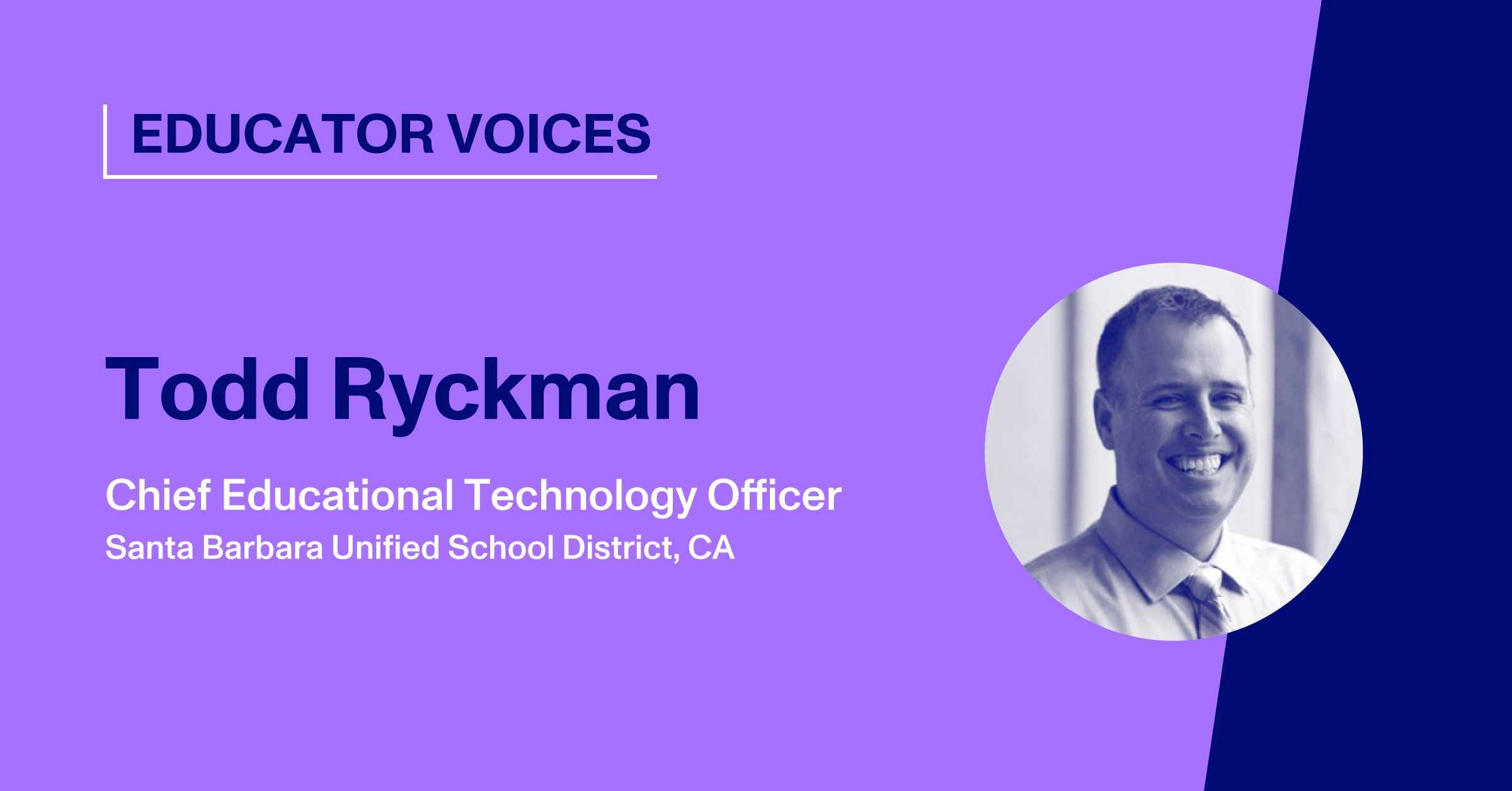 Innovating on the Fly: How Santa Barbara Unified's Chief Educational Technology Officer Creates Success With "Moving Targets"
June 11, 2020
Paper's relationship with Todd Ryckman, the Chief Educational Technology Officer of the Santa Barbara Unified School District (SBUnified), was born simply out of luck.
One day, Mr. Ryckman just happened to be going through his junk mail and saw something our team had sent him in Paper's early days. The chances of someone checking their junk mail are slim. The chances of that person finding something of value in there, as Mr. Ryckman did, are virtually non-existent. But that's how he discovered us.
"I started reading the email, and I just said, 'Oh. This is actually pretty interesting,' Ryckman recalled.
I reached back out and I told [Paper] about my worldview of educational equity. Just their idea of democratizing access to tutoring was very interesting to me.
Since reaching out to our team, SBUnified and Paper have been very natural partners.
"We really only do business with companies where we feel our values are aligned. And talking to Phil [Paper's CEO] and Jacob [Paper's director of partnerships]—and hearing the story of why Phil envisioned the platform to begin with—it just was clear that we were very aligned as far as our values go."
We're incredibly grateful for such a partnership with Mr. Ryckman's team, and he was kind enough to spare some time to talk with us about the ongoings at SBUnified during the pandemic.
What he reported first was the current reality for everyone that is working remotely. "I think people are working harder than they have in a really long time…Generally, when you're at work, you get micro-breaks. Somebody will walk by and say hello, or you'll even get up and go to the bathroom. There are all these opportunities for micro-breaks. We don't get those anymore. It literally is non-stop when I'm at home. It seems like I'm at home, I'm sitting in shorts and a t-shirt... It shouldn't feel like I'm working as hard as I am."
Though we may not have recognized it until it was so plainly stated, Mr. Ryckman's point is something we all need to be mindful of, especially teachers. The little workday minutiae we'd normally take for granted is gone and it can have huge impacts on how we work. That's why it's incredibly important for students, teachers, and administrators to actively evaluate what is effective.
As Mr. Ryckman explains, this was one of the biggest issues their district encountered when it came time to transition to distance learning:
We had invested a lot in really doing training around digital materials, the use of digital materials for kids, the use of a learning management system. So, for the most part, we were good in that way. But what we quickly found out is that a lot of teachers tried to take what they've always done in a classroom and do it remotely. And that just doesn't work. You can't take what you traditionally have done and simply digitize it. It doesn't work.
One of the reasons why digitizing what we've always done isn't effective is that what we've always done wasn't built to hit moving targets.
"Families are moving. They have lost jobs, they are moving in with other families. When you think we have these people connected now, but then all of a sudden they've moved to another location and I think that we've lost families altogether. I think there are families that have moved out of the area that didn't say anything or are just in the wind. That's all very concerning. No matter what, I'm worried about our kids that are not connected. Kids whose parents are working so they're taking care of their siblings. Those are the kids that I am most concerned about right now."
As we've seen time and again in on-going conversations about distance learning, the biggest challenge for educators is making sure their students have access. The coronavirus outbreak has merely highlighted the need to ensure kids are able to connect. Luckily, Mr. Ryckman and his team were able to work with local ISP Cox Communications to get as many people connected as possible. He ordered over 500 hot spots to make sure connection was possible, but even then there are factors, like families making the difficult decision to move, that administrators can't address through conventional intervention.
Ever the innovator, Mr. Ryckman told us that one of his dreams is to create an academic Wi-Fi network exclusively for all SBUnified students, which would conceivably eliminate the need to purchase hot spots in the hundreds.
Todd Ryckman is one of 50 leading voices in education featured in our new ebook, Return & Reimagine: 10 Challenges Facing Your School District this School Year. Download here.
One thing that was consistent across our entire conversation with Mr. Ryckman was his appetite for innovation. When we asked about how Santa Barbara Unified School District is measuring the success of its distance learning initiatives, he explained to us that they have built a dashboard where they can clearly see how students are connecting with their classes. How often are they participating in Zoom sessions? How often are they logging into the learning management system? All of that information is available on a single dashboard and can easily be converted into digestible graphs.
On top of the dashboard that measures student engagement, Mr. Ryckman and co. responded to the State of California's request that schools cease taking daily attendance by creating a weekly check-in system. It's a simple, two checkbox system where teachers confirm that they have seen a student sometime that week or that a student has completed a certain task that week. If there are truancies that emerge, a family engagement unit then reaches out to ask what's going on.
He admits that this may not be the truest gauge of success. In order to innovate as Mr. Ryckman does, you have to question everything, including yourself. It's why he's such a strong and vocal proponent of competency-based learning (CBL). CBL would do away with our traditional notions of grades and instead focus on cultivating students' skills over just teaching them facts.
"Education shouldn't be about compliance. And that's what it is right now. The kids who do really good are the kids that are the most compliant, that know how to play the game. It's really not about learning, it's about jumping through hoops."
I would love to see us get to a place where kids actually enjoy the courses that they're in that they have a lot of choice. That's another thing that I hope comes out of this—a lot more choice for kids."
Mr. Ryckman does believe that COVID-19 may have inadvertently accelerated the adoption of new models because of the gaps in the system the virus has exposed. But, it's going to be a while before the education system switches entirely to a competency-based model. No one even knows what September is going to look like, so why prognosticate and get attached to potential overhauls when there are too many unknowns? However, the current dependency on digital tools may spark some self-reflection as Mr. Ryckman hopes:
"I'm hopeful that teachers will see that, 'Hey, I can do what I do in a different way and be just as effective.' Maybe more effective. I hope that the teachers let go of some of the control that they have and give it to the kids. I really believe that the hardest working in a classroom should be a student, not the teacher. And that's not what we see in education. Teachers are always the hardest working people. I'm hopeful that we'll begin to use more effectively the digital tools we have. I don't believe that kids should be sat in front of a computer or that should be the only thing they ever use but it's an amazing tool and why aren't we using it more?"
As we were wrapping up our conversation about what the future of education might look like and to better implement digital tools next year, Mr. Ryckman was kind enough to pay our team a compliment regarding how our partnership with the district is helping them navigate the COVID-19 waters:
"Paper is very appealing to people right now. It's come up a lot in conversations about how we can assist teachers in meeting the needs of kids when they can't be in the same room with them regularly."
"One of our tech coaches teaches a really advanced math class and she uses Paper with her kids. She's not available to them all the time now like she used to be, so her kids are using it quite a bit right now just for extra help. And then of course, you know, our kids who are more at-risk and our AVID kids are also using Paper. It's helping kids on both ends of the spectrum."