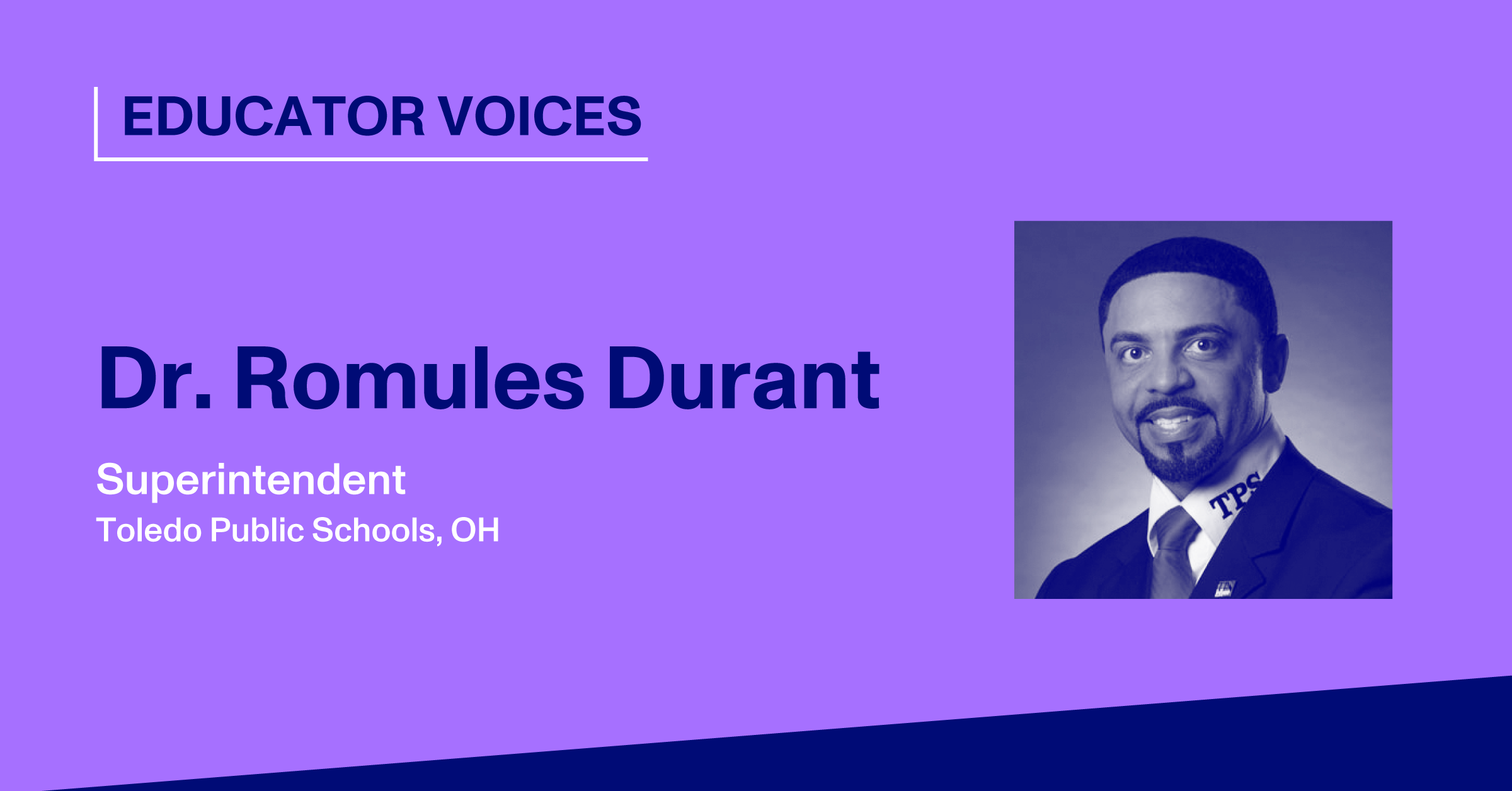 Accelerating Readiness & Excellence with Dr. Romules Durant
October 6, 2021
5 Questions with Dr. Romules Durant
The Paper team recently had the pleasure of speaking with Dr. Romules Durant, who graciously provided a snapshot of the incredible work his team is doing at Toledo Public schools (TPS.)
Dr. Durant has been working at TPS since 1999 as a teacher, administrator, assistant superintendent, and since 2013, superintendent. In the last eight years, TPS has seen its graduation rate jump by 15 percent, its ranking among Ohio's largest urban districts jump from 4th to 1st on the state report card, and its highest state watch category move to a middle level of oversight—becoming the only large urban district to achieve this.
Dr. Durant discussed his district's plans for learning acceleration, his Young Men of Excellence and Young Women of Excellence mentoring groups, college and career readiness, and, last but certainly not least, TPS' magnet schools.
What is your district doing to tackle the need for learning recovery and acceleration?
Since before the beginning of the school year, we've been collecting data and tracking the most significant needs the students have coming out of a non-traditional school year by using a program called iReady. iReady uses an adaptive personality profile, and by using that, we are able to, in essence, complete an intervention for students and see where they might be struggling.
This summer, we not only expanded our summer school options but also opened it up for the entire district. We had 4,000 students take part in the summer school learning and extended it four additional weeks, so we were able to do some intense intervention using some of the data analysis taken from iReady. We carried that over into our summer pieces, continued for another month until July, and then gave them a little bit of a break until we started the new year back up in August.
At the end of the day, we want to be able to measure and gauge the after-school impact just as well as the in-school impact. The two are going to be in collaboration with each other since the after-school piece should be an indication and support system of what happens during the school day. So some of the things that the teacher may not be able to dive deep enough with a child can ultimately happen within the after-school spaces.
Can you tell us a bit about the Young Men of Excellence and Young Women of Excellence mentoring groups?
Young Men of Excellence and Young Women of Excellence are groups that I started up when I was an assistant superintendent. However, the idea started back when I was a principal of a middle school. I helped facilitate an environment in which the students were leading the school. Students ran the cafeteria, assemblies, events, hallway traffic, and even the traffic starting and ending the school day. Students taking charge and acting as leaders set the culture and climate of their abilities. Moreover, at the end of the day, these individuals had an influence over their peers that many other students don't have. At this point in time, I referred to them as the "disciples."
However, there were a few instances in which some students fell back into gang violence or trouble once they moved into high school. So I asked myself, how do I help students stay within my purview or within my presence when they leave my direct center of influence? And that's how Young Men of Excellence started. I created a club in which, no matter what school you go to in this district, we will always have a presence in each other's lives.
Then, next thing you know, the young ladies wanted a group of their own, so I started the Young Women of Excellence. We've seen that staff and teachers began using the Young Men and Women of Excellence to influence other members in a classroom. It's become clear that the greatest way to change teenage behavior is to depend on the peers themselves. We're going to continue to foster that practice because, in times like these, a support system is even greater than any time before.
Given the current circumstances, what does your district have in place to ensure that your seniors will be college or career-ready this school year?
College and career readiness have always been a part of our core value system, and we believe it starts much sooner than their senior year. Here in our district, as a student is coming into the fifth grade, we utilize a career-building tool called Naviance to assess a child's strengths and weaknesses and align those strengths to career opportunities. The student then starts to learn more about the process of starting that career, meaning what major and college to choose. The students can go to a magnet school, which is a career-based school, a STEM school, or a traditional school, in which we've set up over 40 tech programs that they can visit.
We also host a career expo, in which we bring all the career programs together, and the kids are expected to visit each one so they can begin to see what field they might be interested in pursuing. The goal is to have the students declare a major by seventh or ninth grade. The reason why we say seventh or ninth is that some of our magnet schools go from seventh through twelfth grade, while our traditional high school goes from ninth to twelfth.
But at the end of the day, after they've done their exploration of understanding their own identity, we're able to establish their high school course of study. At the end of their high school experience, we expect students to do an internship and ultimately transition into employment, with which we have an over 90% placement rate within the district. After coming out of a situation like last year, however, I think it's best to offer credit recoveries and go right back to the basics. We're encouraging students to enroll in remote credit recovery classes, so they don't fall behind.
Can you share more about Magnet Schools? What kind of hands-on, thematic education programs do you have right now?
We've taken what used to be a Metro Park and transformed it into a giant campus for students to learn about various fields of study tangibly. We have a STEMM elementary school, a high school, two greenhouses, a botanical garden, a barn, an unleashed dog yard, an advanced playground, a soccer field, an interconnected bike path, and a walking path throughout the entire campus. We have over 200 reptiles and amphibians in the greenhouse, including a crocodile. This is truly an amazing natural science program for students that want to pursue a career in natural science or veterinary work.
Furthermore, we also built out a program called the Aerospace and Natural Science Academy, in which we combined aerospace and natural science to justify funding for a new building. Once the program grew, we separated them into two schools, and now we have the Toledo Aerospace Academy housed at the airport. Once those students are ready to work, they are already familiar with the machinery and potential employers that own the airport. This setup really does feel like a win-win situation.
Do you have any plans to establish more magnet schools in the future?
The plan is that, by 2023, we will have seven magnet schools. The hope is that we will have more career thematic magnet schools than traditional education schools. We're currently in the process of establishing two programs: the Toledo Technology Academy and a Pre-Med and Health Academy at the Toledo Hospital.
The first will have three community colleges housed within it: Northwest State, Terra State, and Owens Community College will all offer associate degrees and certification and bring their industrial machine for advanced manufacturing degrees and associate's degrees. In addition, we've mapped out a space next to the school for an electronic vehicle center that will train and educate our students on electronic vehicles, something that we all know will become more prevalent in years to come. The second is the Pre-Med and Health Academy at the Toledo Hospital. Next fall will be the first enrollment of the freshmen class. And these students will attend high school in the culture and climate of the industry they want to work in. They will have either a two-year or four-year pathway.
We have so much in the works, and we're excited to start building out a different way for students to go to school. Magnet schools truly allow opportunities, but more importantly, they increase efficiency and effectiveness with regard to operations—because each industry is already invested in the students as future employees.
This interview, edited for clarity and length, is part of a series with educational leaders to highlight their perspectives on the changing realities of education.