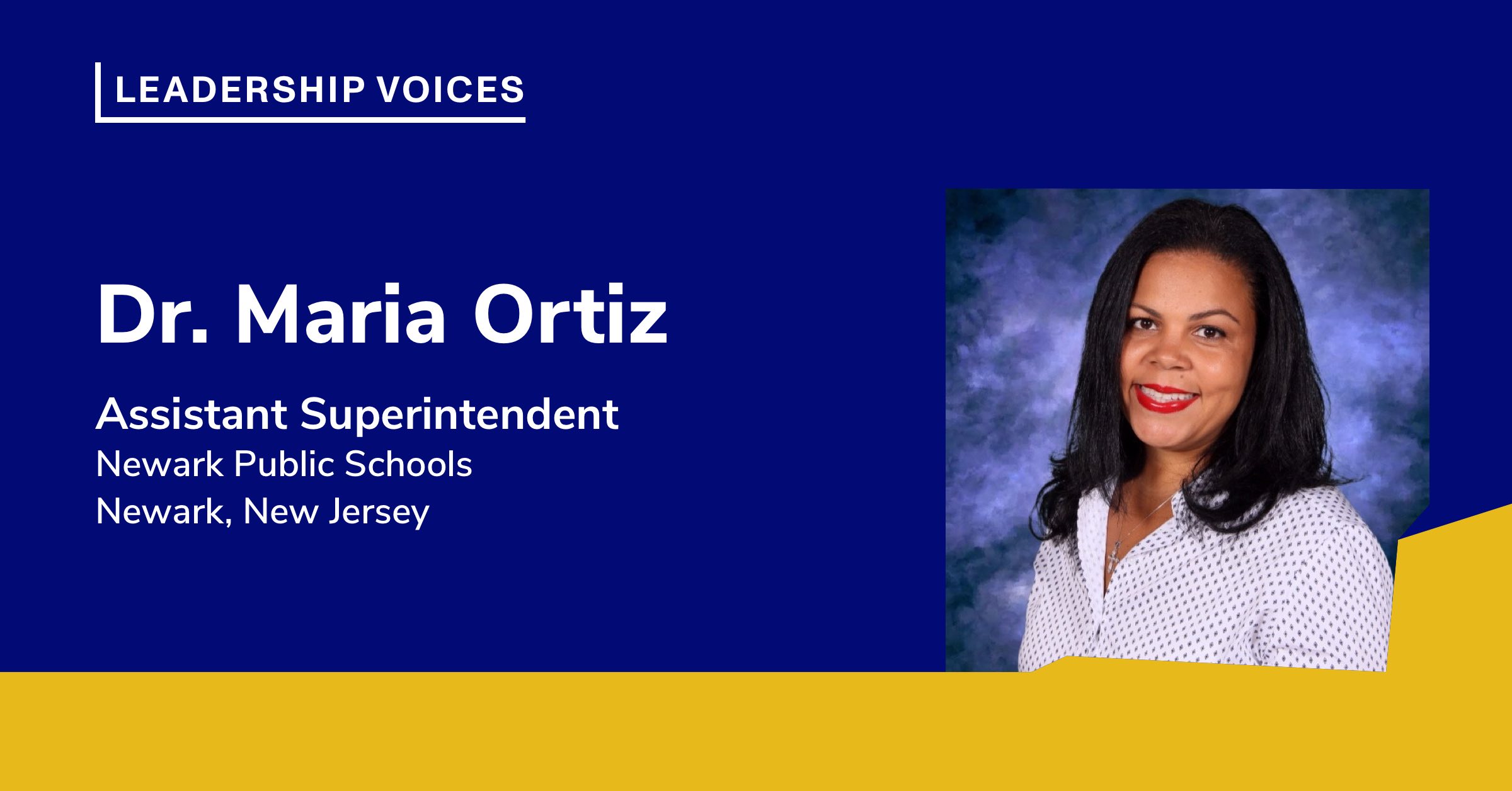 5 questions with Dr. Maria Ortiz of Newark Public Schools
October 19, 2022
The first thing you notice when you speak with Dr. Maria Ortiz, the assistant superintendent of high schools for Newark Public Schools, is that she's a big believer in Newark, its education system, and its people—especially the students.
As the largest district in the state of New Jersey, Newark Public Schools is on a journey to accelerate learning and provide meaningful, student-centered opportunities for engagement while preparing learners for success in higher education and their chosen careers.
We spoke with Ortiz, a native of the Dominican Republic and a lifelong Newarker, about what Newark Public Schools is doing to prepare students for the future. Read on for an insightful interview, which has been edited here for length and clarity.
For the 2022-2023 school year, what would you say are your biggest priorities? What challenges are you hoping to tackle this year?
I would say that learning acceleration is our No. 1 priority.
I believe we have done an excellent job implementing protocols that will ensure the safety of our students. And these protocols are supporting their mental health, which is an excellent way to support and collaborate with our communities so that we can move ahead.
Now, our push is to have strategies that will support the new face of education in America. We are being mavericks and leading the charge when it comes to putting systems in place that will be sustainable, and that will boost student outcomes. We are definitely pushing for not only the reduction of learning loss, but also the acceleration of opportunities for our students.
We are all aligned with the superintendent's vision as well as the mayor's and community's vision for how to move Newark forward.
[READ: "The K-12 guide to learning acceleration"]
How are you balancing learning acceleration with the need to reengage students?
Students nowadays are very interested in entrepreneurship. They're interested in identifying their own talents and pursuing their own paths. We are pushing for them to attend colleges and universities, of course. However, we are also working with our high school redesign plan and making room for students to have connections with colleges and universities alongside externships, internships, and apprenticeships with industry partners. These organizations are committed to ensuring our students are able to fully realize their interests, and the opportunities provide learners with a direct connection to an industry partner.
There's a direct link to making their dreams possible. For students going to college, it's almost like, "I'm already ahead of the game. My dual-enrollment courses are segueing right into the university."
That's one of the strategies that we are really pushing: the dual-enrollment programs and the career and technical education (CTE) programs. We're maximizing those opportunities by partnering with colleges and universities.
What can you tell us about how the district is prioritizing future readiness for students?
I want to take an opportunity to share some examples of the greatness that is happening and to give credit to Superintendent Roger León. He's taking advantage of every second he has in the school system.
As an example, East Side High School is one of what we call our comprehensive high schools. With over 2,000 students, it is the largest high school that we have. At East Side, there are students who are dually enrolled in the Montclair State University teaching program. The intent is for them to come back to Newark and be teachers in our district. The kind of reciprocal model that we have is unprecedented. When you're growing your own, that is really, really an investment.
Are there any other strategies or approaches you'd like to share?
We have a culinary program at Newark Vocational High School. For this program, we are working with Hudson County Community College because it has a leading culinary degree. Our students are able to learn the right techniques and work with prominent local chefs. Some even wind up doing internships with celebrity chefs like Marcus Samuelsson.
We are really excited about our students having these opportunities and leaving the program with a leg up in the industry or ready to advance their education by going into food sciences, food chemistry, or other realms.
We also opened up the Newark School of Fashion and Design, and our partner there is the School of Fashion at Parsons School of Design. One of the students from the Newark School of Fashion has participated in national competitions. In addition, we are partnered with Misa Hylton and Gucci Changemakers.
Is there anything else you want to add?
We want to truly celebrate the teachers. Teachers in America have done an excellent job at demonstrating grit, determination, and commitment to our children. And our district has responded by offering teachers a little more pay—not enough, because there's never enough money for a teacher—but I would say this has allowed us to decrease the teacher shortage in our district. As a result, our students really feel the consistency. Our students need routine, love, and commitment. Those are attributes that we are looking for. For any teacher who is willing to come to our great city, we have a lot to offer.
[READ: "Effective solutions for school staffing shortages"]
I am a Newarker for life. I just think that this is a great model, and we can share our insights on how to maximize the great opportunities in front of us.