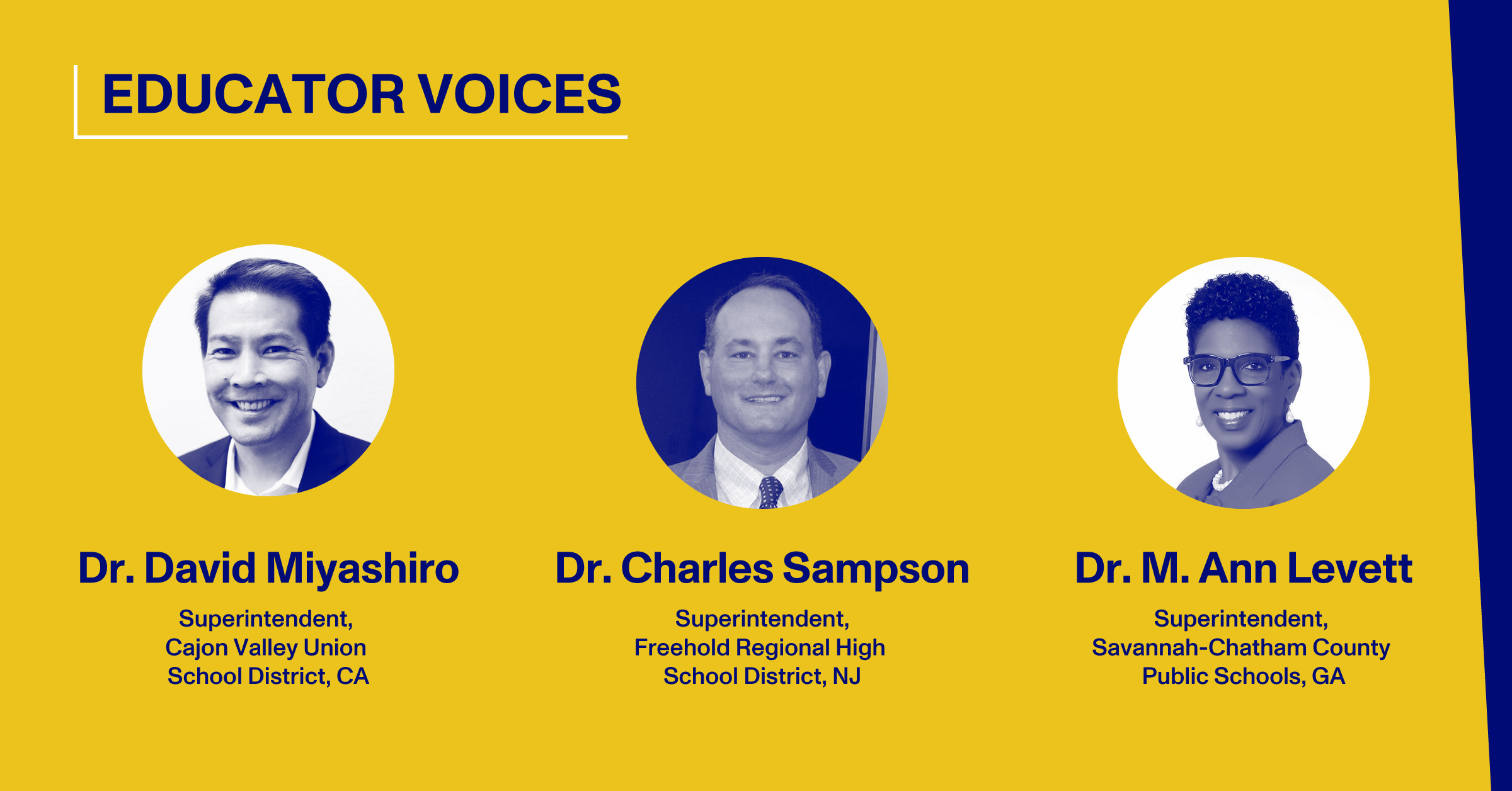 Driving K-12 Success: Influence of Local Politics & Community Partnerships
October 30, 2020
Paper's Restart & Reimagine Discussion Series kicked off on October 28th, 10 am PST.
→ Watch the Webinar Recording Now
Moderated by Andrew Rotherham, an education analyst and the co-founder of Bellwether Education Partners, the distinguished panel featured:
1. Dr. David Miyashiro, Superintendent, Cajon Valley Union School District, California
2. Dr. Charles Sampson, Superintendent, Freehold Regional High School District, New Jersey
3. Dr. M. Ann Levett, Superintendent, Savannah-Chatham County Public Schools, Georgia
Local politics have played a significant role in how individual districts have tackled the K-12 disruption caused by COVID-19. Our panelists discussed the current challenges and opportunities in K-12, and also how they are planning for what lies beyond the horizon, delivering a number of insightful takeaways and stories from the field:
Read a comprehensive recap of the discussion below:
1. Districts are measuring success in new ways, focusing on metrics that matter
Cajon Valley USD, CA, has been measuring well-being, hope, and engagement as primary metrics of success. When surveying students, parents, and staff, they measure: "Do our people feel seen and heard in their spaces? Do we have healthy relationships across our community? Are the teachers taking good care of children?"
"These are the metrics that if we really nail down, those bottom rungs of Maslow's hierarchy of needs, then kids can thrive. We already know if they're hungry, stressed, or anxious, they won't do well," explained Dr. Miyashiro. According to the superintendent, addressing these first and then letting the academic side of things self-actualize is the best way to help students thrive.
I'm very hopeful that we're using this as a time to look at compliance and standardized testing as things of the past so we can start measuring things that matter in our schools.
Unlike Dr. Miyashiro and Dr. Sampson's districts, who had been using 1:1 digital technology for 8-10 years before the pandemic, Savannah-Chatham County Public Schools, GA, was pushed to adopt a 1:1 program due to COVID-19. "We've adopted the LMS, so we're monitoring attendance and participation with that. We're also using as a measure of our success the number of home contacts we're making so that we're able to provide services and support to families," explained Dr. Ann Levett.
Her district is looking at several other factors to measure success: "How often are we having socially-distanced in-person events and how many people are participating in that? I never realized the value of curbside service as much. We do it for groceries, but we also do it by issuing learning materials. The number of kids who are coming in for career tech labs, clubs, participating in athletics — so still having that human touch that is very critical to education."
[ALSO: 5 Reopening Secrets from Irvine USD, CA District Leaders]
2. District leaders are pushing for change in state accountability standards
One thing that's become even more apparent since the pandemic, according to Dr. Sampson, is that old seat-time requirements should not exist anymore. "But while we are simultaneously coming up with solutions to meet these curriculum standard expectations, our State Department of Education is pushing down everything as was."
Though there is some real opportunity for change, especially at the high school level, there haven't been many changes. At Freehold Regional High School District, NJ, many career and technical education pathways were once hamstrung by state seat-time requirements. This has allowed us some freedom from that.
My fear is that the freedom that we might presently have now is going to quickly come to an end as everybody hops back onto the accountability measures from the state hierarchy.
Dr. Miyashiro explained that at Cajon Valley USD, they're still scheduled to have standardized testing at the end of the year, although 300,000 students still don't have access to computers or Wi-Fi. This raises the question of how they're going to monitor testing security when 90% of students are at home. Dr. Miyashiro explained that teachers must now monitor and quantify students' work, and track it on a locked screen for attendance and accountability.
Teaching in a pandemic is already hard, and these things that the state is pushing down are not only useless, but they're stressful for everybody.
3. In the face of inconsistent guidance from public officials, districts have had to create systems themselves
In California, as Dr. David Miyashiro explained, the governor is introducing different guidelines and rules on nearly a daily basis. "It's just made the politics around what we're doing contentious between local school boards, labor associations, and superintendents."
"Our governor released guidelines for Thanksgiving and I thought my colleagues were kidding when they told me. It's like, you're going to tell us how to do Thanksgiving, but you can't tell us how to open our schools and provide for our children?"
Dr. Charles Sampson said that the situation has been very similar in his state.
"The guidance has been... inconsistent would be a kind word. It's been a bit of a free-for-all in New Jersey's context, we're a small state with 600 different school districts, and we have each one determining 600 different ways of how they're doing this under the guise of local control."
To allow schools to go remote with all those hundreds of thousands of students still not connected is educational malpractice at its finest.
"We just named the new acting commissioner of education, but for several months of this we were without a commissioner of education, and so there was a real void here in New Jersey that I think just exacerbated the situation even further."
Everything's come down through executive orders, and executive orders don't often realize what's actually happening in school systems and in the field.
In absence of clear guidelines from state and county public officials, Dr. Levett explained, "It's kind of, you're on your own, you make your decisions. In terms of our politics itself, our Mayor is very supportive, and so is the Chatham County Commission chair. And our Department of Public Health officials offer advice, but they do not mandate or get involved in our decisions. When it comes to State leadership, our governor took great pride in shutting everything down April 1st, but he's never gone in with an executive order and said schools are now open."
4. There is more political noise than ever, and district leaders are fighting to put students first
"Here's the irony in all of this," stated Dr. Sampson, "school districts are being allowed to iterate however they want to plan the school day, yet when it comes to the specific accountability measures, they're expected to stay exactly within that box."
Dr. Levett had requested Betsy DeVos for SCCPS to be exempted from state testing, based on the sheer number of kids without access to the internet in Georgia: "She denied that request, so our state superintendent went to the State Board of Education and said, 'I'd like for the state test to count for a lower percentage,' and they denied that request. All political appointees of the governor denied the request. So, how do we ensure that our kids are not subject to this kind of political action?"
"All of this has been having a negative impact on what we've been doing. Because the guidance goes from one thing one day, to something else the next day." Initial guidance on reopening was all about keeping everyone safe, learning recovery, and making sure districts were doing their best in terms of staff and students. The current guidance is dramatically different: "It's all: Keep the schools open, keep the cases down, and open under basically any circumstances."
It has been very challenging for us dealing with the politics, when our responsibility as school leaders, morally and ethically, is to the children that we serve. So we're having to fend off the politics and still get what we need to serve kids.
Dr. Sampson explained that "there are a number of students who will thrive in the remote world, but for the sake of the school-dependent children, we have an obligation to get them back to the schoolhouse. If we follow our safety protocols, schools are probably one of the safest places to be in right now."
5. This year has led to some unforgettable aha moments
The superintendents were asked to share the most pronounced thing they've learned to date.
Dr. Ann Levett shared: "For us, we're having to learn to pivot quickly. In basketball, the difference between whether you're able to make a shot or not is your ability to pivot. And we're having to pivot - predictability is not our friend. So, we're experiencing a crisis but there's also an opportunity for us to consider what we do and why we do it."
Dr. Charles Sampson shared that some of the biggest takeaways from the pandemic for him are how neglectful we've been of our public education infrastructure in this nation and how close to the edge so many of our families are and how easily they're tipped over the edge. It's increasingly clear that school systems and community groups are a lifeline for many. Finally, he noticed how quickly gaps became imminently more pronounced and how quickly we need to be ready to lift up those children.
Dr. David Miyashiro shared:
COVID isn't a change agent, it's an accelerant.
"Districts like ours have been moving towards closing the digital divide using machine learning, artificial intelligence and data science to really maximise the tech tools for students in teaching and learning. Those are things that now must happen." Now that most districts have invested in technology, explained Dr. Miyashiro, this should not stop with Zoom. "We should use it for tools and software that are available in other industries to really personalize learning."
Another Aha moment for David is the need for more alignment between K-12 education and preparing kids for the workforce.
The third thing is socioemotional learning: Focusing on the wellbeing of school employees and children is paramount and if we put that at the forefront of what we hold ourselves accountable for, we can actually reinvent the public education system to meet the current need of today.