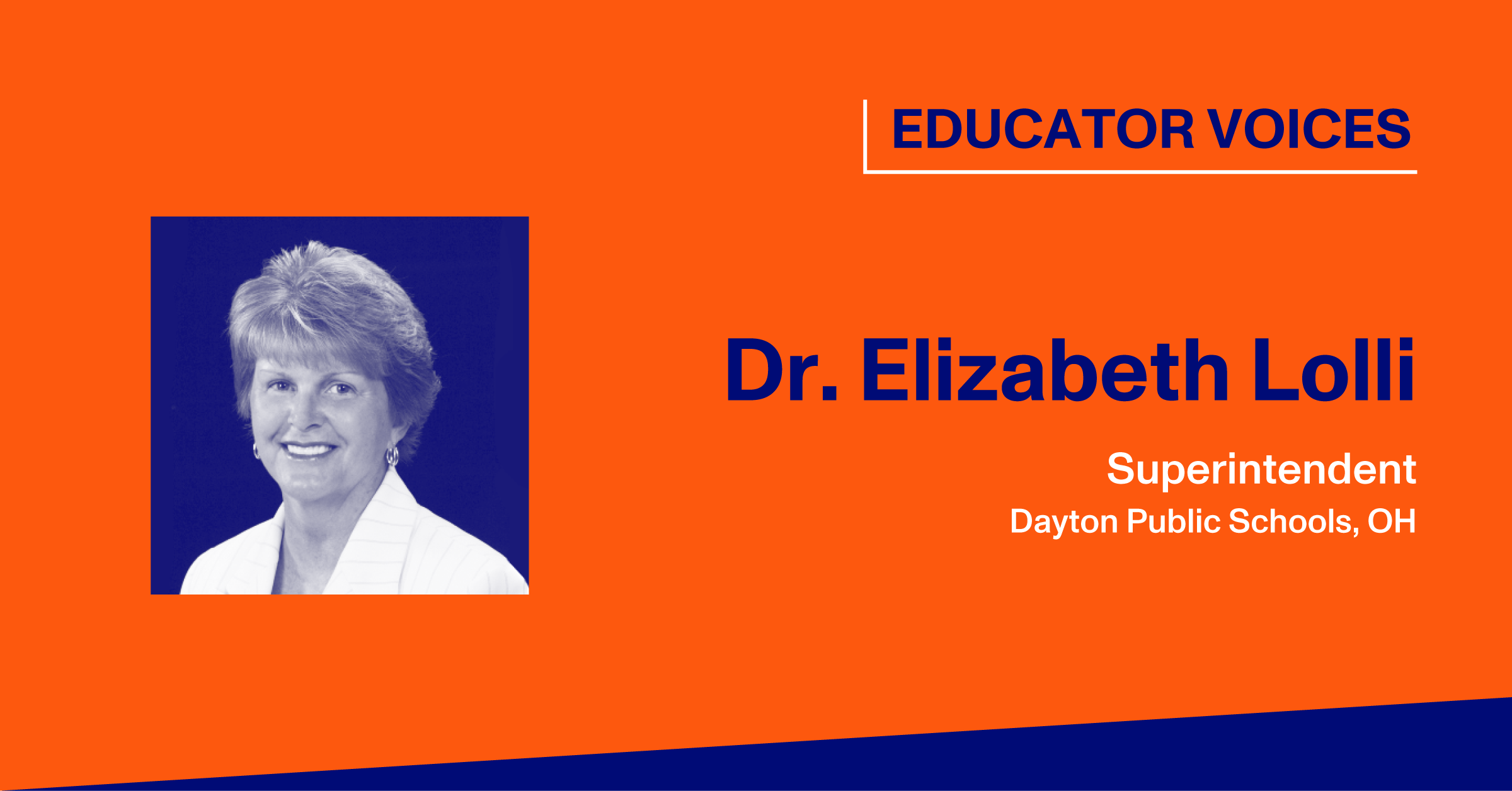 4 Questions With Dr. Elizabeth Lolli
May 25, 2021
Dr. Elizabeth Lolli is the superintendent of Dayton Public Schools (DPS), Ohio, an urban district with more than 12,000 students in pre-kindergarten through high school. In this interview, edited for length and clarity, Dr. Lolli shares how DPS is tackling learning acceleration and equity gaps, prioritizing grant money, and her main takeaways from this past year.
What is your district doing to tackle the need for learning acceleration?
Once we returned face-to-face, we offered a zero-period class for students who hadn't yet passed all of the proficiency tests to pick up some credentials and meet some of the Ohio requirements. As far as other students, we've been doing credit checks—getting students into credit recovery programs and giving them the support they need to graduate. Next year for incoming seventh through tenth graders who do not meet a specific cutoff score for reading, they will be required to be in a reading class for the year.
We are doing a massive amount of staff development for our teachers to change their practice in teaching math—in an effort to make it more interactive, engaging, and individualized for the student and more focused on what the data tells us about the students' achievement in math.
What are you prioritizing to continue closing the equity gaps in your community?
With the Ohio Department of Education and the State of Ohio, we highlighted that the urban schools in the state had a huge equity gap when they closed their buildings last year. I, personally, fought to close the digital divide by speaking with the governor, legislators, and state board members. Last spring, we depleted our schools' device supply and sent devices to families. We also equipped buses with wifi and parked them in neighborhoods throughout the week. Because of the publicity surrounding our needs, we received several grants to close that equity gap, and this year we were able to give every student a Chromebook and every family a hotspot. If we hadn't been vocal about our needs, we might not have received any help. We've also been working with Cincinnati Bell and our county and city members to ensure that the internet is considered a utility and that every family has access.
Beyond our efforts in closing the digital divide, our equity director developed a team to create a framework for equity practices, policies, and procedures. We're looking at disparities between discipline, attendance, graduation rates, and college credit application. For example, is there an equal percentage of students taking college credit from the African-American population as there is from the White population, or is there a disparity? And if so, what's causing that?
How are you prioritizing funding to propel your district's long-term strategic goals and objectives?
The initial CARES fund essentially refunded us for the money that we had spent on our technology. The new ESSER money will go toward hiring approximately 80 additional primary teachers in grades 1-3. In the fall, we'll have two teachers per classroom—but we're not co-teaching or team teaching. We are making a class-size reduction housed in the same room.
So two teachers will have the same group of students as their class, and we will arrange our classrooms so that, while half the class is being taught math, the other half will be taught literacy. Then the two groups will switch. There will also be workshop times with all students to work independently while the two teachers have small group instruction.
We're also putting a paraprofessional in every two kindergarten classrooms and one math specialist per building in grades 4-6 to do a class-size reduction for math. This will support students who have fallen behind and close achievement gaps. That's how we're spending the bulk of our money—to make sure that we are set up for the future and closing gaps.
What is your one big takeaway from this crisis?
During the height of the COVID closures, I worked longer hours. I would start at 7:00 in the morning on ZOOM meetings and sometimes not finish until 9:00 at night. I think the personal lesson is that although the access is there, we need to manage and balance it.
I've also learned that we can engage parents more with technology. We can engage them more in group activities, parent conferences, and student learning. For parents without transportation or who work two jobs, technology opens up opportunities to engage with schools. While technology can be very beneficial, it can also be detrimental to us because we don't have human interaction. So we need to balance that as well.
This interview is part of a series with educational leaders to highlight their perspectives on the changing realities of education.