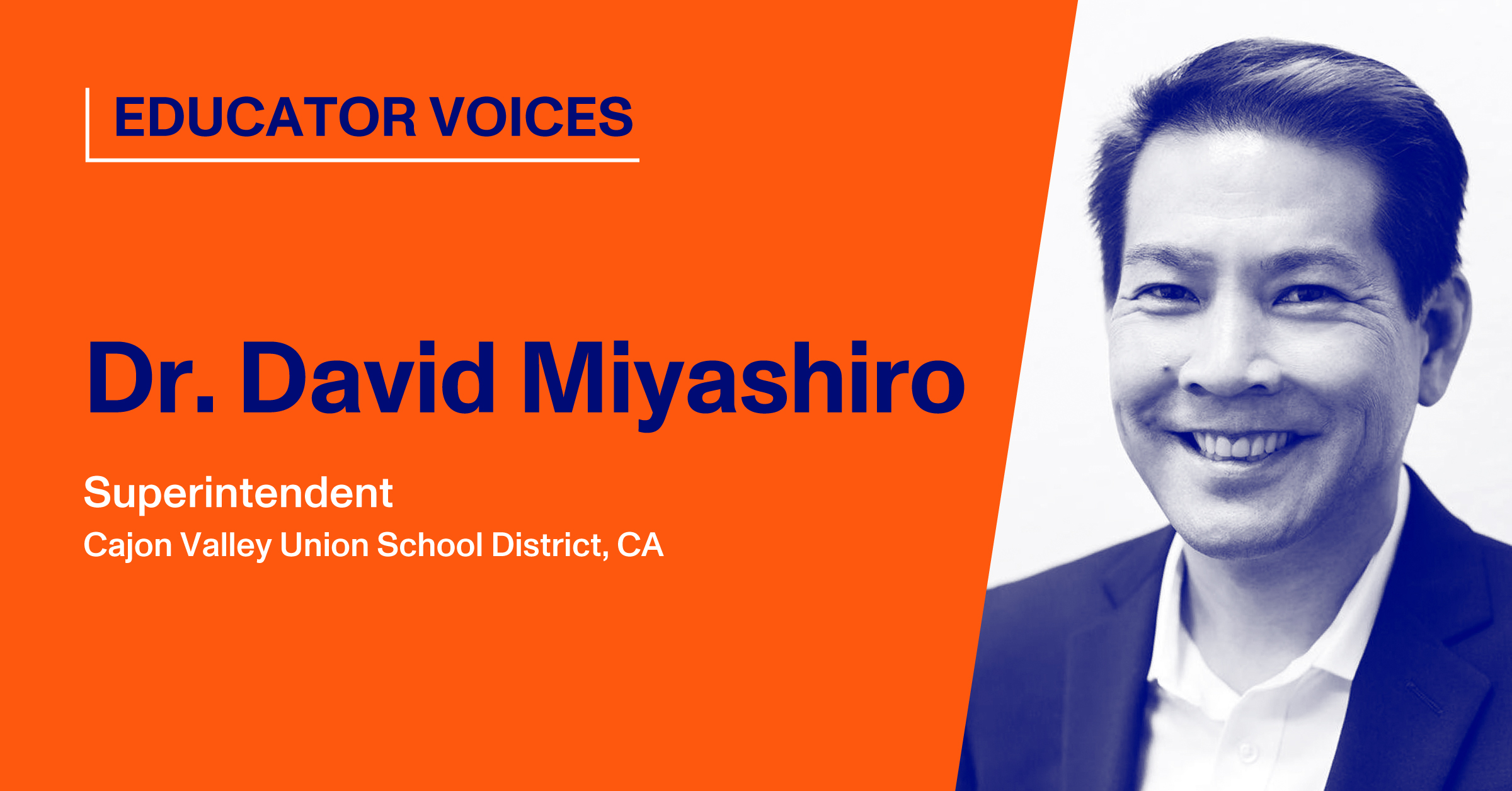 The Superintendent at the Forefront of Blended & Personalized Learning
May 11, 2020
Dr. David Miyashiro currently serves as Superintendent of the Cajon Valley Union School District. David was named 2016 Superintendent of the Year by the Association of California School Administrators Region 18. With David's leadership, Cajon Valley has undergone a seamless transition to the digital age.
The district has system-wide success with blended and personalized learning where all teachers and students have 24/7 access to their district-issued laptop, internet connectivity, and a digital ecosystem of robust resources and creativity tools. David generously shared with the Paper team about how the transition to distance learning during school closures wasn't much of a disruption for his community, because the relevant programs and adaptive curriculum were already second nature to the teachers and students.
Happy kids, healthy relationships, on a path to gainful employment
Since Cajon Valley USD implemented a 1:1 program in 2014, David has engaged with different institutions in San Diego such as the chamber of commerce, department of defense, police department, city manager, and local businesses. He asked them the same question: "If our district was yours to run, what would you be doing with it?". Everyone replied, in their own words: "You need to stop stigmatizing the most important jobs in the country. This college-for-all mentality and this promise of a 4-year degree equalling success in the new world is false." Most of the people that David talked to didn't start with a 4-year degree. To enter their professions, many of them had different non-linear paths from high school to college.
Listening to people talk about what they saw the education system doing wrong, David explained, caused Cajon Valley USD to pivot and focus on three key components: happy kids, healthy relationships, on a path to gainful employment. "And if we have those as our goals, then the goalposts move back. The goals are past high school graduation and college entrance," said David.
The district has a "laser light focus on career development, starting at kindergarten." It has created its program called the World of Work, which helps students build their strengths, interests, and values and then pursue pathways based on their self-awareness. David strongly believes that technology allows students to "have more experiences that they wouldn't be able to have without the power of Zoom or virtual reality and virtual field trips." And if used well, David contends that "we can have more students finding financial freedom and start closing the gap between the one and the ninety-nine percent."
TED partnership
Cajon Valley USD launched the first district-wide TEDx and TED-Ed Club in the United States, and the TED organization invited David to the first cohort of TIES (TED Innovate Educators). This partnership provides students with a robust and personalized curriculum to learn how to give TED-like talks, and Cajon Valley hosts an annual TEDxKids@ElCajon.
What prompted this partnership, explained David, was the intensive process leading up to his TEDx talk at San Diego State:
"The person that contacted me said, here's your timeline. Five months before the presentation, we need your script. Three months later, we need your slide deck, and then you'll engage in speaker coaching with a mentor [...] So having to turn my slides in, I've never done that. I usually work the day before and react to the slides in the presentation. It forced me to think about a script, write a script, put together a slide deck around the script [...] And then, I received coaching and feedback."
David then thought to himself that every student should have this opportunity starting in kindergarten so that by the time they leave high school, giving this kind of talk is second nature to them. That same year, the TED organization started TED-Ed. Cajon Valley met the organizers and started a curriculum for students to obtain presentation literacy.
Building a culture of risk-taking
Across the country, school districts are handing out devices and hotspots to students to ensure all students have access to these. The Paper team asked David to speak on what he thinks stopped districts from distributing them in the past, before the pandemic:
"Priorities. People ask: 'How did you guys afford that?' and it's not affording as it is making it a priority. You have a budget, and you decide what you want to have and what you need to have. If you decide that modern technology and modern learning is a need to have, then you'll prioritize that in your budget, and you'll make concessions in other places," responded David.
For David's district, implementing technology goes beyond budget considerations. Cajon Valley has spent the past six years thoughtfully implementing blended and personalized learning, and fostering a culture of embracing innovation. Teachers are told to anticipate mistakes and are encouraged to show rather than hide them, so that others can learn from them.
"We slowly created a culture of risk-taking, and education is a really risk-averse community. It took a long time to get our educators comfortable with trying new things, and you know 'I'm trying this for the first time' is my favourite phrase," said David.
What's next?
Cajon Valley aims to help move the education system forward. The district is listening to parents and is going to be providing free childcare for essential workers. A survey sent to parents on what their needs were, said David, revealed the needs of the school system in general. First responders and healthcare workers who don't work a regular work schedule explained that they would like to spend more time with their children in the mornings when they don't start their shift until later in the day.
David and his team heard similar stories from many parents. It became clear that they needed to change the fixed school system that parents have to adjust around. They are considering ways to design the system around the parents' needs instead, where there can be a 6 am to 6 pm window for students to come in. David explained that they can retain components of what they are doing now (i.e. online, distance learning) when schools reopen, so that students and parents can continue to have a flexible schedule. David thinks that now that there's more flexibility in learning, the last thing schools should do is revert back to the way things were.
"It's just a different mindset that we're taking because we're now working directly with our parents to see what they need, and it took a pandemic to have that question answered. When we come back, we're going to keep that flexibility. We're not going to require our students to physically come to school to advance in their education. We're going to allow them to continue to progress on their adapted curriculum and career goals. We will be flexible and focus on human connection and adaptation to meet the needs of everybody, not just for one demographic," said David.
The story of David's district shows us that with well thought-out design and implementation, students can have more personalization and flexibility in their learning than we thought was possible. This has implications for what schools can look like when they reopen: "Education wasn't working for most kids before the pandemic, and if we go back to it, it's going to continue to be obsolete."