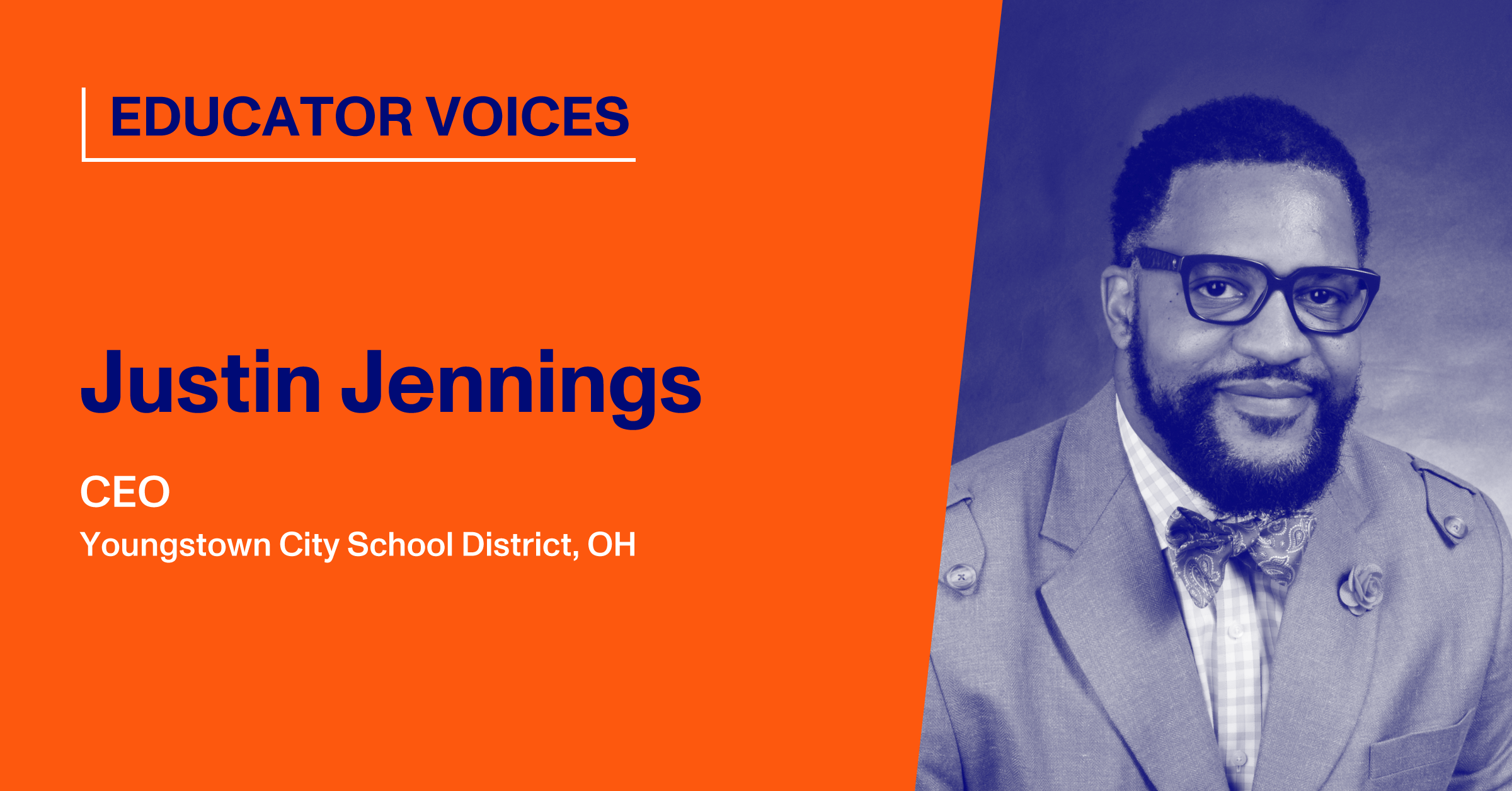 5 Questions with Justin Jennings
August 4, 2021
Justin Jennings, CEO of Youngstown City School District, OH, has been overseeing YCSD since August 2019. Since taking over the role, the landscape of education has changed dramatically, but this affords Jennings to bring forward innovative new ideas to uplift his district.
Whether it's creating equity committees, upgrading the sites' infrastructure, empowering teachers to take better care of themselves, or letting students determine what they need based on their own strengths, under Mr. Jennings' leadership, there's a lot going on in Youngstown City that may provide a model for districts around the country.
What is your district doing to tackle the need for learning recovery and acceleration?
We started with our summer enrichment at the beginning of June, and we are really focusing on the deficits that our scholars have gotten over the last two years. We're looking at the different metrics that we use to make sure that we hit those areas in which they needed this summer.
We're looking at how we can make sure that our scholars are getting what they need and how they need it as far as their learning. We learned through COVID that a lot of our scholars learn well online. So we're looking at doing some hybrid situations, some full online schools, and just working to see what's best for each scholar.
How are you ensuring teacher satisfaction and well-being?
We had our teachers involved in a lot of our planning, so that made it a little easier. But at the end of the day, we still had a lot of burnout. That's something we're working on. We always pride ourselves on making sure that our teachers mentally are healthy. Every week, we have Wellness Wednesday. I ask them, "What are you doing for yourself midweek?" Then on Friday, I'll also ask, "What are you going to do for yourself this weekend to take yourself away from work?"
We also keep an open ear. So our teachers spoke to us, and we tried to modify the way we did our online learning because when we came back to in-person, students had the choice, but teachers didn't. So you have some scholars who chose to stay home, and some who didn't. So what we tried to do was get those numbers together, where we could have a teacher who just taught online and another teacher who just taught students in person, and I think that helped a lot.
How are you prioritizing closing equity gaps in 2021?
We have an Equity Committee, and through that committee, we have about four or five different subcommittees. One is our human capital: Who are we hiring? Who are we retaining? How are we training them? One is our curriculum: What materials are we buying or using? Is it culturally relevant? Is it anti-racist? We have the community portion in which we talk about different things within the community. And then we have a security portion as well, where we bring in our officers and different things like that.
Now, everybody is under attack with the critical race theory being taught in schools, and it's just interesting how somebody can put something out there and people just go with it. Because nowhere in America is the critical race theory really being taught in K-12 schools. It never has been. But now, because it's a big scare, it's the big thing everyone is talking about.
I mean, normally you don't really get to critical race theory unless you are studying it in undergrad in particular, or you're using it for research in your masters or above. And it's been so interesting because even the last couple of days, I've gotten a lot of emails saying, "Well, if you're teaching critical race theory, I'm not going to bring my kids to your school district." And I have to explain to them that we don't teach critical race theory.
I had an email yesterday and a parent was like, "Well, I want my kids to learn government, economics, and not critical race theory." So I responded back. I said, "So you want your kid to learn about the government, but they can't learn about the government without really learning critical race theory because the true story is not being told."
But those are the things you deal with when you deal with equity, when you're dealing with the critical race theory.
We're also working on a project with our ESSER Fund to actually wifi the whole community. So whether you go to our school or not, we're going to use part of that money to wifi the whole community to account for equity as well.
How are you prioritizing current one-time state and federal funds to propel your district's long-term strategic goals and objectives?
So one of the things I decided early on is that we won't fund positions that are not sustainable. So that was one of the things that I've gotten a lot of flack for because we could easily create some positions to put people in. But at the end of the day, they won't be sustainable anymore.
When we bought devices, we didn't buy all brand new devices. I said to my technology director that any devices that are less than a year and a half old, we keep. Anything that's older than that, we replace. So that way, when it's time to replace the devices, we're not replacing all the devices at once.
We've also spent a lot of money on infrastructure. So what are those things in our school district that need to be fixed, that we can use this one-time money for? I mean, I think everybody ran out and got brand new HVAC systems and different things like that because they were told by the manufacturer that they are 99% COVID proof, which is not true because COVID hadn't been around long enough yet for them to be tested. But a lot of people ran out to do that. But we didn't want to do that. We did do some HVAC work, but it wasn't because of air filtration or different things like that. We just did it because we needed to do it.
Can you share the one takeaway from this crisis and how you're applying it to create the future of education?
We've always tried to put all of our scholars in one box and decided that everybody needs to learn with somebody standing in front of them and lecturing them. But, for all those students who struggled online, we had many students who flourished because they were learning at their own pace. They were doing different things a little differently. They could create their own hands-on activities and it wasn't just the teacher. I think that that was something that really came out that was important. It may cause a new generation of homeschoolers, but if it's the best way for some kids to learn, I think that's great.
This interview, edited for clarity and length, is part of a series with educational leaders to highlight their perspectives on the changing realities of education.