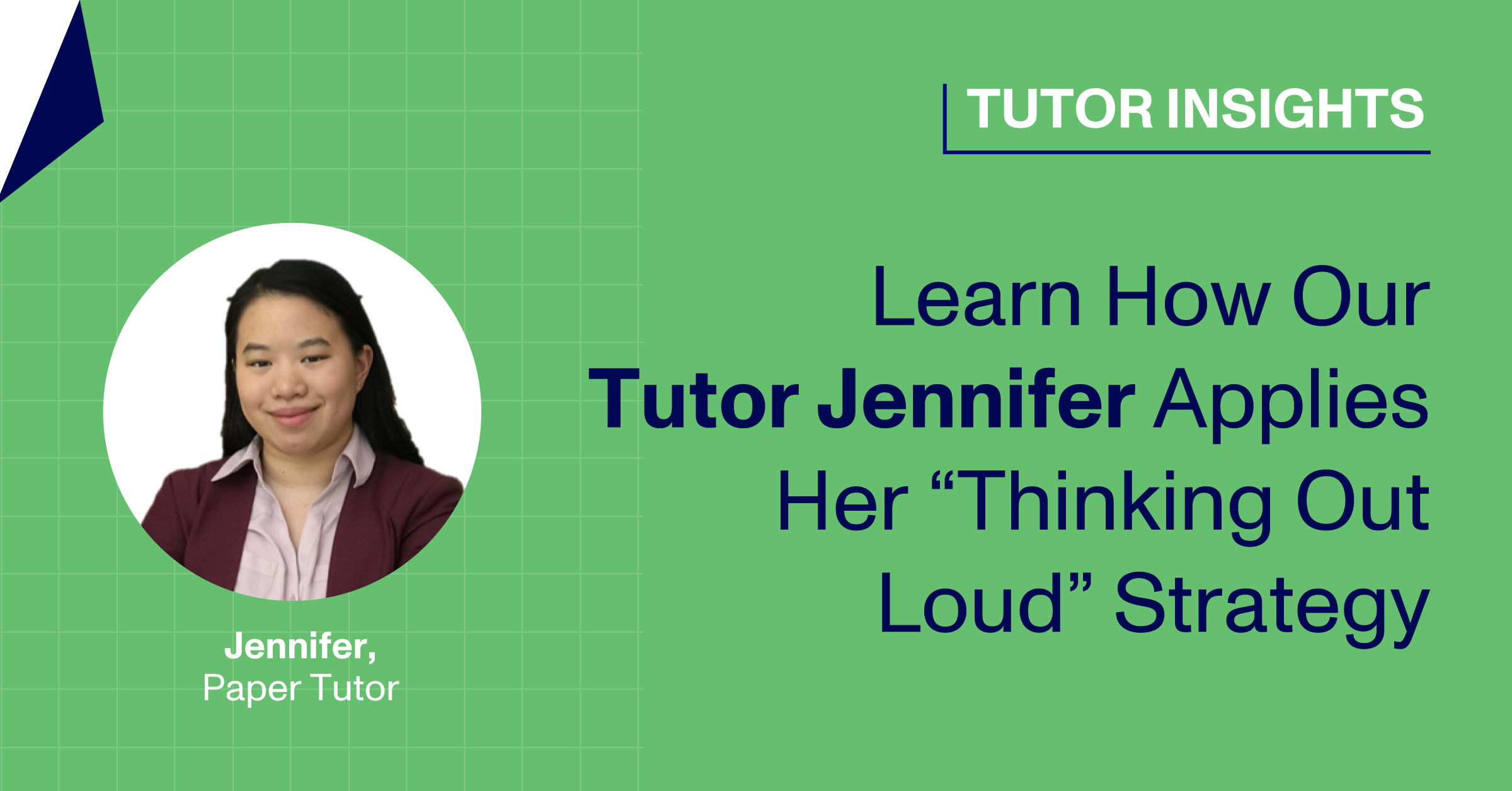 How Modeling Critical Thinking Facilitates Online Instruction
December 3, 2020
This post is part of a series written by Paper's tutors. Each post takes you behind the screen, uncovering their perspectives and expertise. This week, Tutor Jennifer describes her "thinking out loud" strategy for online chat-based instruction.
How long does it take to read this sentence? The average person can read at a speed of approximately 250 words per minute.
That's about 2-3 seconds for those 9 words. On a good day, I can go at a typing speed of 100 words per minute. It takes me about 5-6 seconds to type something that will be read in less than half that time.
As I tutor students over Paper's chat-based platform, I have to pay close attention to one thing: Time is money for a student who is seeking academic help. I have to make sure I answer students as fast as possible to avoid adding to their stress and frustration.
Playing the piano and video gaming has equipped me with a fast typing speed, but there's more to it than that: It takes additional time to read a question and think about how to approach it with the student.
The problem is that students can't see me thinking—to some, it might seem that I'm ignoring or judging them.
How much time passes when you're trying to finish an assignment the night it's due? Two hours, but it feels like 15 minutes.
How much time passes when you're waiting for your appointment at the doctor's office? Five minutes, but it feels like forever.
Being conscious of how attentive I seem to a student on the other side of the screen is a crucial component of tutoring.
In a face-to-face setting, this situation is easy to navigate: eye contact, a reassuring smile, which are either tricky or inaccessible in an online setting. However, I've learned to navigate just as well: Rather than expecting students to wait around while I process their questions, I simply describe my thought process and the amount of effort that will go into solving the problem or explaining a concept.
On the platform, I make it a point to think and type at the same time, because to a struggling student, those handfuls of seconds of waiting can feel like forever.
After turning to my "thinking out loud" approach, I found that it eased students' minds and facilitated successful learning moments. Why leave it up to interpretation, when I can use one of my most important tools: words of reassurance?
Modeling Learning Strategies by "Thinking Out Loud"
As our tutor Jennifer demonstrated above, "thinking out loud" is one of the many ways Paper tutors model learning strategies and instill standards of critical thinking in students. Here are some of the steps tutors can take to do it.
Stating the goal
Students usually have an ultimate goal in mind when they log in to a tutoring session. It could be feeling prepared for an upcoming test or simply getting through some tough homework problems.
This is why the first step of "thinking out loud" as a tutor is to restate the student's goal. After a student explains what they need help with, a tutor can rephrase their explanation using goal-oriented language to make sure they're on the same page.
Every learning strategy starts with a clear goal, so this is an important part of modeling critical thinking skills.
Creating an example
Next, a tutor can use the goal statement to create an example of the problem the student wants to solve. For instance, perhaps a tutor is helping a fourth-grader with a tricky math problem.
The tutor can make up a related example that's a little simpler to work—maybe by replacing the numbers with multiples of five or ten—and use this as a starting point.
Demonstrating the ideal thought process
Using the simplified example, the tutor can walk through the entire process of solving a problem or coming to a conclusion. By talking through their own thought process, the tutor demonstrates a critical thinking model that the student can mirror.
Applying the thought process to a different example
If the student understands the critical thinking behind the simplified example, the tutor can move on to a more complex one. They will "think out loud" a second time, taking the time to ensure the student comprehends the more difficult steps.
Encouraging the student to narrate their own critical thinking
Now the tutor can ask the student to go through the problem (or a similar problem) on their own while narrating their train of thought. As the student goes through the model of critical thinking, the tutor can ask questions and give guidance.
Then, not only does the student have a solution to their current problem, but they've also built a foundation for critical thinking that will guide them to solve other problems on their own.

Jennifer, Paper Tutor
Paper supports students and educators in school districts by providing unlimited 24/7 multilingual live help and essay review. Who are our tutors?