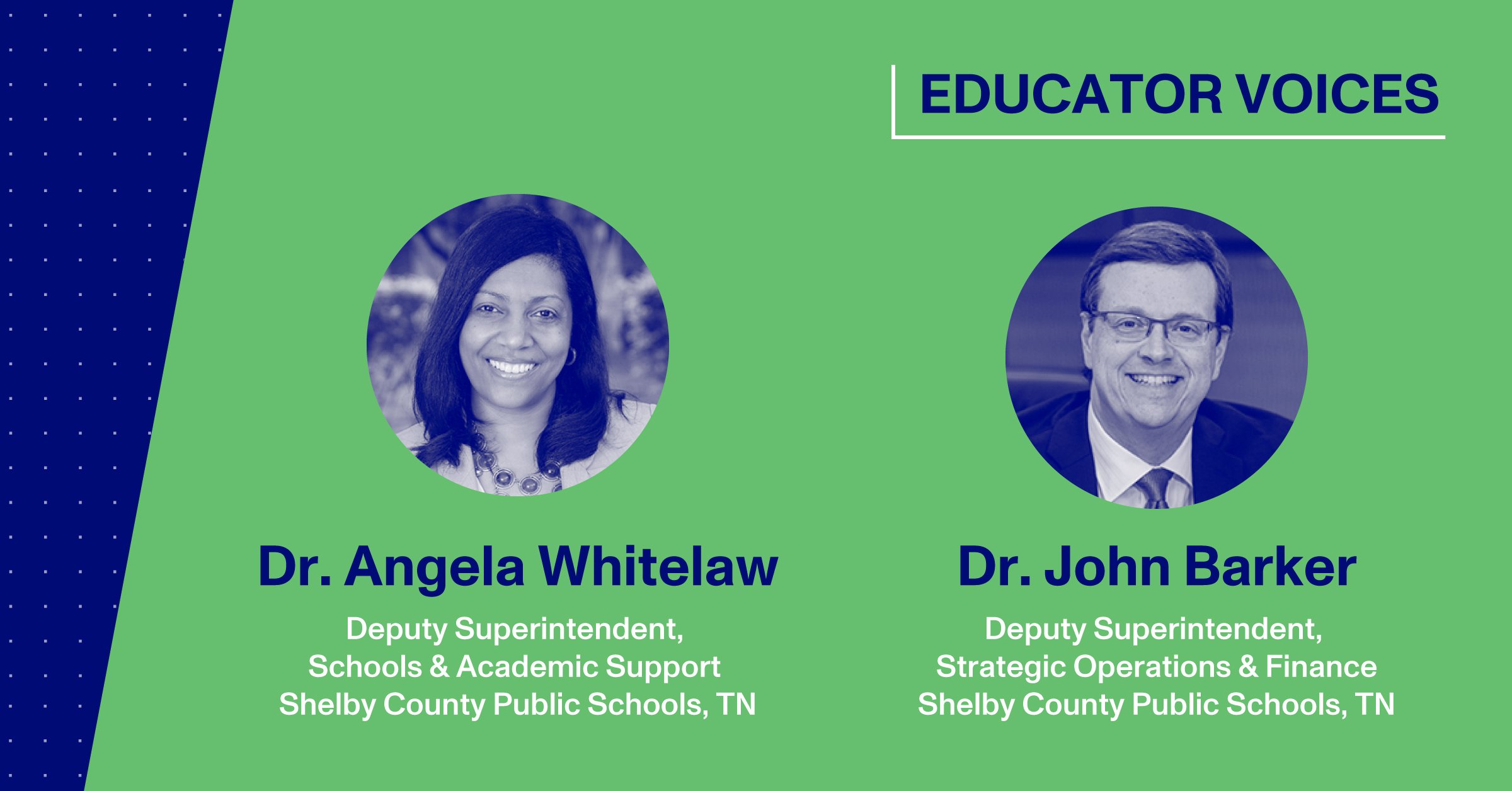 The Key Is Flexibility: The Digital Divide in Distance Learning
June 10, 2020
On the 11th of March 2020, the administration of Shelby County Public Schools in Memphis, Tennessee, was faced with a challenging situation. One of its staff members at the Central Nutrition Center (CNC), which distributes food to students in the community, had been exposed to Covid-19.
With the safety of students in mind, the decision was made to shut down the CNC. Deputy Superintendent for Strategic Operations and Finance, Dr. John Barker, credits the forward-thinking of their superintendent with what happened next.
"In Tennessee, superintendents are responsible for the safety and instruction of students. Safety comes first. We needed to make sure we fed students."
"The Local YMCA, in partnership with the University of Memphis and a local food provider, stepped in and, in the course of 48 hours, made a plan. We were at more than 70 sites in that initial distribution of meals."
This was just the first of many instances of inspired improvisation and a groundswell of community support in Shelby County that has kept its students safe, informed, learning, and even well-fed during the pandemic.
Bridging the digital divide during distance learning
Once the plan to keep students fed was underway, the administration turned its attention to continuing instruction in the wake of school closures. "We knew that we had the virtual resources to mobilize," said Dr. Barker. "Our curriculum instruction folks put together an online coronavirus page organized by grade level with a rich array of information."
At the time of this interview, the page has seen over a million hits. However, in the spirit of equity, the administration pushed themselves to think beyond the challenge of distance learning to address the issue of access for students who may not have the technology to engage with online resources.
Where we were handing out meals also became the distribution points for hard copies of our learning guides. The parents who've been coming to get lunches for the kids really appreciate the meals, but they are so excited to get the learning guides.
Deputy Superintendent of Schools and Academic Support Dr. Angela Whitelaw elaborated on the importance of the physical learning guides. "We wanted to make sure our students had something they could feel and manipulate and that parents could be involved with as well."
In order to reach students without access to a computer, the administration harnessed an even older form of technology: Television. "The local NBC affiliate made one of their channels available to us for televised lessons," explained Dr. Barker.
The lessons run five days a week, in addition to lessons on the PBS affiliate set up by the state of Tennessee. Dr. Whitelaw elaborated on plans to expand this service to include public health information as well. "We're also adding a weekend partnership with Le Bonheur Children's Hospital. They'll share more of the public health information about washing your hands and safety around cleaning products," she said. "People have really rallied around to support the children and families."
Social-emotional learning and equity remain a priority
In addition to instruction for learning, Shelby County Public School's online resources also include a robust social-emotional learning section that includes a 24-hour support hotline families can use to ask questions about issues such as depression in isolation.
"We have to reach students where they are," said Dr. Whitelaw. The administration has also doubled its efforts with regard to equity training. "We have already trained over 200 people to be our equity champions."
"We've now included our principals and an additional 500 teachers. We want to train all summer long, exposing our teaching force and central office force, so that we understand what we need to be thinking about as we educate all children, but especially our black and brown children, because of the issues they face around economic disadvantage, family size and how we go about business every day in our extended family."
Looking to the fall
Dr. Whitelaw expressed that there are three main priorities heading into the fall: Safety, addressing the digital divide, and making up for lost instructional time. She highlighted some of the questions the team will be posing to focus groups and community stakeholders.
"How do we maximize the calendar that we have? How do we use extended time, if we can, for before and after-school tutoring? Which computers will we use? What would a hybrid model of synchronous and asynchronous learning look like?"
As has been the case throughout the crisis so far, the team will be pushing themselves to think flexibly. "The hallmark of this team and our efforts has been flexibility," said Dr. Barker. "That's going to be our watchword going forward as we look at the Fall and look at the 2020 school year."