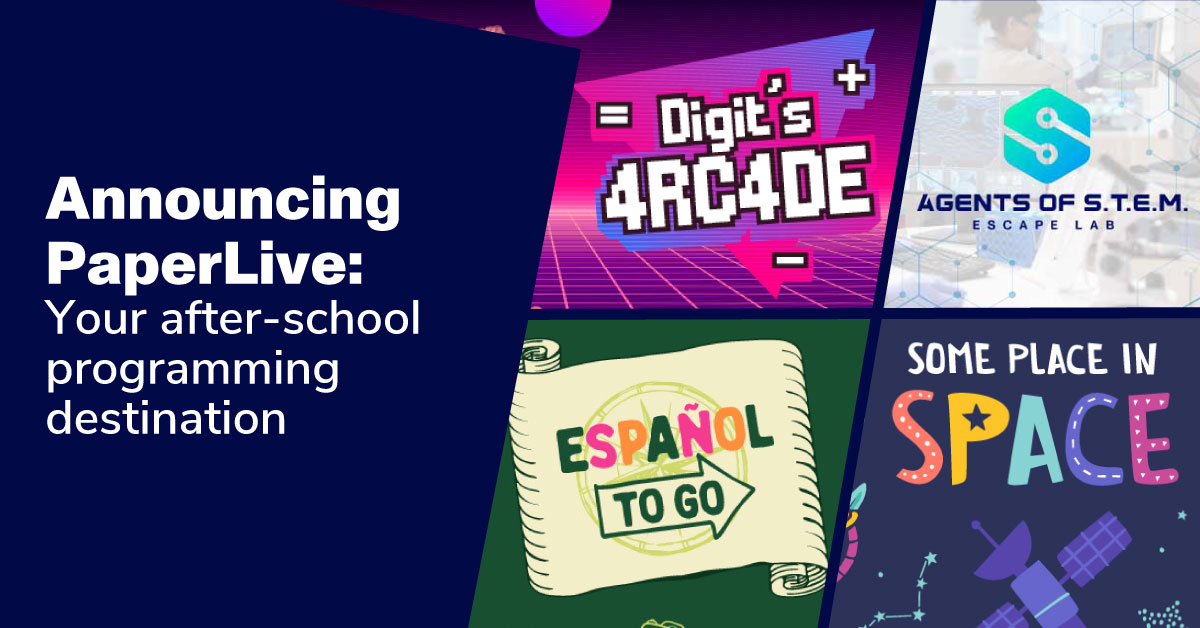 Presenting PaperLive: Interactive, live after-school programming
July 27, 2022
As students and their families anticipate the swift arrival of a new school year, we're thrilled to announce the launch of PaperLive, an educational after-school offering that's packed with creative storytelling and all the entertaining moments you'd expect from your favorite TV show.
Designed to pique students' innate curiosity while also providing an engaging learning experience, PaperLive is set to become an indispensable educational tool for after-school programming.
What is PaperLive?
PaperLive is a suite of several different interactive livestreaming video series available free to families through a Paper license.
With PaperLive, students can participate in live weekly learning experiences that are almost like serialized TV shows—with the key difference being that students are encouraged to actively engage with gamified storylines. They'll answer questions, play games, and take part in exciting activities.
PaperLive hosts are educational experts in a variety of subjects, and they're adept at weaving together captivating storytelling with important concepts covered in K-12 learning.
Settings and subjects vary, with show locales ranging from deep blue seas to starry galaxies. Students can explore a range of topics, including:
Astronomy
Financial literacy
History
Marine biology
Math
Spanish
STEM
Students choose how deeply they want to engage with each episode—from actively answering the host's questions in the chat, to sitting back and taking it all in. And if they miss a week, they can rejoin anytime.
What role does PaperLive play in today's educational climate?
PaperLive's mission is to connect learning and leisure—education and entertainment—by giving students a fun space to explore their own interests and curiosities. The goal is to provide today's learners with exciting opportunities to gain knowledge and retain information, all delivered in a format that's so engaging, they'll keep coming back for more.
When the school day ends, and especially over the summer, there's no shortage of platforms that are vying for children's attention. What sets PaperLive apart is that it offers students the chance to have fun while reinforcing key learning concepts all year long. Learners can follow their passions, and they have the chance to keep their skills sharp—even when class is out of session.
In fact, PaperLive is all about students making their own choices. Learners can explore new topics in a low-pressure environment without having to worry about grades, tests, or how they might be doing compared to their classmates.
At the same time, families and caregivers can rest assured knowing their children have free, unlimited access to high-quality, educational after-school programming.
Furthering key components of Paper's mission
At Paper, we're guided by our values, and PaperLive has a strong role to play in helping us foster student agency, promote equity, and support teachers.
Student agency: Helping learners discover their passions
Students are encouraged to follow their curiosities with the wide variety of video series available on PaperLive. Maybe they haven't had a chance to explore financial literacy yet, but it sounds interesting enough to try out. Or they're working on an astronomy unit in class, and they're eager to learn all they can about our solar system and far beyond. PaperLive is there whenever students want to jump in.
Equity: Expanding access to after-school opportunities
One reason we believe in providing universal access to online tutoring is that it has the potential to level the playing field for learners and families. Private after-school programs can be too expensive for many families' budgets, and transportation challenges can make it difficult for everybody to participate. PaperLive is provided free of charge to families, and because it's available online, students can log in from wherever works best.
Teacher support: Backing up educators
We know that teachers are stretched thin, and we believe in doing anything we can to promote teacher well-being. With PaperLive, teachers have an additional item in their educational toolkits, and it's readily available for their students. Educators can integrate episodes into their lessons and use PaperLive to provide students with an even greater variety of educational resources.
If you currently have access to Paper, you already have PaperLive!
Those who don't have Paper can use our advocacy kit to make their voices heard by local education leaders in their area.