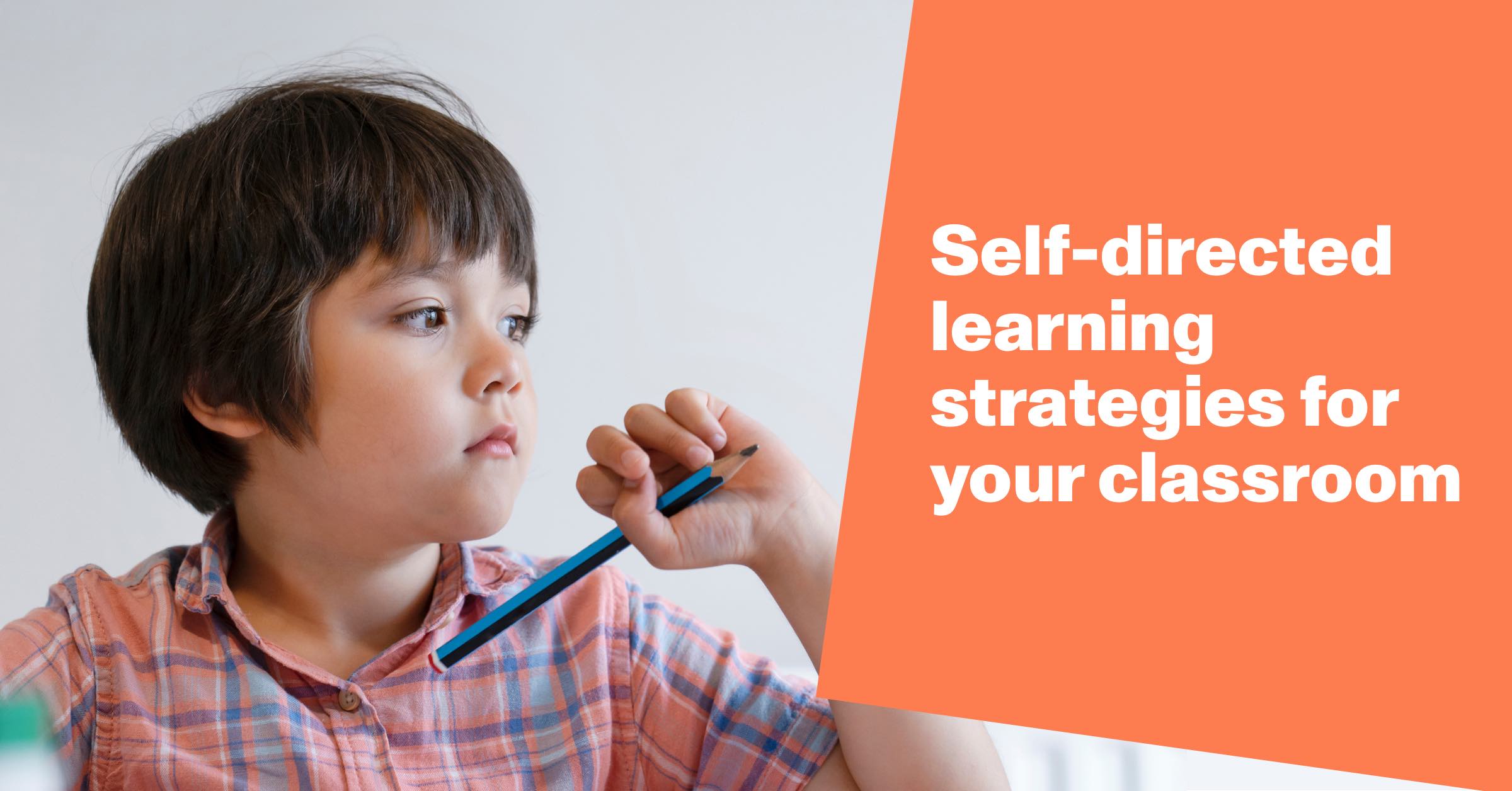 4 effective self-directed learning strategies
September 15, 2022
When students take charge, great things can happen. Still, teachers and district leaders have an instrumental role to play as they set their learners up for success.
What techniques can educators use to set the stage for student-directed learning? What do administrators need to know to make sure learners have the support they need to thrive as they explore their own curiosities? As part of an overall strategy to promote student-centered learning, education leaders and classroom instructors can employ several tried-and-true self-directed learning strategies.
Read on to explore what self-directed learning is, how it relates to the broader concept of student-centered learning in K-12 environments, and what strategies schools can use to make it happen.
What are the principles of self-directed learning?
In an article about how to use self-directed learning, Dr. Misty Hance cites a definition of this learning process from influential education theorist Malcolm Knowles. In 1975, Knowles stated that, in self-directed learning, students discern their own objectives, set learning outcomes of their choosing, decide for themselves what support mechanisms they'll need, select their own methods of achieving these goals, and engage in evaluation of their objectives.
As Hance notes, Knowles' definition was initially applied to the context of adult learning, but self-directed concepts have been used to support traditional higher education students and K-12 learners too.
It's clear that self-directed exploration thrives on intrinsic motivation and leads naturally to active learning and the development of critical thinking skills.
However, it's important to note that self-direction doesn't necessarily imply independent learning. Given the option to select which learning strategy will best suit their goals, students may choose to collaborate with their peers or to work by themselves as individual learners.
[READ: "Equity considerations for student-centered learning: An overview"]
'Self-directed learner' status: State-level mechanisms for granting more runway to motivated students
Recent developments indicate that the term "self-directed learner" can be formally defined and employed strategically in K-12 environments. This codification could make it easier for schools to pursue self-directed strategies.
For instance, a recent article from Idaho Ed News explored a new state bill about self-directed learners, explaining that students who earn this designation from their schools can still be counted as being in attendance even if they're pursuing educational experiences beyond classroom walls. With the support of the state legislature, schools can find new ways to pursue innovative self-directed learning programs without losing out on funding attached to attendance records.
Self-directed learning in student-centered environments
Although self-directed and student-centered learning are related concepts with a fair amount of overlap, they're not totally synonymous. Additionally, each exists on a continuum: How self-directed or student-centered a learning experience is may vary.
To investigate this relationship, we can examine a couple of the student-centered learning strategies we've explored in the past:
Project-based learning (PBL)
Flipped classrooms
Both of these tactics may be considered student-centered strategies, but they can vary in terms of how self-directed they are. For example, PBL may still contain elements of direct learning, which requires the teacher to provide deliberate, focused instruction to give students the necessary background information for their projects. That may not be the case in most implementations of a flipped classroom, but still, students may not always have much choice over what or how they learn. If that's the case, the implementation would not be considered very self-directed.
Additionally, while "self-directed learning" may live more in the world of pedagogy, "student-centered learning" involves other elements of education. For instance, education leaders may work very hard to create a student-centered learning climate where self-directed learning, and other student-centered strategies, can thrive.
In other words, there are many ways to facilitate a student-centered learning journey, and self-directed learning can help support this wide-ranging goal.
[READ: "10 student-directed learning activities to try with Paper™"]
4 self-directed learning strategies that promote student-centered learning
From help formulating learning goals to assistance with assessment strategies, there's no shortage of techniques that can be deployed to help ensure students have everything they need for self-directed learning.
Take a look at each strategy below for insights about how to help learners explore their own passions and interests.
1. Build up to self-direction
Having students dive headfirst into a new and unfamiliar learning strategy probably isn't the answer.
A recent article about how to promote self-directed learning in pharmaceutical education may be useful for thinking through how to provide scaffolded support instead. The report outlines how self-directed learning skills promote lifelong learning—a desirable outcome for K-12 institutions and advanced professional training programs alike. As it turns out, the process of preparing students to direct their own learning could play out pretty similarly for learners in higher education and for younger students.
Some of the report's tips about how to scaffold support for self-direction include:
Using a flipped-classroom model to introduce foundational concepts. Then, students can turn their knowledge into self-directed learning plans with the help of an in-class instructor.
Having the student solidify their learning plans in a structured learning contract. This approach allows for ample feedback and ongoing accountability.
As we think about how to apply this advice to younger learners, we might choose to narrow in on goal-setting a bit more closely. To help students develop their own learning goals and build out larger plans, it may be helpful to review with them the widely used concept of SMART goals.
To meet the criteria of being a SMART goal, the target must be:
Specific
Measurable
Achievable
Relevant
Timely
Helping students set SMART goals will ensure that other elements of self-directed learning—like self-assessment—can proceed smoothly.
2. Create an environment that's structured for self-directed success
For this tip, we'll take a note from self-directed learners themselves via Dr. Karen Brennan, a professor at the Harvard Graduate School of Education (HGSE). Brennan studied strategies deployed by young creators who use the programming environment Scratch, and her findings were summarized in an informative HGSE article on how to support self-directed projects.
Brennan emphasizes the importance of crafting a structural environment that's finely attuned to students' needs. Education leaders need to focus on these central structural themes in particular:
Tapping into students' personal interests and providing opportunities to balance those interests with current skill levels.
Giving students meaningful, structured opportunities to interact with their peers—or other teachers—to receive and offer feedback.
Assisting students as they manage their time, which includes offering activities that allow for daily goal setting, reflection, and progress monitoring.
Take a deeper dive into Brennan's research here:
3. Give students space to test their guesses
Although it was certainly not ideal, many education leaders learned a lot from trial and error throughout the COVID-19 pandemic. Researchers explored how teachers used open educational resources during the shift to online learning to promote self-directed science learning. Among other findings, the report highlights how trial and error—when deployed intentionally—can actually be a powerful learning strategy for students.
The authors point out that educators often turned to interactive models like those available from PhET Interactive Simulations. These programs give students room to manipulate models, observe the results, and refine their thinking. Tools like Paper Math also give learners an open field to test their thinking in real time.
[READ: "Paper™ product spotlight: Back to school 2022"]
Interactive opportunities like these can be a great way for students to practice self-directed discovery and expand their understanding of new concepts.
4. Give good, ongoing feedback
In an Edutopia article about how self-direction thrives on strong feedback, teachers are encouraged to use strategic techniques that promote independent learning and shared responsibility in the classroom.
In particular, the article indicates that feedback should:
Help clarify expectations.
Enable forward momentum through the use of a coaching approach.
Take place within the learning environment.
Leveraging on-demand tutoring from Paper to help students gain targeted feedback is one way districts can use educational technology to support student-centered learning. Teachers can bring additional support into the classroom as they ask students to complete warm-up slips and exit tickets with a live tutor, providing immediate support as students build their skills and reflect on their experiences.
The road to lifelong learning: Self-directed strategies for long-term student success
As part of an overall initiative to promote student-centered approaches to education, creating more opportunities for self-directed learning can prove quite beneficial. This doesn't happen overnight, though.
To set their learners up for success, districts, schools, and individual teachers can employ several specific strategies: They can provide scaffolded support to help students prepare for self-directed learning, cultivate a conducive learning environment, offer students the opportunity to test their assumptions, and give well-measured feedback.
Want to find out how student-centered learning can play a greater role for learners in your community? Take a look at our K-12 guide to student-centered learning for additional insights.