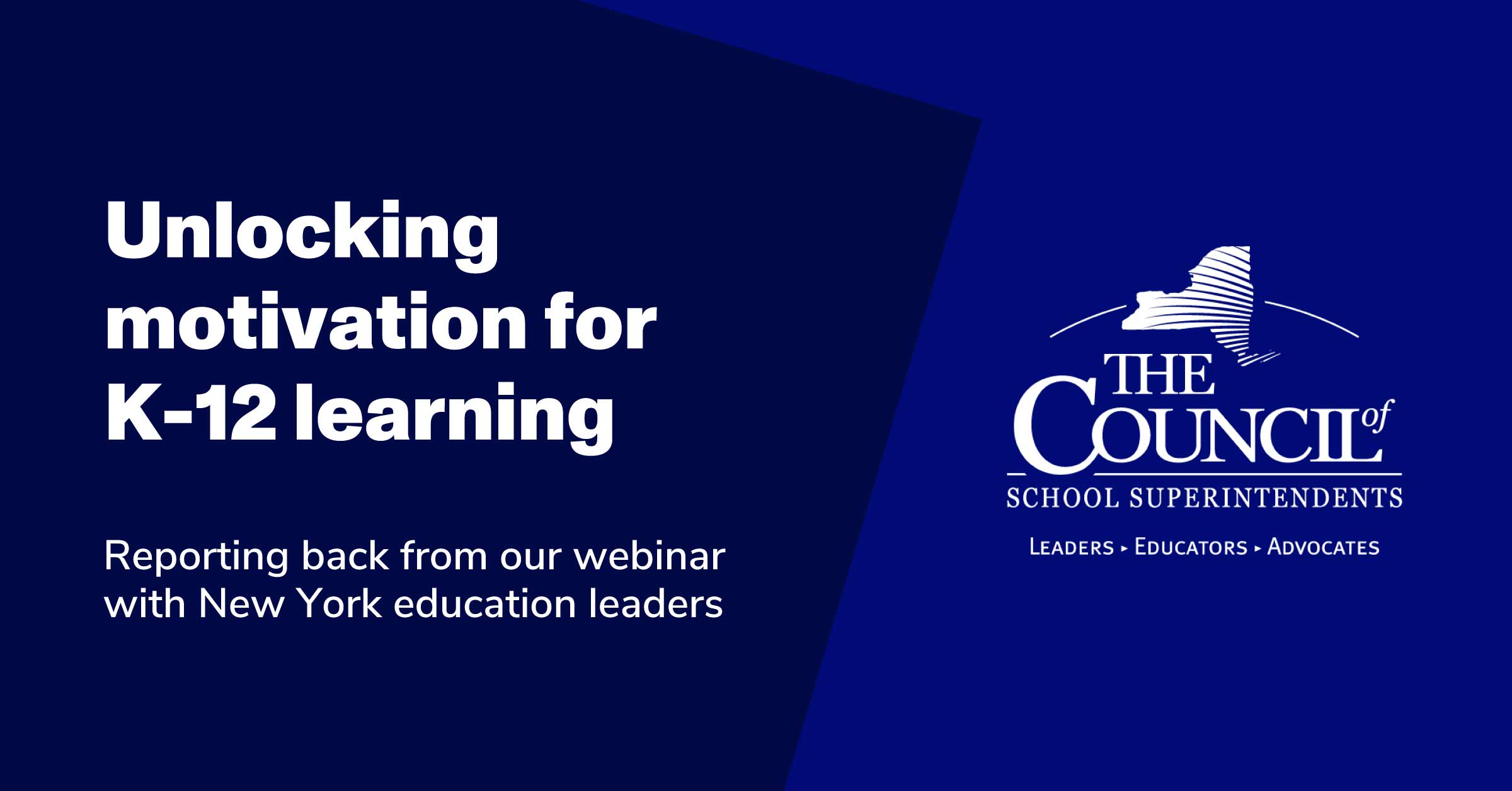 6 tips to maximize motivation in K-12: Tapping into student engagement
July 5, 2022
We all struggle with motivation from time to time. And in an era of unprecedented educational disruption, it's easy to see why student engagement could use a boost.
That's why we worked with the New York State Council of School Superintendents (NYSCOSS) to host a webinar featuring the insights of forward-thinking administrators from districts in the state.
Paper's Lisa Spillane, a regional partnership manager, was joined by:
Dr. Carlos Cotto Jr., assistant superintendent of innovation, equity, and engagement for the Schenectady City School District.
Gene Mancuso, superintendent of schools for the

Honeoye Falls-Lima Central School District

.
Keep reading to learn more about what districts are doing to inspire students, center the whole child, and build bridges in their communities.
1. Listen to students, and discover their interests
Students should feel invested in what they study and how they learn. As such, it's vital that these learners have the opportunity to express their interests.
By paying attention to students' voices, administrators have keyed into successful initiatives like STEAM labs and maker spaces. Keeping an eye out for which classes tend to attract the most interest can also help district leaders zero in on which topics are most popular.
"We always say the students vote with their feet," said Mancuso. "We run courses based on what the students want."
Likewise, tapping into learners' interests in civic leadership—by hosting Pride events and anti-racism groups, for instance—has proven beneficial for connecting students to their passions.
2. Prioritize growth for the whole child
Students are complex, multifaceted individuals, and any attempt to enhance their engagement with learning must take the whole child into account.
"The true core in education is the whole child," said Cotto. "They've got to see the reason. They've got to understand the 'why,' and that's got to happen early."
To ensure districts can remove barriers to growth for their students while also providing them with viable pathways to a bright future, schools and teachers sometimes find they must rethink the way things have traditionally been done. This means reexamining everything from homework and grading to methods for setting goals and sharing progress.
3. Collaborate with community leaders outside the school
Student interests are broad and varied, from athletics and esports to chess, STEAM, and more. Furthermore, students often form meaningful connections with teams and groups outside the school. For example, a student may be a star athlete in a community youth sports program and have a strong connection with their coach. But what if they're not focused at school? District leaders can build bridges with influential community leaders to expand the overall web of support for students.
"If we're truly in this to do what's right for our community as a whole, then we've got to do this right," said Cotto.
4. Forge deeper connections within the school
During the school day, teachers can check their students' pulse and generate productive conversations by facilitating structured morning meetings. This strategy, coupled with other techniques—such as connectedness surveys—can help ensure that students feel a sense of belonging at school.
Additionally, leaders who place diversity, equity, and inclusion at the heart of these efforts will be ready and willing to discover whose voices could be better incorporated into the process.
5. Tailor your approach to the student, and focus on the essentials
When students need additional support to remain engaged with learning, there are techniques that school leaders can use to help them get there.
Breaking down lessons to their core fundamentals—and providing scaffolded support to make sure that students can reach these specific targets—can help learners gain the confidence they need to continue making educational progress. Sometimes, districts need to take a hands-on approach to help learners find and use the tools that are already available to them.
"Kids won't swim to the life jacket," said Mancuso. "You don't throw the life jacket in the pool and say, 'Just swim over there.'"
Throughout such efforts, the focus should center on empowering the student and honoring their inherent dignity.
6. Find creative ways to spark joy
Students will find delight in what is unique, original, and joyful. Student-led project-based learning that's situated in an atmosphere of safety and respect can do wonders to help individuals experiment and reengage with their own senses of curiosity and fascination.
One way to get creative is to encourage students to defy the expectations that they feel have been placed on them. For instance, not every student who loves to play music will join the school band or perform in concerts. By granting opportunities for students to showcase their hidden talents, school leaders make room for the joy that comes from getting to know one another in a fuller, more complete way.
Interested in learning how unlimited tutoring can help your students build their confidence and reengage with learning? Check out our ebook, "5 reasons to empower your teachers with 24/7 tutors."