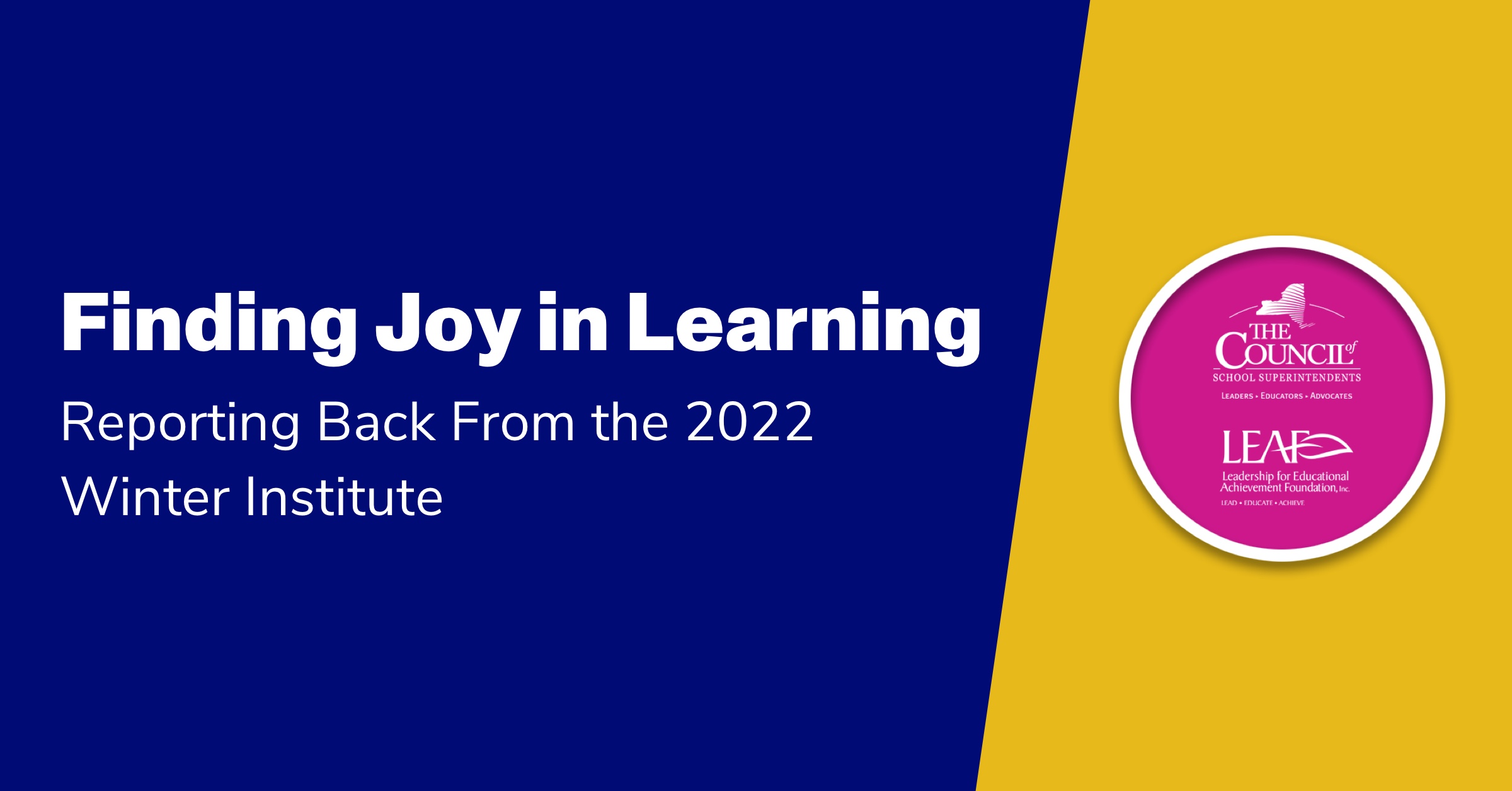 5 Tips To Inspire Students and Set the Stage for Learning
March 18, 2022
How important is imagination?
When it comes to reconnecting a student to the mission of learning, imagination can mean everything.
Students who feel that their creativity and interests have been activated may find more joy in education. To make this happen, administrators may need to use innovative techniques and novel solutions.
That's why the 2022 Winter Institute in Albany, New York, presented by the New York State Council of School Superintendents (NYSCOSS), through the Leadership for Educational Achievement Foundation (LEAF) Inc., centered on two essential themes: innovation and imagination.
There, Paper's Taylor Lyons, a customer success manager, was joined by Christopher Dailey, superintendent of schools for the Gates Chili Central School District, and Gene Mancuso, superintendent of schools for Honeoye Falls-Lima Central School District.
Together, these educational innovators spoke with the audience about how to help students manage stress and find joy in learning.
Getting students ready to learn
Mancuso kicked things off by emphasizing the importance of prioritizing "Maslow before Bloom." In other words, teachers need to provide for students' most essential needs regarding safety and belonging—the foundational tiers of Abraham Maslow's oft-cited hierarchy of needs—before learners can be guided through the notions of academic understanding articulated in Benjamin Bloom's taxonomy of educational objectives.
Emphasize community
Demonstrating how to put this theory into practice, the panelists highlighted how they had welcomed attendees to the session. Beginning the school day with a warm greeting that affirms for students their sense of connectedness is one step toward the mantra of "Maslow before Bloom."
This was a familiar practice for Dailey. At Gates Chili CSD, from prekindergarten through 12th grade, community circles provide participants with two opportunities to check in every day.
"That's been a game changer for us, as far as our culture in our district," said Dailey.
Focus on growth
Another element that Mancuso highlighted was how the alternative education program in his district—which has seen a substantial rise in students this year—uses a "zero-based" approach.
What does that mean?
"You never go below zero," said Mancuso. "You never fail—you just don't earn. You have to earn enough points to get your credit."
This sort of reframing allows students to shift their thinking. While it may take time for individuals to move ahead, they have an even starting line with all of their peers.
Establish common ground
Similarly, Dailey pointed out how administrators may need to help staff and faculty members shift their thinking this year. The process of changing from one instructional format to another may mean that schools need to work hard on getting teachers, students, and families in sync about how to make school work.
"We spent a ton of time on the mental health aspect in September, October, November," said Dailey. "We adjust over time, and now we're starting to see the fruits of it in the spring."
From handling delicate conversations around masking guidelines to mitigating issues related to destructive social media trends and other behavioral challenges—this is a time for members of school communities to figure out new strategies for working together.
Strategies for infusing joy into learning while setting students up for success
So how do we take the unique difficulties of our time and reach for new opportunities to spark joy with our students? The administrators shared some useful and original tips.
1. Double down on clubs and activities
Dailey noted that his district has reinvigorated its approach to extracurricular offerings, including launching an esports program. Student leadership groups and family organizations help provide feedback.
2. Spread school spirit

Dailey talked about how Gates Chili CSD prioritizes public recognition by presenting GC Pride awards at board meetings.
The Honeoye Falls-Lima team has its own spin on commemoration. At board meetings, the Cougar Pride award, presented before public comments, allows members to highlight some of the fantastic moments they've witnessed in schools.
"I think one of the best ways to inspire joy is to be joyful," said Mancuso.
3. Help students celebrate each other

Targeted feedback from teachers is invaluable for helping students succeed. Mancuso also pointed out that when students cheer each other on, the effect is truly joyful. When children show up for their peers, it can have a profound impact on the school's culture.
"Athletics started it, but now kids are starting to go to robotics events and other events," said Mancuso.
4. Reengage with returning learners
Edtech tools provide a crucial resource for reintegrating students into the school environment after the profound disruptions of the last two years, as long as equity is a core priority of the deployment.
Mancuso commented on how Paper is helping to level the socioeconomic playing field when it comes to tutoring.
"They're available in every language we've asked them for, all the courses that we offer. And it's 24 hours a day. Most of our kids use it late at night," Mancuso said. "Shocking, right?"
When discussing Paper's Essay Review function, Dailey noted that tutors provided useful inquiry-based support with a quick turnaround.
"When they turn in their essay, in 24 hours they get it back," said Dailey. "[Tutors] give you guiding questions on how you can improve."
5. Support teachers, so they can give students their best

Teachers are at the heart of the school community, so administrators have to do what they can to ensure educators feel ready to inspire students all year long. Burnout is a real problem, but district leaders can help alleviate the burden by acknowledging that today's circumstances are unique. Growth is the goal, and limiting the extra work teachers have to take on can help them maintain that drive.
"Time," said Dailey. "If you can give them a little time to prepare a little longer for that lesson—it's amazing what a difference it can make."
"I think trying to find ways to lighten that load really matters," Mancuso added. "I think we just need to recognize where they are and also recognize that this too shall pass."
It's a unique era in education, one in which teachers and administrators will need to continue harnessing the twin powers of innovation and imagination to help their students find joy in learning.
Take a look at our K-12 leadership guide for more insights about top priorities for schools this year.