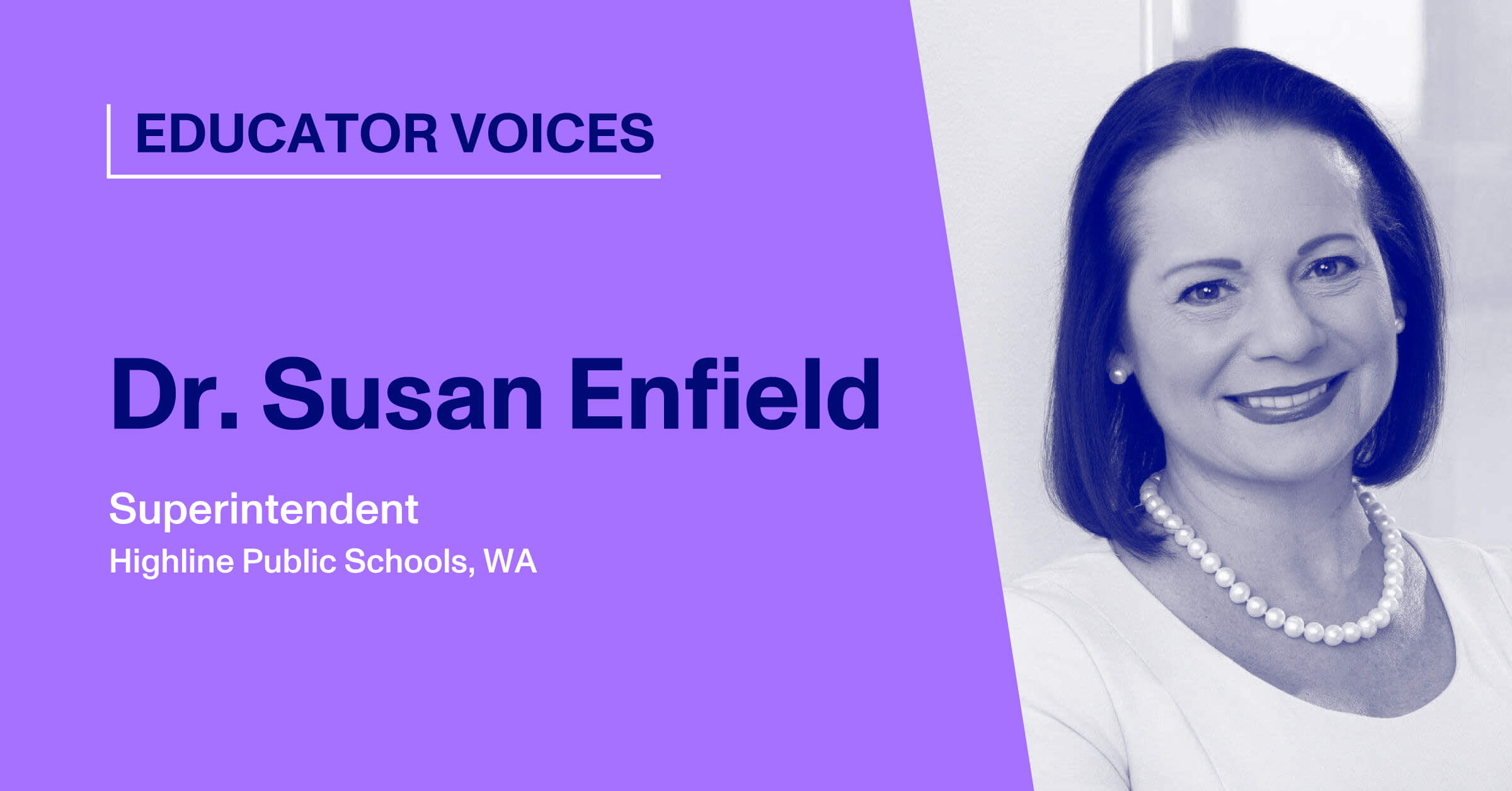 In Conversation With Dr. Enfield: An Equity Advocacy Trailblazer
May 21, 2020
During our interview with Dr. Susan Enfield, Superintendent of Highline School District in Washington, where we discussed how the district was adapting to distance learning, she shared a jarring story that offers a small glimpse of the realities students and families face on a daily basis: "A father who came to pick up meals for his four kids last week said that's the only food in their house."
The reality is if our students are hungry, they're not going to learn. If they can't access the internet, they're not going to learn. And if they don't have a device they can use, they're not going to learn.
The pandemic-induced school closures have shone a light on some of the enormous adversities socio-economically disadvantaged students and families are confronting across the country, and Dr. Enfield underlined the importance of acknowledging these challenges.
Highline School District is an urban school district of over 18,000 students serving the diverse communities just outside of Seattle.
Dr. Susan Enfield has always had a laser-like focus on advocating for equity throughout her career. At Harvard, she completed the Urban Superintendents Program, and her doctoral dissertation focused on academic achievement through equitable resource distribution. She's also written pieces for the Seattle Times on topics surrounding educational equity, and how student poverty affects learning and safety. Dr. Enfield won the National School Foundation's 2018 National Superintendent of the Year for her exceptional advocacy for community support of public education.
With school closures, her commitment to serve her community has only intensified. Dr. Enfield is extremely vocal about the digital divide and the #homeworkgap, which refers to the barriers students face in completing their homework without a reliable internet source at home.
The need for all students to have internet access is more urgent than ever since most schools have now moved to an online instructional environment.
One of the biggest challenges at Highline is connectivity: "Not all my students have internet connection, nor do they have reliable devices. We've deployed over 13,000 devices to use at home, but some of those devices are old, and will likely need repair at some point, so there is a huge need for additional devices and ensuring internet connection."
In addition to connectivity issues, ensuring students and families are fed presents its own challenges: "We're giving out meals all week, but per law, we cannot use district dollars to feed their families. We can only feed the students." Dr. Enfield explained that we need to be honest about these issues:
I think some people are really celebrating this moment in time, as if it's a disruption in traditional K-12 public education that will lead to much-needed change. I don't disagree with that necessarily, but I want to be clear that children are losing right now. Many, many children, some of our most vulnerable, cannot access the public education that they're entitled to. So I think before we start envisioning a transformed PK-12 public education system, we have to be very honest as a nation and address the challenges facing our students and families in this distance learning world.
That being said, Dr. Susan Enfield believes that the pandemic presents some opportunities for us moving forward, but, first and foremost, we need to connect all students and make sure they have all they need to learn remotely. Dr. Enfield touched on some of the potential opportunities this moment presents for the future of education, such as "harnessing the technology we have but haven't used at scale and educate kids outside of the traditional school building." There are potential implications for the teaching profession, according to Dr. Enfield, in that teachers may be in different roles moving forward. Also, school closures have prompted conversations around how we structure the school year and the school day.
Dr. Enfield underlined the importance of continuous dialogue and collaboration between leaders in education to address the current challenges. She is grateful to be a part of several national networks that are convening superintendents and making Dr. Enfield feel less alone with having to lead a district during the COVID-19 pandemic.
She is a part of Chiefs for Change, who are doing calls weekly with Superintendents and Chief State School Officers from around the country to talk about particular topics that they are struggling with, such as meeting the needs of students with special needs. Highline is also a part of Digital Promise's League of Innovative Schools; "they convene calls with leaders from all over the country around how we're using technology to meet the needs of our kids during this time and frankly what the limitations of that technology is."
Also, twice a week, districts, including Highline, from across three counties are convened by their regional Educational Service District. The districts range significantly in size; Highline has over 19,000 students, whereas some smaller districts only have around 500 students. "We are trying to figure out what we can do collectively to help one another, but I think sharing best practice is one of the best things we've been able to do and collectively use our voice to advocate for whatever we think is needed across the board, regardless of districts."
At her own district, Dr. Enfield shared that the Highline staff and community have stepped up in remarkable ways to make sure kids and families have what they need. They first made sure that devices were handed to students, they distribute meals weekly, and they raise money and distribute thousands of dollars weekly in grocery gift cards through the Schools Foundation.
In addition, the Highline community is doing all they can to ensure senior students are rightfully celebrated. On April 7, Dr. Enfield sent a message to the Class of 2020, saying that while it may be deemed unsafe to hold graduation ceremonies in June, she is committed to honoring the graduating seniors' accomplishments as creatively as possible. She started a two-week ThoughtExchange on this topic, where students and families could share their ideas and "star" other peoples' to see which ones are most popular.
When we spoke to Dr. Enfield on the week of April 20, she had just held a webinar to share the results of the ThoughtExchange and to answer questions from the community. "Overwhelmingly, our students do not want a virtual ceremony," said Dr. Enfield. While postponing graduation was the most popular wish among students, Dr. Enfield worried that some students might not be able to participate if it's postponed for a significant period of time. Although holding a graduation ceremony while adhering to social distancing rules would be logistically challenging, Dr. Enfield said it would be the only way to give students a semblance of what they want, which is some kind of a ceremony.
Ultimately, on May 14, Dr. Enfield shared a video on her Twitter announcing the new plans. "We know that it won't be the commencement ceremony that you had planned, but I promise you that we are going to make it incredibly special. What you told us loud and clear is you wanted your moment, and we are going to give you that moment," said the proud superintendent.
In short, in June, each graduating class will arrive at their school and drive up to a tent with balloons, flowers, and music. Each student will get out of their car one at a time, and proceed to grab their diploma cover and turn their tassel. Dr. Enfield and the respective school's principal will be there, along with staff safely distanced throughout the parking lot to cheer students on, and photographers to capture the moment. This initiative is merely one example of Dr. Enfield's exceptional leadership and commitment to her community, and there are undoubtedly countless more to follow.