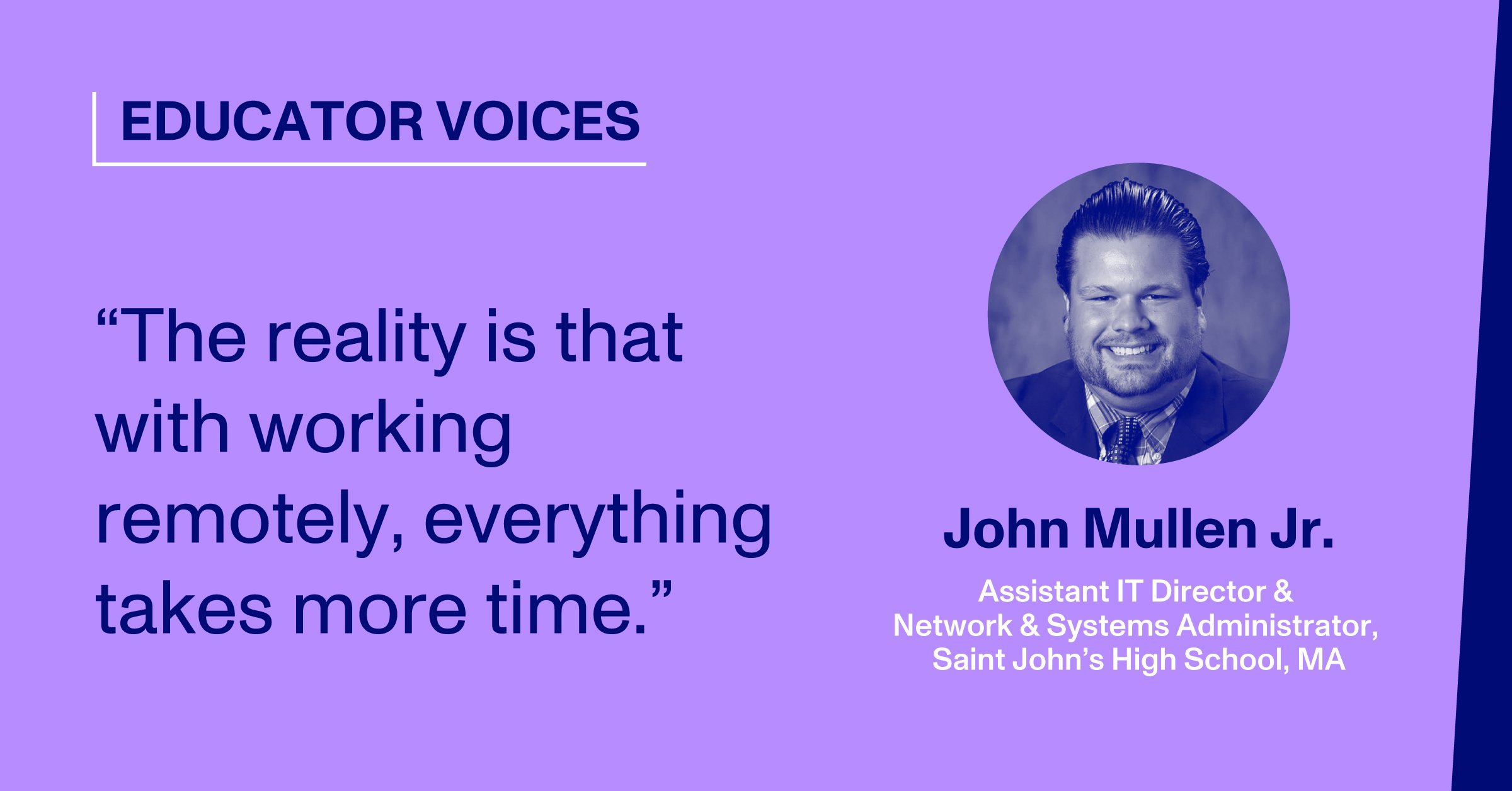 More Than Tech Support: Distance Learning Intel From Network Administrator John Mullen
May 29, 2020
One might think that those who have IT roles at schools might not find the shift to online learning as monumental a change to their day-to-day roles than others.
But this couldn't be further from the case: As much as IT administrators might have found it comfortable to switch over to remote, virtual operations back in March, they also had to deal with the onus of making the shift just as comfortable for everyone else at their school.
And for schools without 1:1 initiatives, or schools with instructional teams that are much more accustomed to in-person teaching methods, network administrators have had to put in considerable effort to ensure that learning can continue, and students still feel a sense of connection with their peers and teachers.
To get a more vivid picture of such a scenario, the Paper team reached out to John Mullen, who is the assistant IT director & network and systems administrator at Saint John's High School in Shrewsbury, Massachusetts. When we spoke to him in early April, he shared with us his experience in making the shift to remote instruction at this all-boys' private school.
As schools across the country finish the year remotely, onboarding and leveraging virtual tools has been the sole way for schools to function during this pandemic. In his role as a network administrator, John has kept two things in mind: Taking it day by day, and doing his best to listen to the needs of all stakeholders of Saint John's.
Going into it, what kept me up at night was 'Okay, how am I going to help this teacher when this comes up, how will I help them get through it?' We haven't had too many of those nightmares, we had some issues with Screencastify really early on and a Google Drive bug, and I had found some way to get around the bug by using another tool. That was probably our biggest challenge early on, but I was so grateful to see the Google development team respond to it quickly.
John's role before March was heavily focused on network and systems administration. Since distance learning, his focus has been extended to the academic side as well:
I've really done a lot more coaching and PD. And I've been just so impressed with my colleagues. A big thing with my work is always recognizing, you know, the mix of experience with technology. We have teachers that have been working anywhere from six to twenty, thirty, forty years, using technology in class to different extents.
He explained: "But currently everyone has had to step up and embrace tools that they might not have embraced before. It's impressive to see our experienced teachers, who are experts in their discipline, to be able to adapt so quickly and be so nimble."
The team at Saint John's high school is having regular meetings about modifying and improving their approach as they go. In terms of the concerns that John has seen emerge, one of the biggest is finding the right amount of work to assign students.
The reality is that with working remotely, everything takes more time. The faculty is trying to balance the increased time it takes for students to complete work with their need to ensure learning is assessed. This is all while factoring in the loss of daily class time. At the same time, the faculty is facing the same challenge with the amount of time it takes for them to do their daily work.
John explained that less can be more in times like this. "As we said, it's emergency remote learning and not normal remote learning. So the teachers are adapting, and we're giving them advice on which tools to use, how to manage their workload, and what kind of support systems are being put in place to make sure our teachers don't burn out."
He also made sure to touch on a silver lining to the quick move to an online system. For students, especially those in their final years of school, learning how to navigate an LMS and manage their studies much more independently, has given students a taste of college learning. The level of adaptability and resilience that such a change has demanded from students is surely going to help them transition to higher education.
And despite current circumstances, the team at Saint John's has done their best to ensure that they still deliver quality educational experiences to their students. They have hosted a variety of events online: live fundraising events, an arts fest, musical tributes for seniors from staff, virtual banquets for athletes, and a drive-through graduation ceremony:
Hearing about John's experiences gave the Paper Team a peek into how much thought and effort goes into running schools efficiently, especially during times of crisis. What became clear very quickly was that administrators are not only providing technical support right now. They're ensuring that students maintain the connection to their school, which for many, is a lifeline.
John Mullen
For more from John Mullen, follow him on Twitter. To keep up with Saint John's High School, follow them on Twitter.