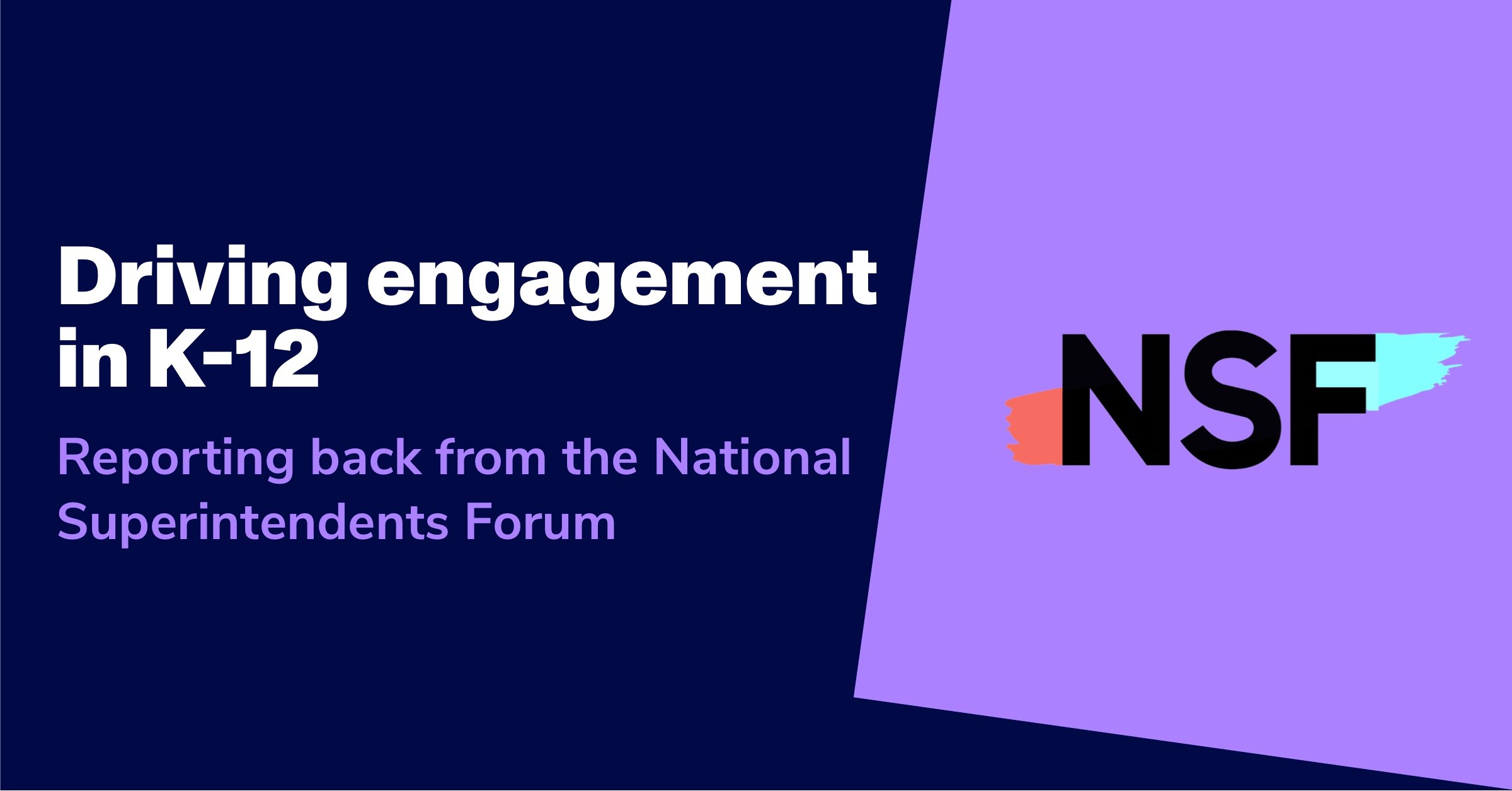 Sparking joy and curiosity to drive engagement in K-12
April 19, 2022
We're all moved by different motivators, from positive affirmations to inspirational speeches. Today's K-12 administrators have a tall challenge ahead of them: How do they tap into joy and curiosity to help promote intrinsic motivation among staff and students alike?
At the recent National Superintendents Forum in Chicago, Devon Bratton, lead partnership manager at Paper, was joined by Rick Surrency, superintendent of Putnam County School District, for a roundtable with other district administrators. The topic of the day was motivation and engagement.
Previously, Paper invited Surrency to share his thoughts on promoting well-being in school communities during the National Conference on Education. The insights he shared at the forum—and the stories provided by other attendees—taught us a lot about how to elevate engagement.
Key framing for effective student engagement: Transferring ownership
No matter the situation, it helps to enable students to take charge of their own learning. Putting structures in place to ensure that students become active participants in their education can provide a clear sense of purpose and empowerment that sets the stage for long-term growth and success.
There are several strategies that can help districts accomplish this level of student engagement. Many educators strive to create more opportunities where they can turn ownership for learning over to students. For instance, this can include activities where students work collaboratively in small groups while the teacher serves as a facilitator.
Strategies for connecting learning with purpose to spark joy
What better way to make sure students are invested in their education than to make learning fun? The following popular techniques can make learning feel less like a series of abstract exercises and more like a set of meaningful experiences.
1. Expanding STEM programs
In addition to providing a springboard for in-demand career skills, STEM concepts are just plain exciting! One-off events like STEM camps can provide a temporary boost in student engagement, but integrating these principles and exercises into other aspects of the school day offers students some exhilarating opportunities for ongoing learning.
After all, it doesn't take a rocket scientist to know that actually building a rocket can be an inspiring complement to hitting the books.
2. Entrepreneurship opportunities
Learning the ins and outs of launching a small business can be a great way to help students acquire valuable skills and knowledge while practicing creativity and critical thinking. Even better, learners can immediately connect their discoveries to real-world events all around them. Crucially, facilitating this kind of experience requires that educators hear directly from their students about what will make for a fun and engaging exercise.
3. Community-building efforts
Top-performing educational environments facilitate connection and belonging at all times—not just during exciting learning experiences like STEM projects and comprehensive entrepreneurship initiatives. When community is a core value of the classroom, joy and curiosity permeate every lesson. For example, some teachers take the time to connect with their students over gardening, art, or games before getting down to business for the week.
Making space for students' voices
As soon as you step foot into any classroom, one thing becomes abundantly clear: Everybody learns differently. Individuals may work at varying paces or perform best at different times of the day. To nurture joy and curiosity in learning, schools need to be able to effectively accommodate these differences so educators can meet students where they are.
Student advisory councils can be instrumental in elevating students' voices. In turn, administrators are better equipped to meet the needs of learners in their communities and to respond to shifting circumstances.
"I don't know how many of you have a student advisory," said Surrency. "But if you don't have one, I would encourage you to get one."
Forging personal connections
In order for teachers to foster elevated levels of engagement, they need to be able to develop a deep understanding of their students and where they're coming from.
Educators and students alike face obstacles in nurturing such interactions. Teachers are experiencing significant stress and strain. At the same time, many learners in our schools face steep challenges outside the classroom—from housing insecurity to difficulty accessing needed services and support.
Much of the work that's required to support students in such situations falls outside of a teacher's purview. However, when educators do form meaningful connections with their students, it can have a lasting impact on the learner's well-being.
Part of the answer here may be to shift our mindsets, at least for upper grades. Surrency pointed out that we commonly think of secondary teachers as "teachers of content," whereas elementary educators are "teachers of students."
Truthfully, at any age, students are driven by more than just content. Understanding who they are and what makes them tick can be the key to unlocking the drive for lifelong learning.
Looking for more insights about trending topics in education? Check out our K-12 leadership guide today.