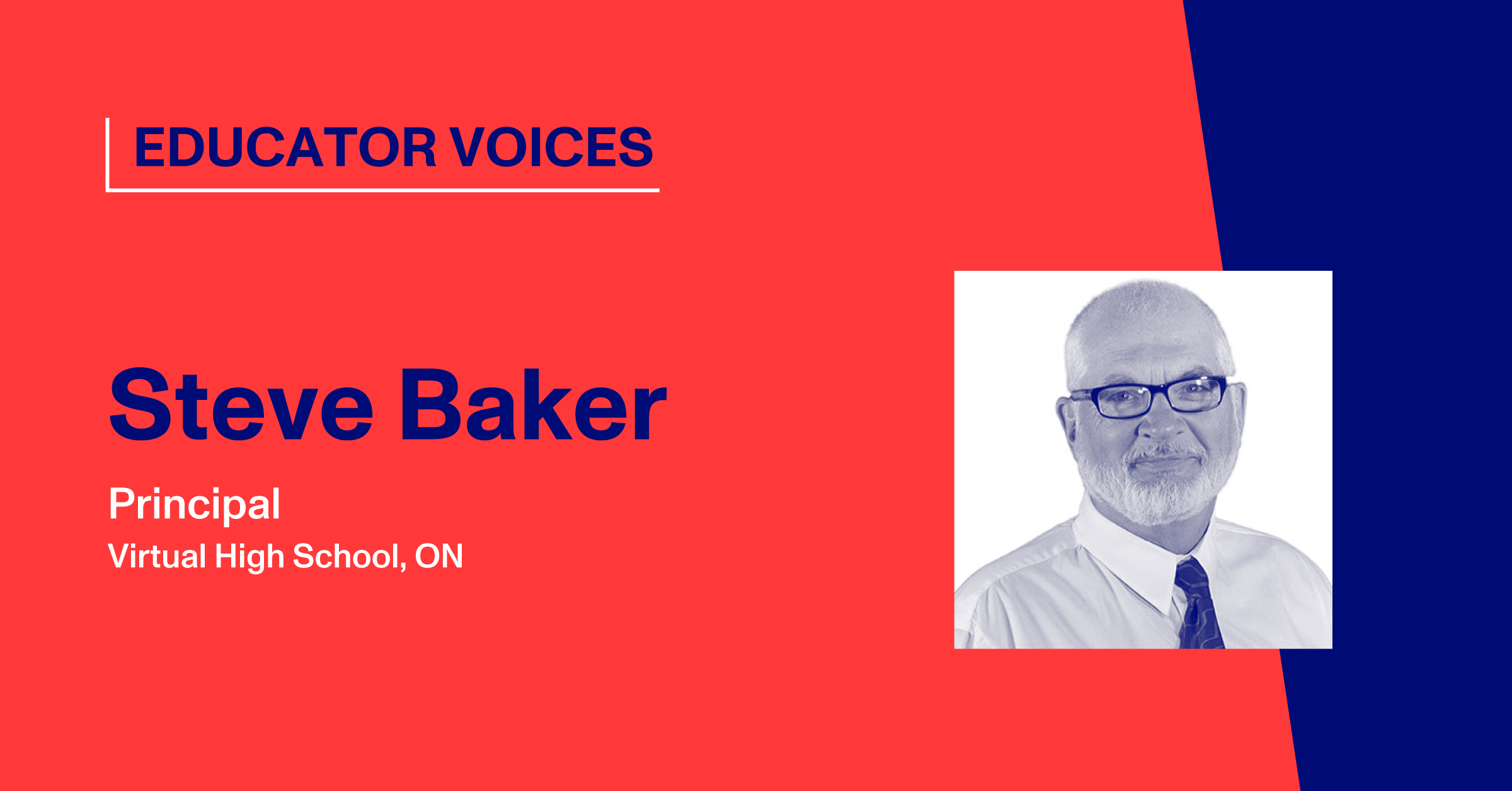 Principal Steve Baker Shares How School Was Prepared for COVID
May 19, 2020
Steve Baker is the founder and principal of Virtual High School (VHS), a private school in Bayfield, Ontario, Canada. A longstanding partner of Paper, VHS offers Ontario Secondary School Diploma credits and diploma entirely online to students around the world.
Steve is a pioneer in online course development in Canada, forming the beginnings of VHS in 1996. He was a chemistry and biology teacher for 30 years and learned HTML when the language first started in the early 90s. He then thought of teaching his genetics class online: "And from that, the whole concept just spiraled up into: Let's put a course online, and then let's put more courses online."
VHS now has over 70 courses, 60 full-time administrative staff, and over a hundred part-time educators serving approximately 9000 students in Ontario and around the world. About ten years ago, they started Virtual Elementary School. What sets this high school apart from others is students' ability to have total control over when and how they do their course work and can finish a course at their own pace. VHS' success in providing a student-centered approach to learning is setting the standards for asynchronous online learning.
"We have a public system that gives away the courses for free, so we try to be different even though we try to be the same. We try to offer the quality education that students expect, but we have to be different in that: You can start your course anytime, not just on September 4th; you can move through the course at your own pace; you don't have to go in sync with all the other people in your classroom; you can write your exam on any day. So we have really broken up that synchronized concept of schooling, and students appreciate that I think."
The reason behind Steve's decision to start a virtual school was that it merely made common sense: "If you were a student, wouldn't you want to do it this way?" He doesn't believe school should be regulated the way it is now, and we shouldn't demand assignments coming in on a certain day. He contends that the flexibility VHS offers takes the pressure off of what goes on a student in a typical physical classroom and prepares students for post-secondary education since they will be able to set their own schedules and go to school when they want.
When Steve was first conceptualizing VHS, some people doubted that it could be successful, as virtual learning was far from being mainstream at the time. He shared an anecdote of his friend one day telling him that he could never teach math online, that it was simply impossible. Ironically, mathematics is the most popular subject at VHS. Proving most assumptions about online learning wrong, Steve also said that while it is not expected that teachers and students can form strong bonds online, this happens all the time. In fact, many of his teachers feel as though they know their students at VHS better than the students they teach face-to-face.
One downside to asynchronous learning, explained Steve, is that oftentimes when students are online, their teacher isn't: "You could be coming from another country and it's eight at night, but it's three in the morning where the teacher lives."
When Paper's CEO, Phil Cutler, first introduced Steve to Paper in 2017, Steve thought the platform would be the perfect solution to this problem:
"I thought well, that fills in the gap. I love how now we can have our cake and eat it too. Now we can be asynchronous, but when students want to have a question answered in math right away, they have that option. So it was perfect."
Since the inception of its partnership with Paper, VHS has been able to provide thousands of their students worldwide with the flexibility of asynchronous learning, paired with the one-on-one support that comes with Paper's live-help tool. And students are clearly taking advantage: In a year, the most active students on the platform spend up to 400 hours accessing live help from Paper educators; in a week, up to 150 essays are uploaded for review.
One would assume that, since VHS is an online school, COVID-19 would not be a disruption to their daily operations. And while things are relatively smooth-sailing, the pandemic still has had an impact on their community. VHS has a couple of buildings in which administrative staff such as admissions, exam coordinators, guidance counselors, content developers, and the multimedia team, work to keep courses maintained for their students and run the school. With everyone being used to working closely with one another, working from home has been a challenge for Steve and his staff.
He misses the creative component of working together to solve problems. Being such a unique school, they run into many unprecedented challenges, and teamwork is a big part of solving problems.
"We're all unhappy because we're working in our homes, and we miss that social interaction that we had. We have no walls in our office. We miss going to work with each other."