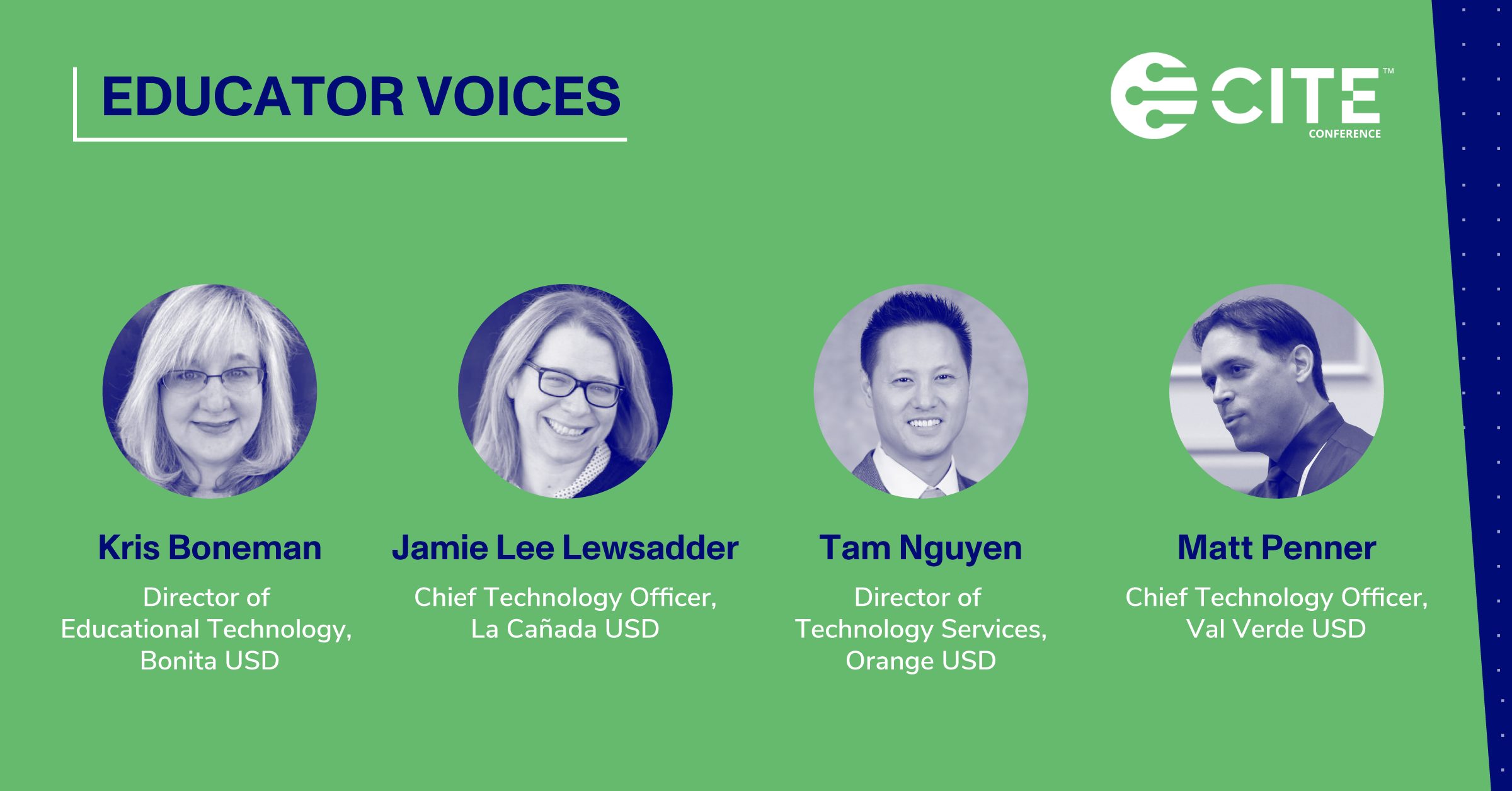 Anytime, Anywhere: 5 Steps for Innovating District Tech Infrastructure
April 23, 2021
As the back and forth between online, blended, and traditional instruction continues, school and district leaders need to set up the right technological infrastructure to support educators and learners anytime, anywhere.
As part of a new series, on April 21, Paper and CITE co-hosted a panel of district leaders to unpack the new definitions and dimensions of K-12 tech infrastructures.
Watch the full discussion with Kris Boneman, Director of Educational Technology at Bonita USD; Jamie Lee Lewsadder, Chief Technology Officer at La Cañada USD; Tam Nguyen, Director of Technology Services at Orange USD; and Matt Penner, Chief Technology Officer at Val Verde USD below.
→ Watch the webinar recording now
Below are five steps for district leaders to innovate their tech infrastructure:
---
1. Look down: Lay the technical foundation

As the boundaries of bell schedules and building perimeters have blurred, districts have expanded their idea of what counts as tech infrastructure. Jamie Lewsadder explained how infrastructure work now includes meetings with City Hall to talk about how the city's infrastructure can support instruction.
Being part of Orange USD's pandemic-response investments in 2020, Tam Nguyen explained all that had to be put in place very quickly: from initial hardware to systems for security, training, collaboration, and support.
The first step was to deploy 1:1 devices and then start responding to the ongoing need to replace and repair devices. Given this high-demand, short-supply challenge, Tam's team rolled out Microsoft Intune to start deploying and managing PCs. As they rolled out emails to students and staff to promote virtual communication and collaboration, security became a big piece of their infrastructure decisions. Technologies were put in place to monitor emails, which allowed other departments to address concerns around mental health and bullying across settings. Communication lines were also opened up across all levels of their districts—for example, teachers were given a public phone number for parents and caretakers to contact them easily. Finally, Orange USD's tech support infrastructure was also set up with phone lines and daily drop-by services for their community. Such rapid expansions in infrastructure have only continued over the last year.
→ Learn about the 5 Steps for Effective TCO Management At Your District
2. Look to the side: Cross-collaborate with peers

Kris Boneman explained how her district, initially serving 10,000 students, suddenly adapted to serving around 30,000 additional people due to remote learning: Her district team was able to pull off this complete upscale through intensive synchronization and collaboration across departments—even across districts.

Tam sees this as a silver lining of the last year—other departments and teaching staff are realizing the longstanding value of technology services at their district, leading to more creative solutions.

Departments that were once far removed from each other have had to become intricately integrated through the efforts of their IT infrastructure, bringing a newfound sense of closeness despite physical distance. This is something that districts must preserve far beyond the pandemic to ensure an ever-evolving infrastructure.
→ Learn more about tech infrastructure
3. Look around: Serve and involve all stakeholders
Most districts are now serving several thousands of homes instead of just a few hundred classrooms—catering to the diverse needs of different stakeholders has never occurred at such a scale.

Over the last year, distance learning has allowed for more personalization and flexibility for teachers, learners, and caretakers—moving forward, this will remain a staple of innovative tech infrastructures. Additionally, Kris pointed out how nobody can identify gaps and challenges like the users themselves, so getting their input and developing a feedback loop for tech initiatives is vital. District leaders need to be ready to be surprised by what a tool will do and how it will be used—you can't always predict what the users are going to do with the tech you provide.

When schools first closed, Matt Penner described going through what he called a "triage moment" of going through various departments to check who needs what to do their job. Matt outlined his three-pronged approach: consolidating tools across the board, training stakeholders to navigate the infrastructure effectively, and using data and metrics from tools like Classlink and Paper to inform decision-making.
4. Look back: Evaluate investments

When considering bringing in a new system, Jamie recommended going through this checklist: Does it integrate with what we already use? Does it have a robust privacy policy? What does their innovation roadmap look like, and does it align with our vision? What do onboarding and ongoing support look like? For systems you're considering renewing, she recommended asking: What problem does this solve, and is that still the problem we're trying to solve? These questions need to be asked at scheduled intervals to spot redundancies and opportunities to optimize your district infrastructure.

Similarly, Tam explained how he's constantly asking, "Does this still make sense?" by giving the example of deciding between buying high-powered devices for their CTE programs or jumping on to app streaming with Azure or AWS instead. He also identified the need for a system that integrates ROI metrics from different systems to inform infrastructure decisions and identify redundancies.

Recalling the stakeholder feedback piece, Kris stated that digging into the survey feedback from stakeholders is just as critical as usage numbers, as multiple interpretations can arise when looking at engagement data. Kris recommends asking teachers, students, and families how and why certain tools are (or aren't) being used and where there is room for improvement. This helps decide what stays and what goes at both the district and site level.
→ Learn how to navigate federal funding in 2022
5. Look ahead: Embrace new possibilities

The federal and state stimulus dollars will play a key piece for districts as they plan for what's next, and the challenge is producing long-term outcomes from these one-time funds.

Matt highlighted the need for district funds to be prioritized not just to get through the crisis but to enact transformative change in education. Districts should spend their dollars on what they can see themselves using for years to come. A variety of instructional and collaborative tools will be reimagined for classroom use. 1:1 devices will also continue to be deployed and replaced as needed—we've seen that students need them not just for academics but also for collaboration, enrichment, resumes, and college applications.

For Kris, a significant amount of resources must be directed to ensure that we don't revert to normal completely. Districts should plan to keep innovations from the pandemic that have provided more equitable and comprehensive supports to stakeholders.

Tam also pointed out all the preparations needed to be made for when all students eventually return to in-person learning. The way that students are using devices now has completely changed. A return to the cart system after over a year of 1:1 devices is unlikely, and when students come back to the same classroom, they will still use collaborative tools throughout the day. The amount of bandwidth that will be required will increase and tax the infrastructure dramatically. Districts will need to prioritize network infrastructure moving forward.
→ Read the K-12 leadership guide
---
Up next
This panel discussion is part of our new series in collaboration with CITE on scaling 1:1 experiences for every student. Across three diverse panels, district administrators unpack the cost, infrastructure, and equity implications of 1:1.
On April 21, leaders from Moreno Valley USD, Hemet USD, Val Verde USD, and Paramount USD will share how they're scaling resources and programs to reach more students, better.