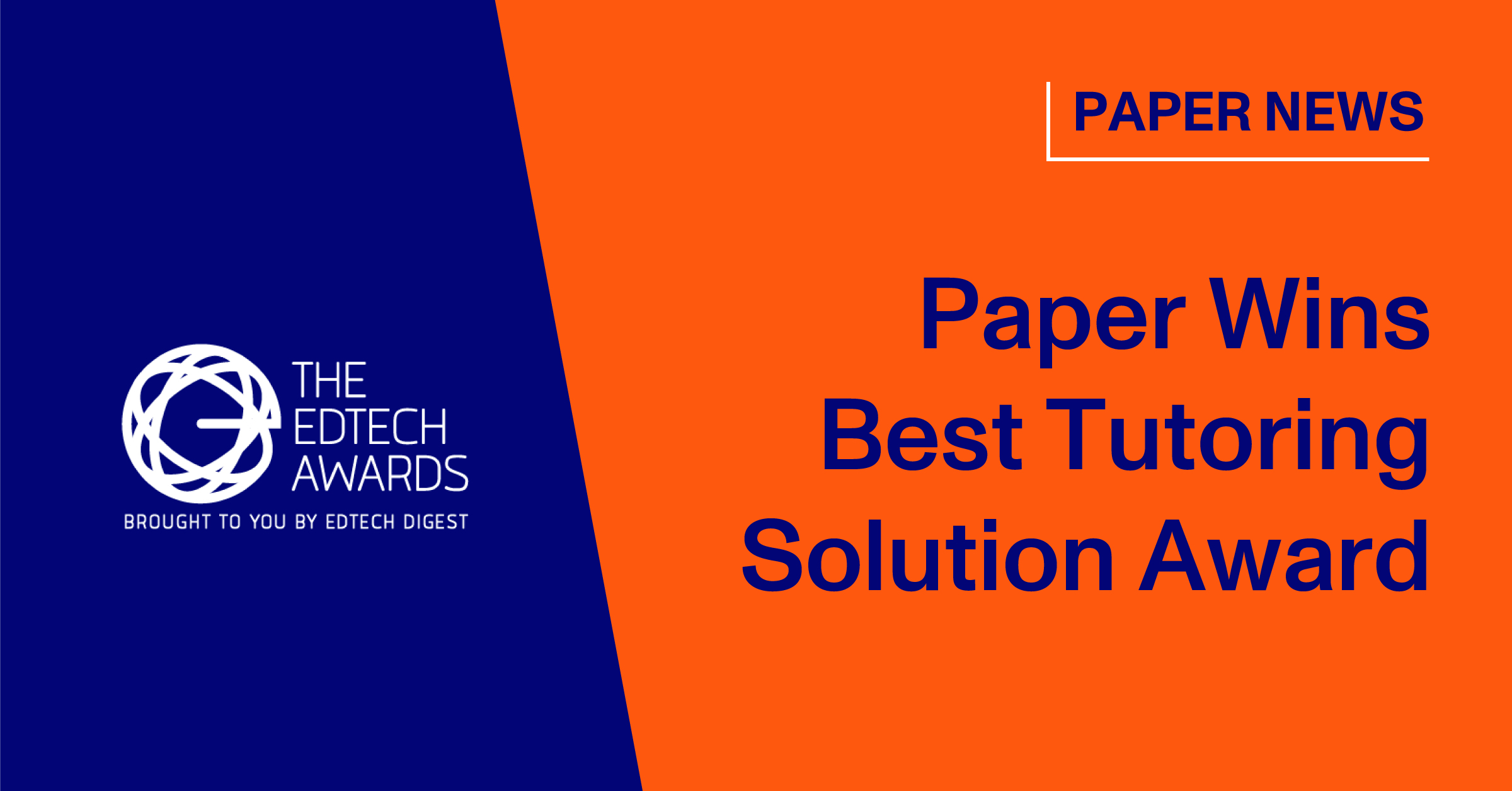 Paper Recognized as Best Tutoring Solution by 2020 Edtech Awards
May 20, 2020
Paper is honored to announce that it is the winner in the tutoring solution category and finalist of the personalized learning solution category of The EdTech Awards 2020.
Winners and finalists have been announced to an audience of educators, technologists, students, parents, and policymakers interested in building a better future for learners and leaders in the education and workforce sectors.
"The Paper academic team has worked incredibly hard over the last year to bring the quality of our tutoring up constantly. This means training, retraining, upskilling, and mentorship—to be recognized as the Best Tutoring Service is truly a testament to their hard work," said Philip Cutler, Chief Executive Officer of Paper.
Hundreds of thousands of students and teachers depend on our support each year. We have no choice but to be excellent and strive every day to continuously improve. Earning this award is an affirmation that the hard work is paying off and, ultimately, the students are receiving the equitable top-quality education they all deserve," he said.
The EdTech Awards recognizes people in and around education for outstanding contributions in transforming education through technology to enrich the lives of learners everywhere. Featuring EdTech's best and brightest, the annual program shines a spotlight on cool tools, inspiring leaders, and innovative trendsetters across the K-12, Higher Education, and Skills and Workforce sectors.
The EdTech Awards were established in 2010 to recognize, acknowledge, and celebrate the most exceptional innovators, leaders, and trendsetters in education technology. Celebrating its 10th anniversary, the US-based program is the largest and most competitive recognition program in all of education technology, recognizing the biggest names in EdTech– and those who soon will be.
Victor Rivero, Founder and Editor-in-Chief of EdTech Digest, stated:
While The EdTech Awards salutes all those on the front lines of help, with an extraordinary shift to online learning, really acknowledging the innovators, leaders, and trendsetters—particularly in our field—is more important than ever.
This year's finalists and winners were narrowed from the larger field and judged based on various criteria, including: pedagogical workability, efficacy, results, support, clarity, value, and potential.
If your school is ready to experience The EdTech Cool Tool Awards winner in tutoring solution, click here to learn more.