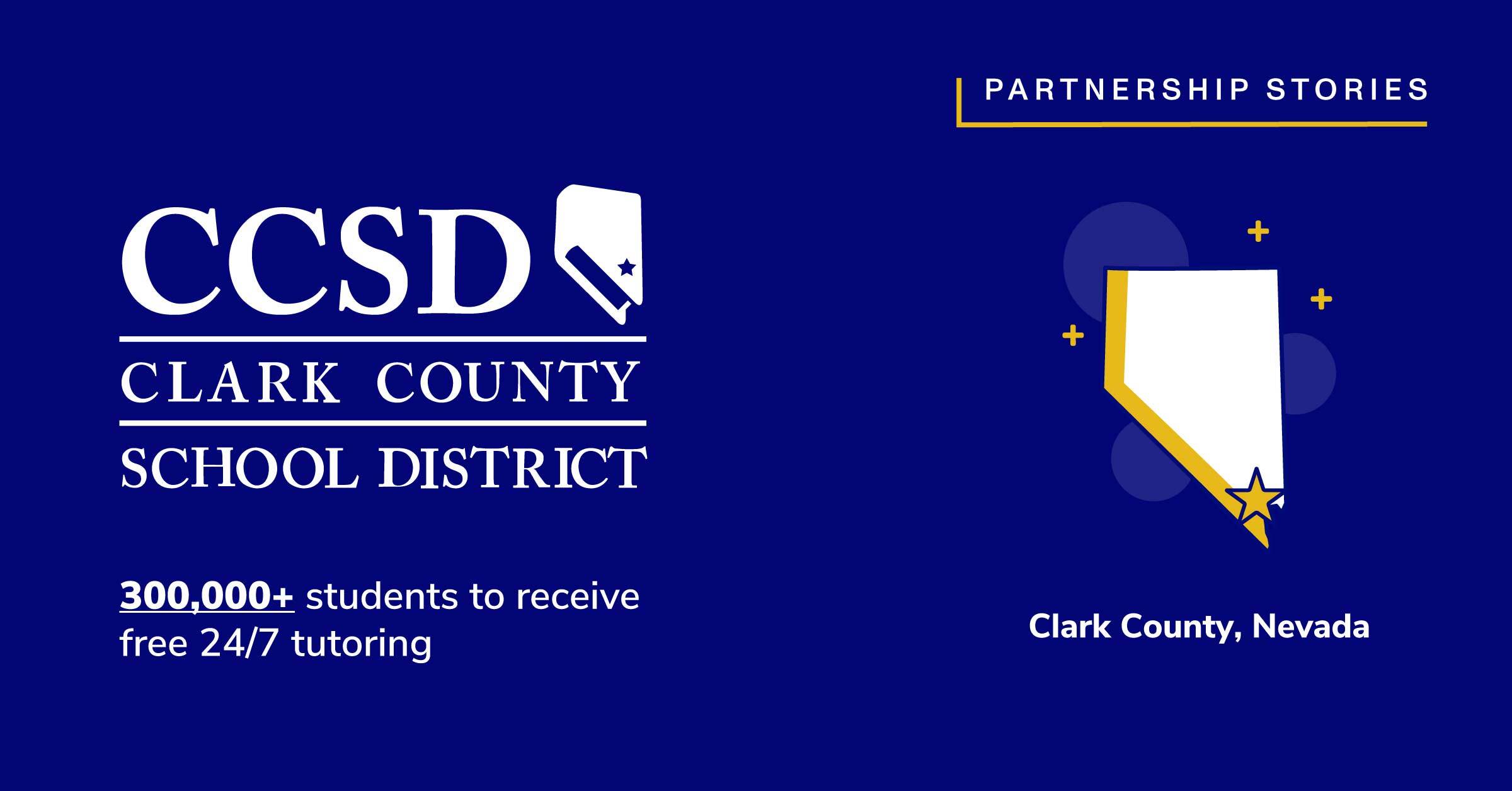 Paper to serve more than 300,000 students in Clark County, Nevada
July 13, 2022
Across the terrain of Clark County, Nevada—home to the bright lights of Las Vegas—hundreds of thousands of students will now benefit from free 24/7, on-demand tutoring provided by Paper.
Starting in the summer of 2022, a partnership between Paper and the Clark County School District (CCSD) will grant more than 300,000 K-12 students access to the service.
The new districtwide program is the result of a successful test rollout of Paper to 11 CCSD sites during the previous school year. Although this small pilot program was launched during the final month of the academic calendar, its impact was felt by teachers and students right away.
The immediate benefits of the Paper pilot created palpable excitement for the service, leading to the districtwide rollout that begins now. Read on to learn more about why teachers and students at CCSD's Matt Kelly Elementary School love Paper.
Academic support that appeals to students
With access available across the district, students throughout the county will be mere clicks away from all the user-friendly assistance they need to work through rigorous homework assignments while following the Paper Method.
Unlimited live tutoring, around the clock
Before Paper, some CCSD students had difficulty deciding where to turn for help as they worked through new concepts at home.
"Sometimes when I ask my mom for help, it's hard for her to explain how to do math with me," said Allison, a student in the district.
It's a familiar problem for families far and wide. Luckily, with Paper, help is now only a question—or a picture—away.
"I love how they can take a picture of their work and send it to the Paper tutor so that they can see exactly what the student is expected to do," said Shamecia Jones, a teacher at Matt Kelly.
The Paper Method: Our tutors' specialty
So just what kind of help are CCSD students getting? Tutoring that follows a holistic, theory-based framework that we call the Paper Method.
What's the Paper Method? 🤔 It's a holistic, theory-based framework designed to help students get the most from every tutoring session.

See how the Paper Method aims to foster critical thinking skills, strengthen subject knowledge, and more 📚 #EdTech pic.twitter.com/ewMuu4CVXt

— Paper (@paperlearning) July 6, 2022
In following the Paper Method, our tutors don't give away answers. Instead, they work with students to foster critical thinking skills and build their confidence.
"I like that the [tutor] actually helps me work through the problem," said Kataleyah, a Clark County student.
Helping teachers empower learners
In addition to the high marks Paper earns from students in the district, CCSD teachers are equally optimistic about the platform's potential to help them meet learners' needs in the classroom.
Extra virtual assistance for in-class support
As much as educators may want to be everywhere at once, it just isn't possible. Now, Paper tutors can help ensure every learner has a helping hand while their classmates work with the teacher.
Logging on is simple. By integrating with many of the leading learning management systems, we've made it as easy as possible for students to get online and secure the help they need from tutors.
"It's very easy," said Eternity, a Clark County student. "Open your Chromebook and go to Clever."
Putting that kind of power in students' hands can help them take charge of their own learning, building the self-confidence they need to become lifelong learners.
"Paper gives the students more independence."

—Shamecia Jones,

Teacher, Clark County School District, Nevada
Using information from Paper to fuel instruction
Beyond the immediate benefits of Paper tutoring, teachers can use information gathered from the platform to help further refine their instructional approaches.
"I've gone back after tutoring sessions and read how the chat went," said Jones. "It gave me more insight into the student's thinking."