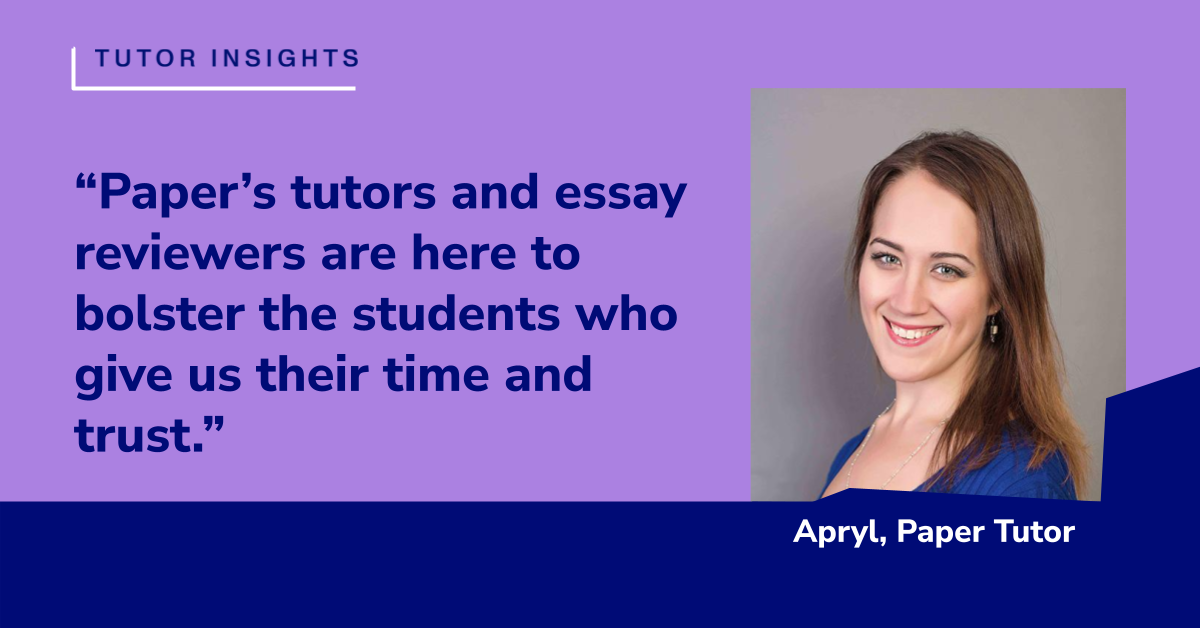 Sparking confidence: Encouraging students to trust their own words
September 15, 2022
In this guest post, Apryl, a Paper™ tutor, explores the power of positive feedback.
---
Gaining a passion
During my early education, I was a subpar ELA student. However, with the dedication of parents, teachers, and tutors who helped me learn to read, I quickly fell in love with the art of language.
This passion for creation through words led to many transformative moments: earning a creative writing degree, joining a writing critique group, becoming a published author, and joining Paper as an essay reviewer. Just as my early educators gave me vital tools to succeed in the world of academics, I've found a fervent passion for passing on those tools and experiences to the next generation of students.
Developing the right skills
I've had many experiences—both professional and personal—that helped me develop my passion for writing and education.
One of my most important personal experiences, joining a writing critique group, gave me invaluable tools and insights into the art of writing, editing, and critiquing. Almost 10 years later, those five other authors from the group are some of my closest and most trusted friends. They also joined the long list of teachers in my life. Among the six of us, we've worked on dozens of writing projects—from full-length novels to short stories and essays. We've grown as authors, editors, and instructors both to each other and to writers outside our group.
This ongoing learning and teaching experience has helped me cultivate my other passion: education. This ultimately led me to Paper's Review Center, where I'm entrusted with words written by students of various ages, abilities, and backgrounds.
Applying these lessons
Over many years of critiquing other authors' writing, I've learned different techniques for providing feedback. These might include asking questions, describing my reaction to a certain line, or being straightforward about a potential issue. All of these strategies have pros and cons, but some can be more helpful when educating a writer so they can build their craft.
As Paper tutors, we're trained to use the Paper Method: a holistic, theory-based instructional framework built to make students' sessions with Paper tutors consistently successful. The Paper Method guides students to think critically about their writing so they can grow their skills in a more meaningful and organic manner.
What's the Paper Method? 🤔 It's a holistic, theory-based framework designed to help students get the most from every tutoring session.

See how the Paper Method aims to foster critical thinking skills, strengthen subject knowledge, and more 📚 #EdTech pic.twitter.com/ewMuu4CVXt

— Paper (@paperlearning) July 6, 2022
Essay reviewers aren't here to give students the answers, because giving an answer could actually stifle a new creative voice. As a fellow writer with my own unique voice, I never want to take away the special qualities each person can bring into the world of writing and creativity. Instead, essay reviewers are here to ask questions about subject matter and structure as well as offer quick guidance on technical aspects.
In short, essay reviewers won't rewrite a student's paper, but we are here to point out the student's strengths and demonstrate how those positives can be applied to areas that need improvement.
Making room for students' voices
Paper's tutors and essay reviewers are here to bolster the students who give us their time and trust. We're not here to tear anyone down—unless it's the impostor voice that often tells children and adults: "You're not good enough or smart enough."

I've been torn down by peers and teachers in the past, and there are many moments I've had to fight that demoralizing inner voice. When I struggle, though, I turn to my critique group and fellow writers. They're my teachers and supporters—and I hope I can be the same for every student who entrusts me with their words.

Apryl, Paper Tutor
Paper supports students and educators in school districts by providing unlimited 24/7 multilingual live help and essay review.
Who are our tutors?