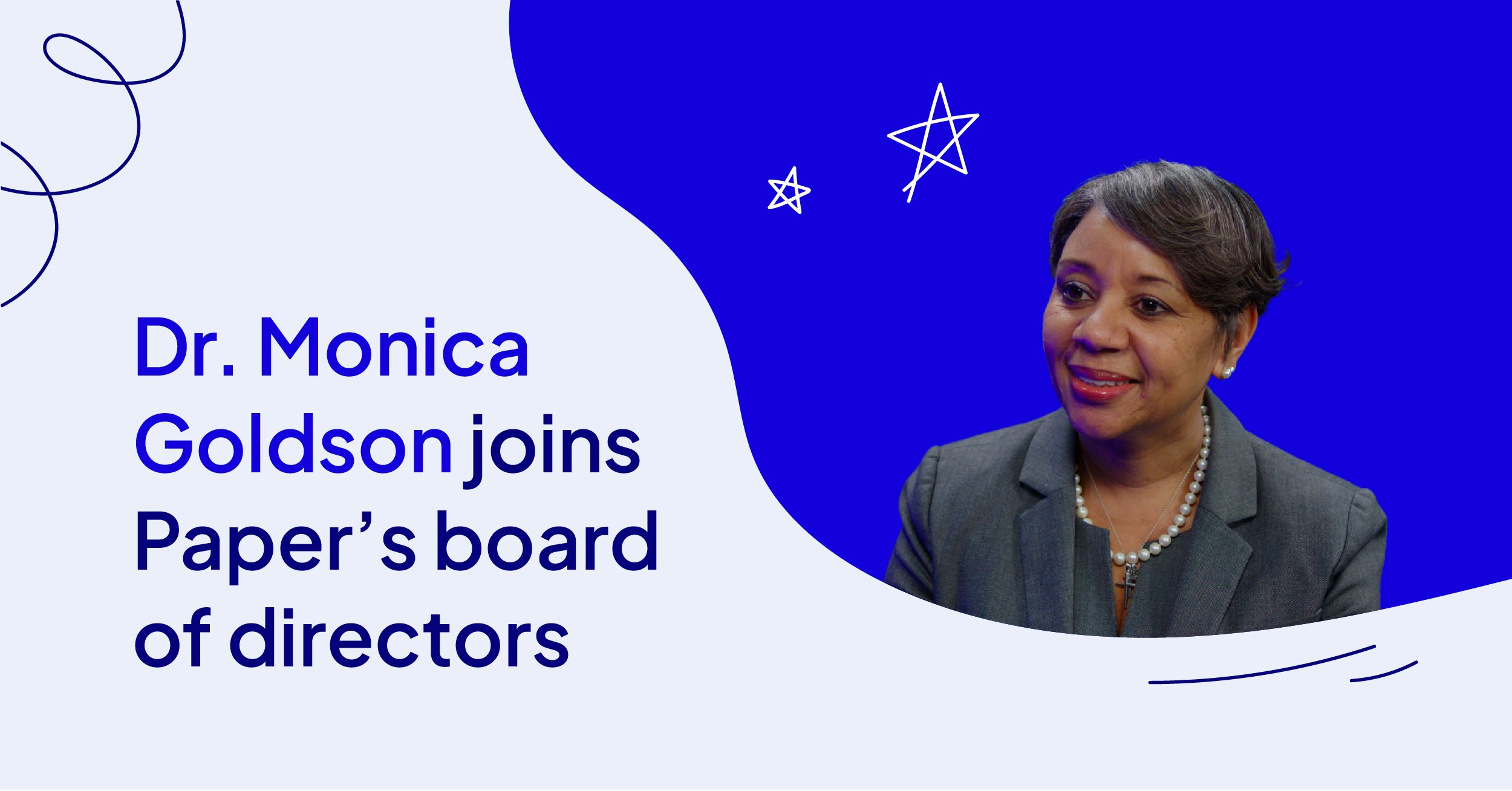 Paper Proudly Welcomes Dr. Monica Goldson to its Board of Directors
Nov 6, 2023 9:02:45 AM
Paper, the pioneer of the comprehensive Educational Support System (ESS), is thrilled to welcome Dr. Monica Goldson to its Board of Directors. Celebrating a prestigious career spanning over three decades with Prince George's County Public Schools (PGCPS) in Maryland, Dr. Goldson steps into this new role bringing her renowned expertise and a passionate commitment to education reform and technological integration.
"Joining Paper is an opportunity to make a profound impact on the lives of students. It's a chance to help shape the future of education and to empower the next generation to reach their full potential."
A Legacy of Educational Excellence
From the classroom to the boardroom, Dr. Goldson's path is marked by relentless dedication and an unmatched drive for excellence. As a mathematics teacher who grew to assume the responsibility of CEO for the 20th largest school district in the United States, she has proven herself a transformative figure in education.
Innovative Leadership and National Recognition
Under her leadership, PGCPS witnessed a significant elevation in student achievement, with a special focus on broadening the horizons for students through dual enrollment college credit programs. Her tenure as CEO saw the district navigate the complexities of the COVID-19 pandemic with resilience, emphasizing the importance of virtual learning and equitable access to technology.
Appointed by President Joe Biden to the President's Board of Advisors on Historically Black Colleges and Universities (HBCUs), Dr. Goldson contributes her insights to shaping higher education policy. Her achievements extend beyond academia, as she has been recognized with the Women Who Mean Business Award from the Washington Business Journal and featured on Washingtonian magazine's esteemed list of "Washington's Most Powerful Women." Dr. Goldson also serves on the Maryland State Board of Education.
A New Chapter of Innovation
"We are honored to welcome Dr. Monica Goldson to our Board of Directors," says Philip Cutler, CEO and Founder of Paper. "Her commitment to equitable education, coupled with her wealth of experience, makes her a transformative addition to Paper's Board of Directors. We are excited to collaborate with her to drive education forward through our Educational Support System."