Students:
Get unlimited tutoring anytime, anywhere. For free.
Our friendly multilingual tutors can help you with anything that might be giving you trouble—at no cost to you.
"I really like the service! I've gotten really good feedback on my essays that I uploaded, and the tutors are super chill."
"I used it for math, and I thought it was really helpful. They don't just give you the answer but walk you through the ways to think about the concepts and how to approach it."
Who doesn't struggle with classwork from time to time?
Paper's tutors are here for you. Just say hello, let them know what you're working on, and one of our experts will help you out.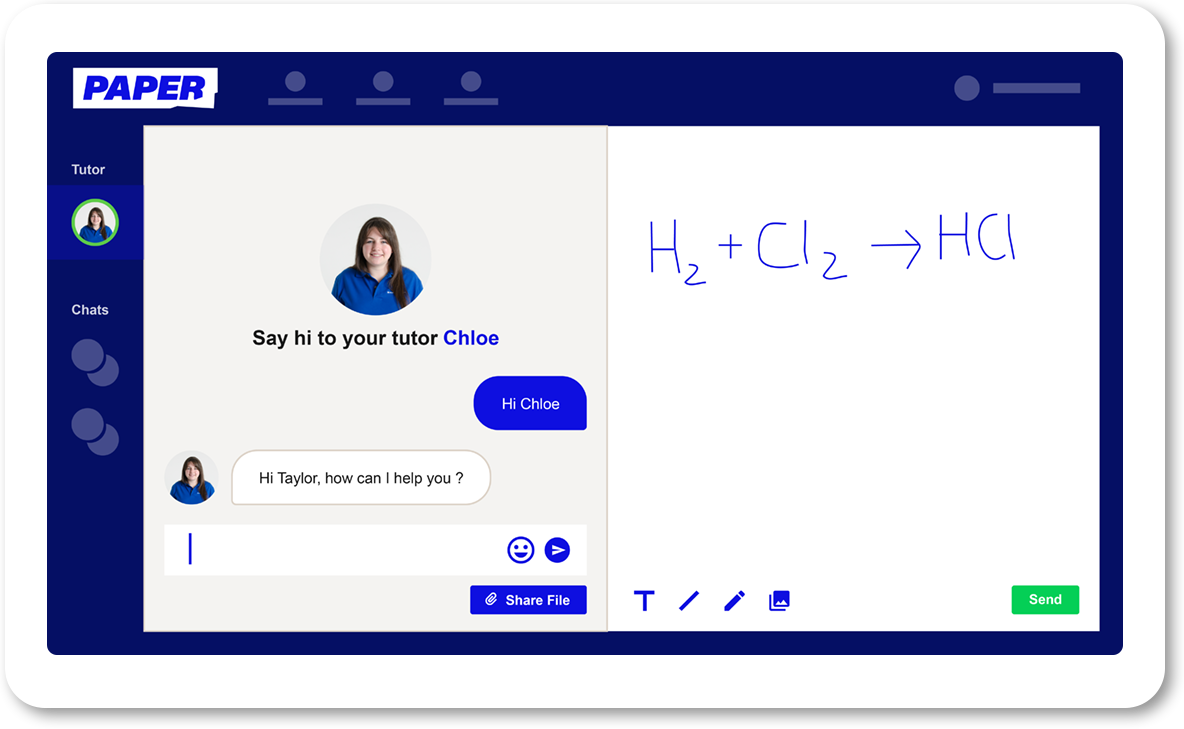 Homework help
When you hit a stumbling block on an assignment, our tutors will guide you and help you better understand where or why you're stuck. Simply type in your problem, draw it out on the whiteboard, or upload a file from any device.
Writing feedback
Paper is an extra set of eyes when you need it. Our tutors review and annotate your writing, including feedback on style, structure, and grammar. From essays to lab reports, you can upload any written work along with your teacher's instructions.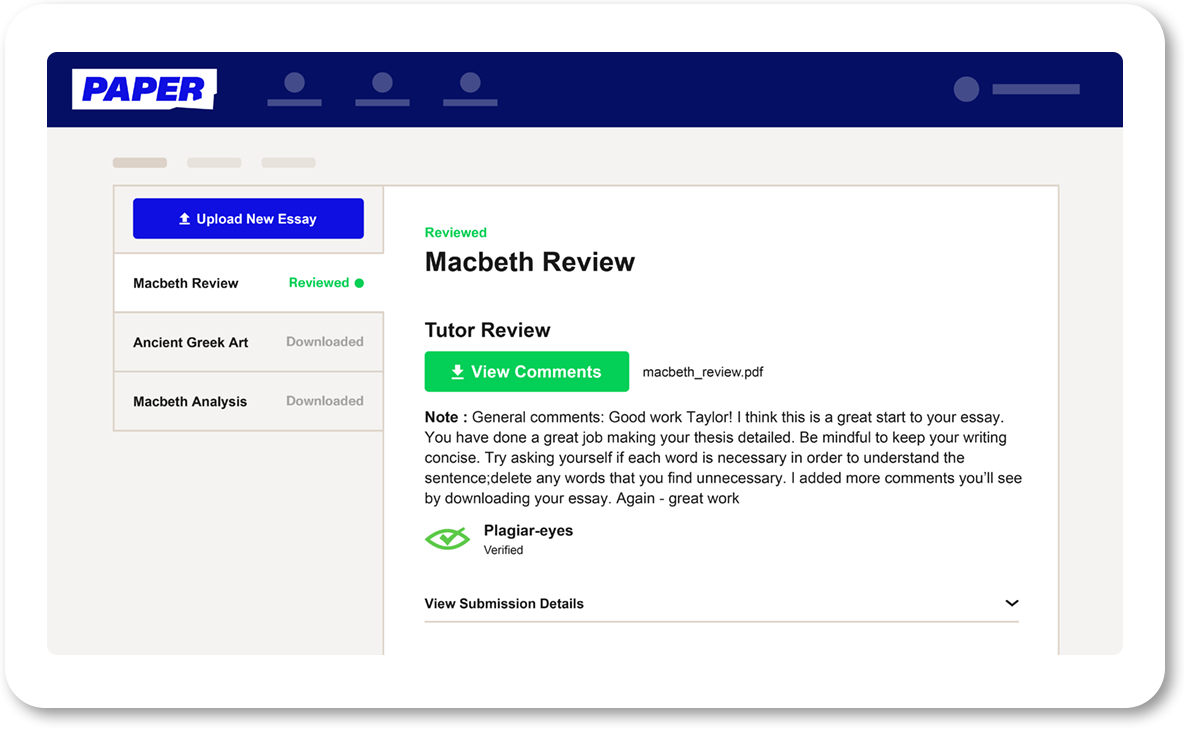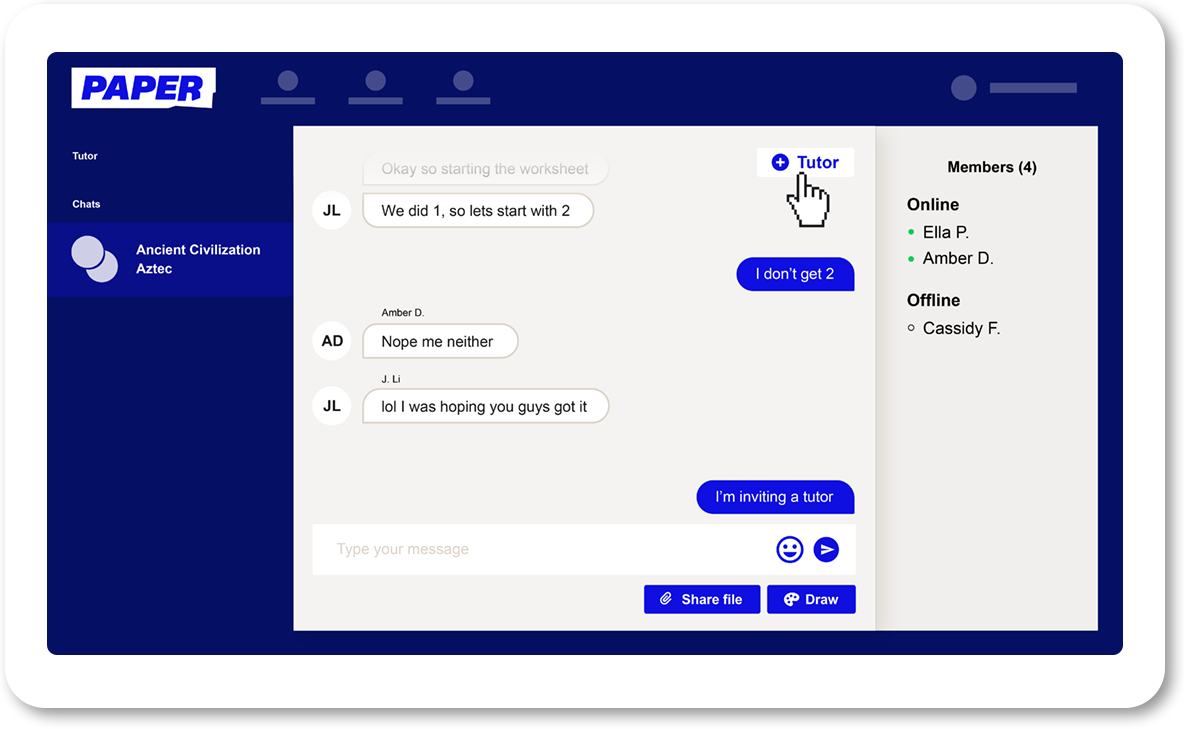 Study support
There's no limit to how or what you can learn with Paper. Prepare for upcoming tests, get tips on how to grasp concepts effectively, and even get help with elective subjects.
Help is available in English, Spanish, Mandarin, and French
Meet our tutors
Our friendly tutors are carefully screened, selected, and trained to make sure you get the very best help.
No matter the question, we've got you covered—from elementary English to AP Physics and everything in between.
You're in good hands
Paper's academic support is accessible, effective, and safe.
Free and
unlimited
Paper is paid for by your district. You can access personalized learning help at any time, anywhere, without worrying about time limits on sessions.
Multilingual
ELL support
English, Spanish, French, and Mandarin-speaking tutors are available across several subjects so you can get help in your preferred language.
Private and
secure
Your data and personal information are always protected. Our systems are secure, and we operate under strict adherence to student data privacy laws.
Getting started with Paper
Watch how you can access Live Help and Essay Review.
Need help logging in to Paper?