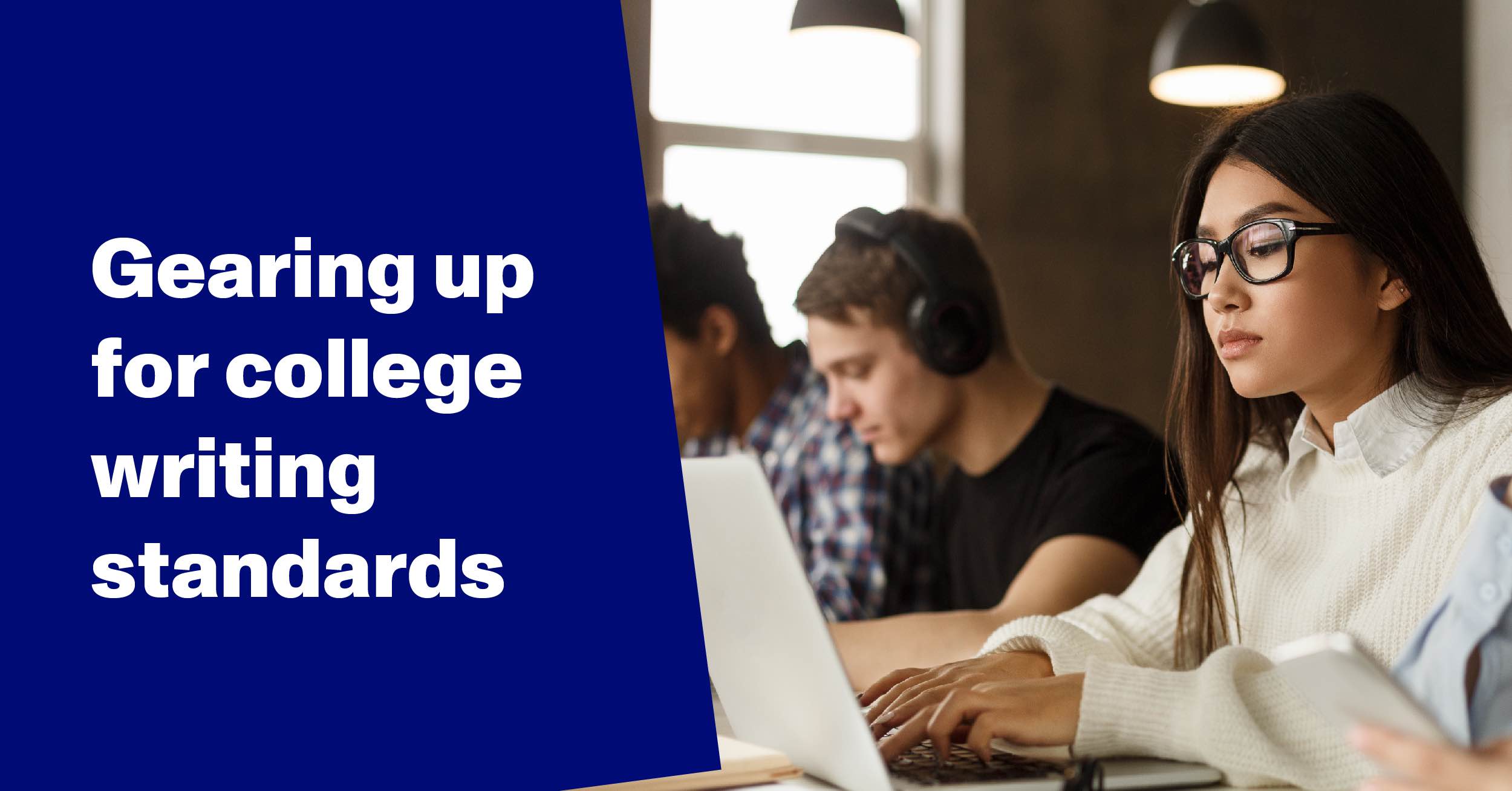 3 ways to prepare high school students for college writing standards
November 17, 2022
Helping students succeed in high school while also setting the stage for a smooth transition to higher education can serve as a North Star for many teachers.
Even with a wide-ranging education that adheres to high school writing standards, though, students sitting down in lecture halls for the very first time often find that the writing skills they honed back in high school might not align with college-level writing expectations.
High school assignments and college writing standards: Bridging the gap
Why might students find themselves grappling with college-level writing standards? In short, the written work educators tend to assign at the college level is on the longer side, involves a high degree of analysis, and makes ample space for critical thinking.
In an article about preparing high schoolers for collegiate-level writing, Dr. William Bryant—an expert in bridging the gap between high school writing and college writing standards—asserts that high school students today often find themselves writing out short-answer responses rather than lengthier essays. In the cases where they do tackle longer written assignments, they're often supplied with a rubric or formula they'll need to align with very closely. In turn, students are "rewarded more for their mastery of surface features than for the quality of their thinking," Bryant notes.
[READ: "How Paper tutors prepare students for writing in higher education"]
On the flip side, college writing often involves much longer compositions that lean heavily on learners' critical thinking, creativity, and analytical skills—with everything presented in a clearly and logically defined package. What's more, writing is often a highly iterative process in higher education. Whether it's through peer or instructor review, college students are no strangers to making revisions and adjustments based on rounds of rigorous feedback.
Keeping all of this in mind, a student's first time writing a research paper could certainly throw them for a loop—even if they happened to earn stellar marks on their writing in high school.
Luckily, administrators and other education leaders looking to ensure their high schoolers are ready for writing in college can share a few prudent pointers with teachers. The following are just a few great places to start.
1. Explore college-level writing standards defined by industry leaders
First, what is college-level writing?
In truth, there's no universal standard. Among other factors, college writing standards can vary widely given the institution, the type of class a student is in, the exact subject matter covered, and the professor teaching a class. Without clear guidance on how to help high school students attain college writing skills, however, instructors might find this task hazy.
Luckily, respected educational organizations often rely on their own set of standards when it comes to measuring the quality of students' writing—and their frameworks can provide a useful jumping-off point for educators looking to shore up students' writing skills for university.
An example from standardized testing
Consider the ACT®*, for instance: The organization's standardized tests are meant to measure how well students have grasped various college-level learning benchmarks, meaning the ACT also has an extensive rubric meant to assess learners' writing skills. Its writing framework is segmented into four areas, each relating to different linguistic skills:
Ideas and analysis

Development and support
Organization
Language use and conventions
These areas are scored separately according to a numerical scale, with further guidance on how reviewers should assign specific scores for each segment.
However, remember that these guidelines are simply a starting point when it comes to preparing students to write for college. Standardized college entrance exams like these might have useful grading rubrics, but they won't always perfectly match the demands of university-level compositions.
2. Allow students to make their writing processes more iterative and multidimensional
Another great strategy for helping students meet college writing standards involves allowing them to completely rethink how they approach written assignments—if not writing as a whole. In an EdWeek article about how educators can adequately prepare learners for college-level writing, Joe Fruscione—a former professor who taught writing to first-year university students—suggests revamping assignments to make the writing process more iterative and multidimensional.
"There is trouble with the writing process," Fruscione says. "[Students] don't allow a draft of an essay to take time and mature." To help foster this perspective, teachers can allow ample time for students to review and revise their written work. He also suggests that instructors help students "unlearn" old writing processes they might lean on too heavily. If students have primarily written essays in class with their books closed, for instance, teachers might consider having an open-book essay question. Likewise, instead of book reports, assignments that emphasize critical thinking might help students meet college readiness standards.
Of course, this should go beyond the parameters of individual writing assignments. Students should be readily encouraged to look past old assumptions they have around the writing process—think crafting "thesis sections" instead of "thesis statements" and including creative and debatable claims rather than simply recycling old information.
3. Give students a chance to share their drafts with a wider audience
When students can share their written assignments with a broader audience before turning them in, they gain exposure to different perspectives—a process that closely mirrors the kind of critical review that happens in university-level classes.
[READ: "Key classroom extension: How one ELA teacher uses Paper's Essay Review"]
As students share their drafts with trusted peers and experts, each individual reviewer functions as a kind of editor: someone who can not only act as a guardrail to ensure the draft reflects the assignment guidelines, but also add nuance.
How Paper™ comes into play
With Paper, students at partner schools often take advantage of our Review Center to achieve this outcome. Learners are free to upload any sort of written draft to the platform, and an expert tutor provides helpful annotations on the piece. Feedback ranges from notes about grammar to larger-scale structural or content-based changes. Students can also upload supporting materials provided by teachers to ensure tutors can align their feedback with educators' expectations.
[READ: "Sparking confidence: Encouraging students to trust their own words"]
In the short term, this sort of feedback allows teachers to focus more on larger-scale edits. But in time, the pointers tutors give also help in the overall development of students' composition skills, laying the groundwork for college-level writing.
Want to learn more about how a holistic Educational Support System can drive student success both today and well into the future? Download our free ebook: "​​5 ways student-centered interventions can increase engagement."
*ACT, Inc. is the registered owner of the ACT trademark. Paper is not associated with or sponsored by ACT, Inc.