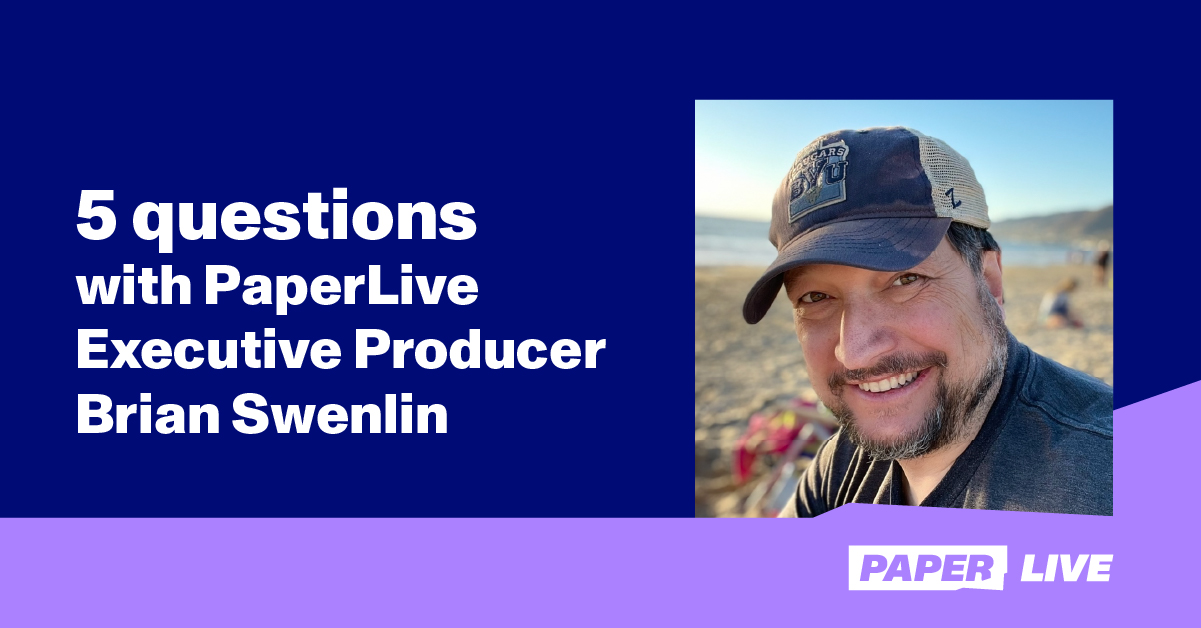 5 questions with PaperLive Executive Producer Brian Swenlin
August 11, 2022
Today, Brian Swenlin is an executive producer with PaperLive, but over the past 30 years, he's worn just about every hat you can imagine in the family entertainment industry.
Across domestic and international markets, Swenlin has applied his unique sensibilities and extensive talents to productions at The Walt Disney Co., Warner Bros., Nickelodeon, and more. With experience in television and video alongside print and interactive media, this industry pro is now sharing his talents with PaperLive to ensure all our after-school programming is engaging, entertaining, and exciting.
We sat down to explore how Swenlin's work at Paper™ fits in with his previous roles in entertainment—and to discuss where he wants to take PaperLive next.
What lessons do you bring from the entertainment industry to PaperLive?
One of the most important lessons that I took from my experience with Disney, as well as other companies, was to make the product character-driven. For example, you're not just making a typing app—it's Adventures in Typing With Timon & Pumbaa. The audience connects with the characters, and that character-driven inroad really opens the lesson up.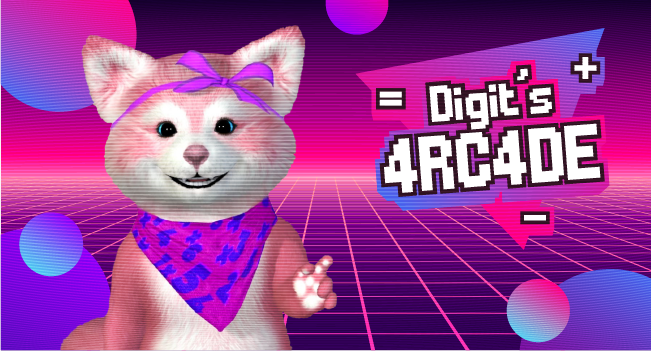 Stefany Pineda voices PaperLive's first fully animated host, Digit, who invites us to play games that hone our math skills in "Digit's arcade."
For example, here at PaperLive, we have the fully animated character of Digit for "Digit's arcade," our math class. Kids might not know who Digit is yet, but we know they're going to connect with her bubbly personality and her exciting math arcade.
Characters will always be the inroad—they make the experience more than just a lesson plan. When the host is not just a teacher, but a special agent, as they are in "Agents of S.T.E.M.," everything becomes more interesting for the audience, who now see themselves as junior agents supporting our host on her mission.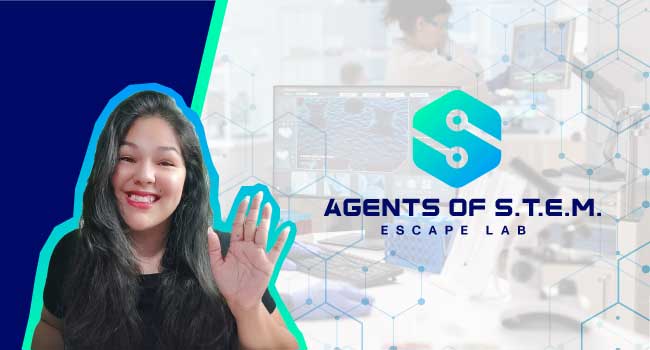 Join Stefany Pineda on her mission to teach science, technology, engineering, and mathematics in "Agents of S.T.E.M."
In addition to characters, what other storytelling elements do you think are vital for driving student engagement in PaperLive shows?
PaperLive also has a narrative element. We don't just present the lesson—we give it a story that students can follow from beginning to end so they can identify with our host, who is framed as the hero. Now, we're all on this adventure together. Our hero has a problem we're trying to solve, so now the students aren't just watching them solve it—they're helping to save the day!
We start by piquing the audience's curiosity, and then we deliver them an online experience that's different from everyone else's. There are four main elements we're bringing to the table:
PaperLive is entertaining: Because my career has been focused on the genre of family entertainment, making our PaperLive content fun and entertaining is my top priority. We take the educational content, and we add music to give it a mood. We also add sound effects to bring the narrative alive, along with stories and characters, to give it a compelling arc.


PaperLive is educational: We're helping kids learn, and we're sharing new ideas with them. To do that, we work with teachers who know these topics inside and out and who are passionate about them. With the help of PaperLive, these teachers become hosts. They lead the students through an adventure, a story, or a puzzle—creating learning moments along the way.


PaperLive is interactive: All of these episodes are live. It's not like watching prerecorded video on a streaming service. The kids become engaged with our content because we offer a live experience where the host asks them questions. The students answer them, but it's not a classroom—it's an adventure. How do we get around this monster? What's your idea? We're trying to solve this logic puzzle to get through a door and save the person on the other side. Should we solve it this way? Should we solve it that way? It puts the kids in the driver's seat and makes for a much more engaging learning experience.


PaperLive is free for students and families: PaperLive is there for all students, and it's ad-free too. Families don't have to worry about how they'll afford this extracurricular activity to help their kids stay engaged during the summer or after school. Every student who has Paper—starting September 12—will have access to everything we have to offer.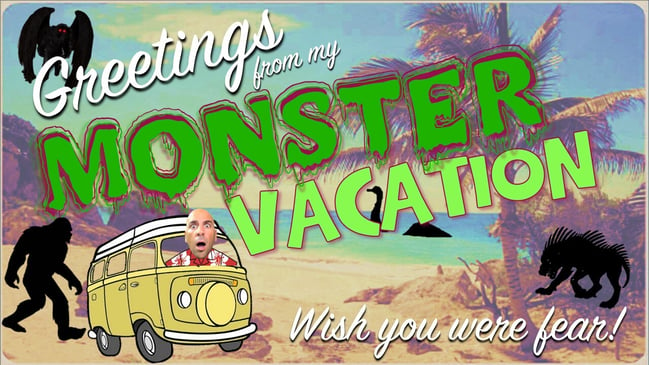 Educator Aaron Potsick introduces us to creatures from urban legends and helps us solve logic puzzles in "Monster vacation."
What is it like working with the PaperLive hosts?
I was just discussing this with our invaluable show producer, Matt Wilson, and he agrees that the greatest thing about working on PaperLive is getting the chance to collaborate with our hosts. They're educators, and they know their subjects—they know how to put together their lesson plans and how to present their material. And like me, I think they've really been looking for an innovative opportunity like this. They get to have a new kind of fun by making their content even more exciting, engaging, and entertaining—in ways they never even imagined were possible.
Just as our hosts try to open up their students' worlds, I get to do the same thing with our PaperLive hosts. Suddenly, they've got all these new ideas flowing!
Also, I hope what we're doing at PaperLive can inspire other teachers to incorporate some of these engaging elements into their classrooms too, whether they want to try out some of these storytelling features themselves or encourage their students to interact with the shows. PaperLive allows students to revisit what they may have learned in class in a completely different way.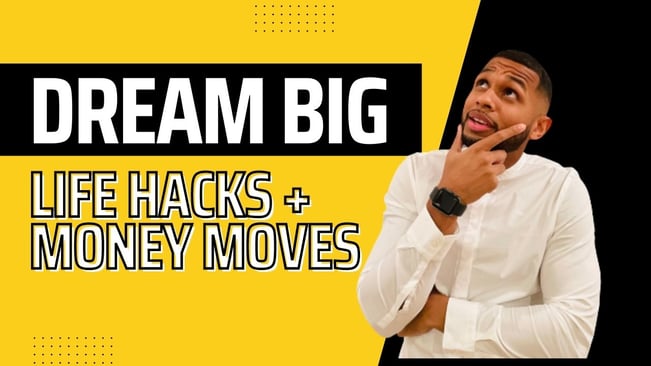 International basketball professional Ashton Khan provides encouragement in "Dream big: Life hacks and money moves."
Overall, how does working on PaperLive compare to the entertainment industry?
Television production is a giant, high-pressured machine that lumbers slowly forward through layers and layers of development, oversight, and revision. This is particularly true in animation, where you can't just try something for fun, because your episode will literally take up to a year to animate before you can see if your idea was actually good or not.

After decades of working in children's television and family entertainment, I was really ready for a new chapter. I wanted to apply my talent and experience to something that was much more nimble, dynamic, engaging, and fun—but also something that had a strong sense of purpose. PaperLive definitely checks off all those boxes for me. It's an absolutely invigorating experience to get up every day and invest my time in making the PaperLive programs come to life.

And one of the coolest things for me is the nearly instant gratification of executing an idea.

Here at PaperLive, there's a new episode every week. It's more like live television or improv theater than traditional TV or film production because everything is happening so quickly. There's a fast turnaround on ideas, and you can build on them almost instantly. Even better, every improvement we make today is going to ensure the product is better tomorrow.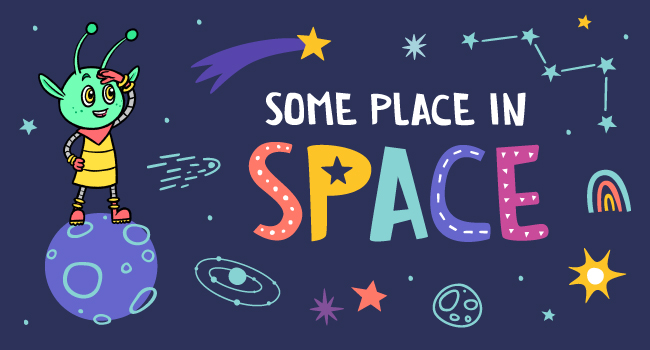 Cristin Miller helps us find a home for Allie the Alien in "Some place in space."
How would you like to see PaperLive evolve over the long term?
We know that our programming library will become broader. We'll be able to service a wider range of interests. The students who come to PaperLive will find an even more robust selection, and they'll be able to bounce from one topic to another.
We want students to gain exposure to topics and subjects they may not necessarily get to dive into otherwise. Our goal is to help them follow their own interests and curiosities. And so the more shows we have, the more we can nurture all these different potential growth paths. Right now, there could be a future engineer, a budding marine biologist, or an aspiring astronomer out there—students who don't otherwise have access to materials that excite and ignite these specific interests. But you know what these kids do have? They have access to us. Thanks to their school district, they have PaperLive.
If you currently have access to Paper, you may already have PaperLive. If you don't see it yet, you'll gain access starting September 12!
Those who don't have Paper can use our advocacy kit to make their voices heard by local education leaders in their area.