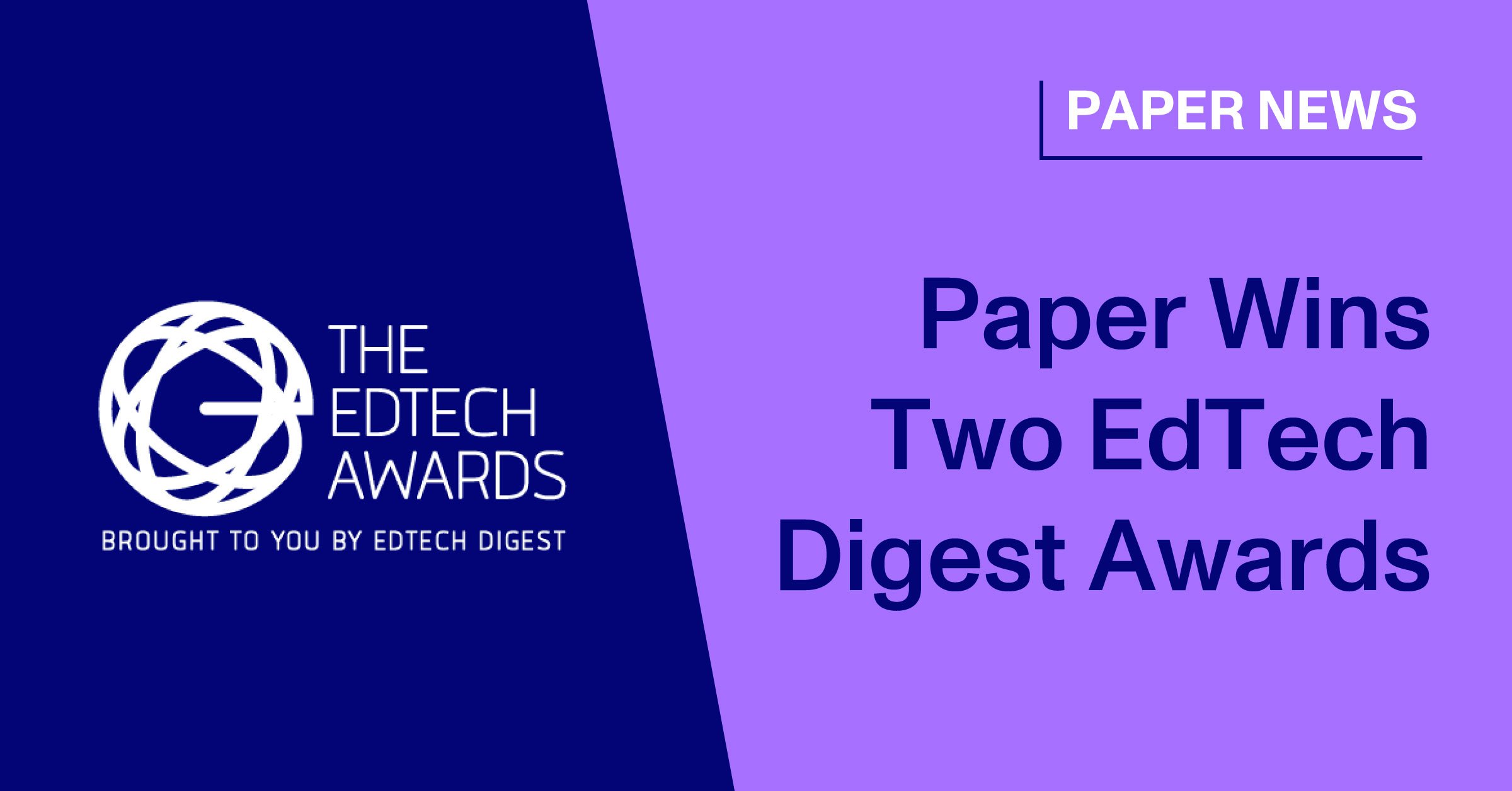 Paper Named Best Educational Support System by EdTech Digest
April 28, 2021
Company also awarded "Edtech Company Setting a Trend"
Paper has been recognized as the "Best Educational Support System" and top "Edtech Company Setting a Trend" by the 2021 EdTech Digest Awards.
Educational Support Systems, or ESS, have become one of the fastest-growing software additions in school districts. Driven by the 24/7 unlimited access to live virtual tutoring, Paper's ESS provides unparalleled value to every member of a school community: Every student has access to the support they need to reach their full potential. Teachers gain access to 24/7 virtual teaching assistants. Administrators have visibility into where help is needed.

Being recognized by The EdTech Awards for the fourth consecutive year further reaffirms that Paper is creating generational change in education.

Over the last year, the number of students with access to Paper's ESS grew 1500%, and the number of districts we've partnered with increased 960% across North America.

This explosive growth can be attributed to Paper being able to serve urgent needs in today's school districts—from accelerating learning, to closing equity gaps, to monitoring student progress. By partnering with innovative schools and districts at increasing rates, Paper is setting a trend in education: to meet the personalized needs of every learner, anytime and anywhere.

"We're honored to have been recognized by the EdTech Digest Awards once again," said Philip Cutler, CEO and co-founder of Paper. "In a year of massive disruption within the education landscape, the Paper team has worked incredibly hard to lend support to educators and students. We've established ourselves as leaders of equitable academic support as we continue to further our mission of giving each student an equal opportunity to succeed."

The EdTech Digest Awards were established in 2010 to recognize, acknowledge, and celebrate the most exceptional innovators, leaders, and trendsetters in education technology.
→ Learn more about tech infrastructure