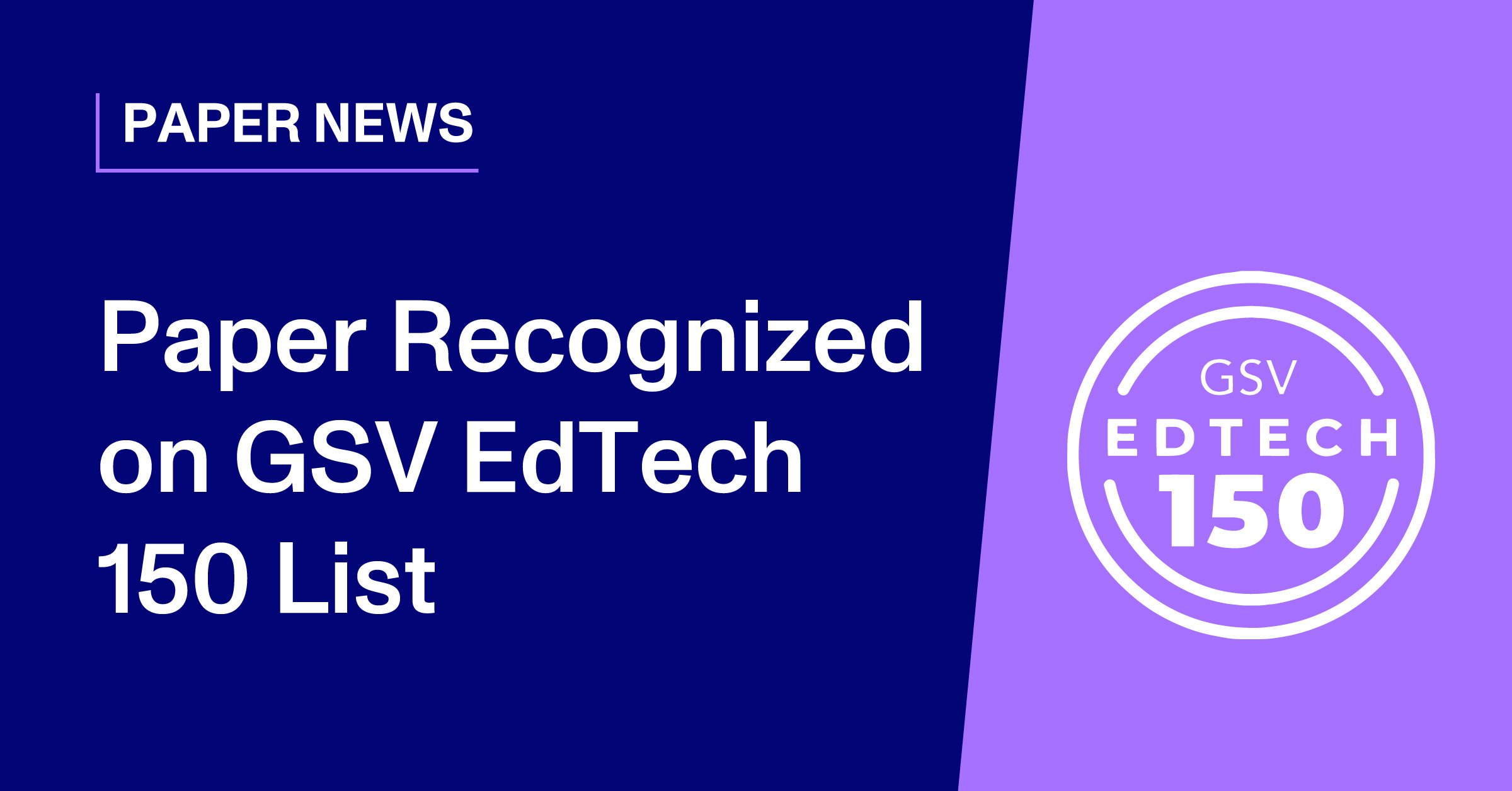 Paper Recognized on GSV EdTech 150 List
May 26, 2021
List recognizes the 150 most transformational growth companies in digital learning
Paper is honored to be named one of the most transformative growth companies by GSV EdTech 150. Paper was selected from over 2,000 VC and PE-backed private companies as a platform that has been able to aid in transitioning classrooms online and maintaining access to educational resources and opportunities.
According to GSV, the 150 companies on their list reach approximately three billion people, or close to half of the global population, and generate approximately $20 billion in revenue.
Pioneering the Educational Support System (ESS), Paper is an established leader of equitable academic support, with the platform's user base increasing by 1500% over the last year. Through partnerships with school districts across North America, Paper provides unlimited 24/7 virtual tutoring in over 200 subjects and four languages.
Paper's ESS solves urgent issues in the education system by serving the needs of every stakeholder: students get personalized academic support, teachers gain supplemental support and administrators get actionable insight.
"We're very proud to be named one of the most transformational growth companies on the GSV EdTech 150 list," said Philip Cutler, CEO and co-founder, Paper. "From our inception, Paper has been committed to changing the outdated and inequitable education system. Our revolutionary ESS is doing just that and this honor confirms that we are on our way to creating generational change as we further our mission of educational equity."
The GSV EdTech 150 list is comprised of the leading and most transformational, private companies in the Digital Learning space. These are the top 150 companies with the largest and fastest-growing global learning impact. The key factors for inclusion are:
VC or PE-backed private companies in Digital Learning, excluding companies that are public or have filed to be public.
Companies that are post Series A in their development with the exception of bootstrapped companies that have achieved meaningful scale with $10+ million in revenue.
Organic top line growth at over 30%
The selection is determined by GSV's internally developed scoring system that applies scores across several key performance indicators:
Revenue scale
Revenue growth
Active learner reach
International reach
Margin profile
For the full GSV EdTech 150 list, click here.