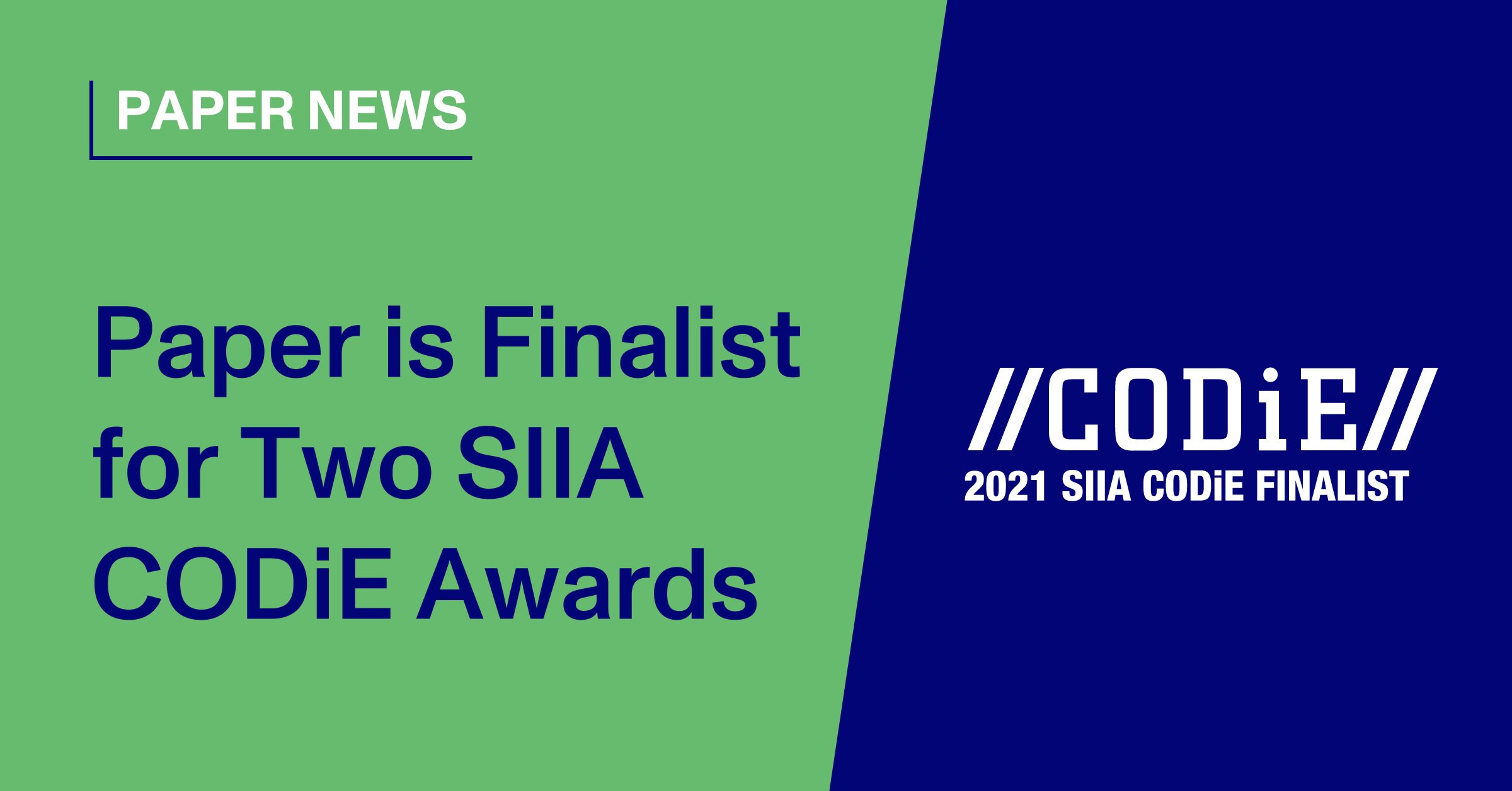 Paper Named Finalist for Two SIIA CODiE Awards
May 12, 2021
The company advances to the final round in two major categories: "Best Remote Learning Partner K-12/Higher Education" and the prestigious"Best Education Platform for PK-20"
Paper is proud to be recognized as a finalist in the "Best Remote Learning Partner K-12/Higher Education" and the "Best Education Platform for PK-20" categories by the CODiE Awards, presented by the Software and Information Industry Association (SIIA).
The "Best Remote Learning Partner K-12/High Education" award recognizes the best education technology product that supports remote learning in a post-COVID-19 world. Paper's educational support system (ESS) provides 24/7, virtual tutoring, positioning the company as leaders of remote, accessible academic support that is needed urgently now more than ever. By partnering with school districts, Paper offers personalized tutoring to all students in an equitable way. Over the last year, the number of students supported through our ESS grew 1500% as we rapidly scaled to meet growing demand.
According to one judge, "The support this solution offers to both teachers and students makes it a unique and truly remote learning partner that made a difference."
The "Best Education Platform for PK-20" is awarded to the best educational platform or solution for faculty, administration and students in grades PK-20. Through Paper's holistic approach, all stakeholders in the education ecosystem are supported: students have access to unlimited academic support, teachers gain teaching assistants and administrators can pinpoint areas where help is needed.
"This is a stand-out program in the field. I am not aware of anyone else offering anything comparative to school districts." - SIIA CODiE Awards judge.
"We are honored to be recognized by the prestigious SIIA CODiE Awards for our efforts to revolutionize the education system," said Philip Cutler, CEO and co-founder, Paper. "The Paper team has worked hard to create a product that spurs generational change within the education system and this honor reaffirms our commitment to helping all students unlock their potential."
The SIIA CODiE Awards are the industry's only peer-reviewed awards program. Finalists were selected by teams of expert judges and represent the most impactful initiatives from software, content, media, financial information and educational technology companies. Details about each finalist are listed at https://history.siia.net/codie/2021-Finalists.
About the SIIA CODiE™ Awards
The SIIA CODiE Awards is the only peer-reviewed program to showcase business and education technology's finest products and services. Since 1986, thousands of products, services and solutions have been recognized for achieving excellence. For more information, visit siia.net/CODiE.
About Software and Information Industry Association (SIIA)
SIIA is the only professional organization connecting more than 700 data, financial information, education technology, specialized content and publishing, and health technology companies. Our diverse members manage the global financial markets, develop software that solves today's challenges through technology, provide critical information that helps inform global businesses large and small, and innovate for better health care and personal wellness outcomes.