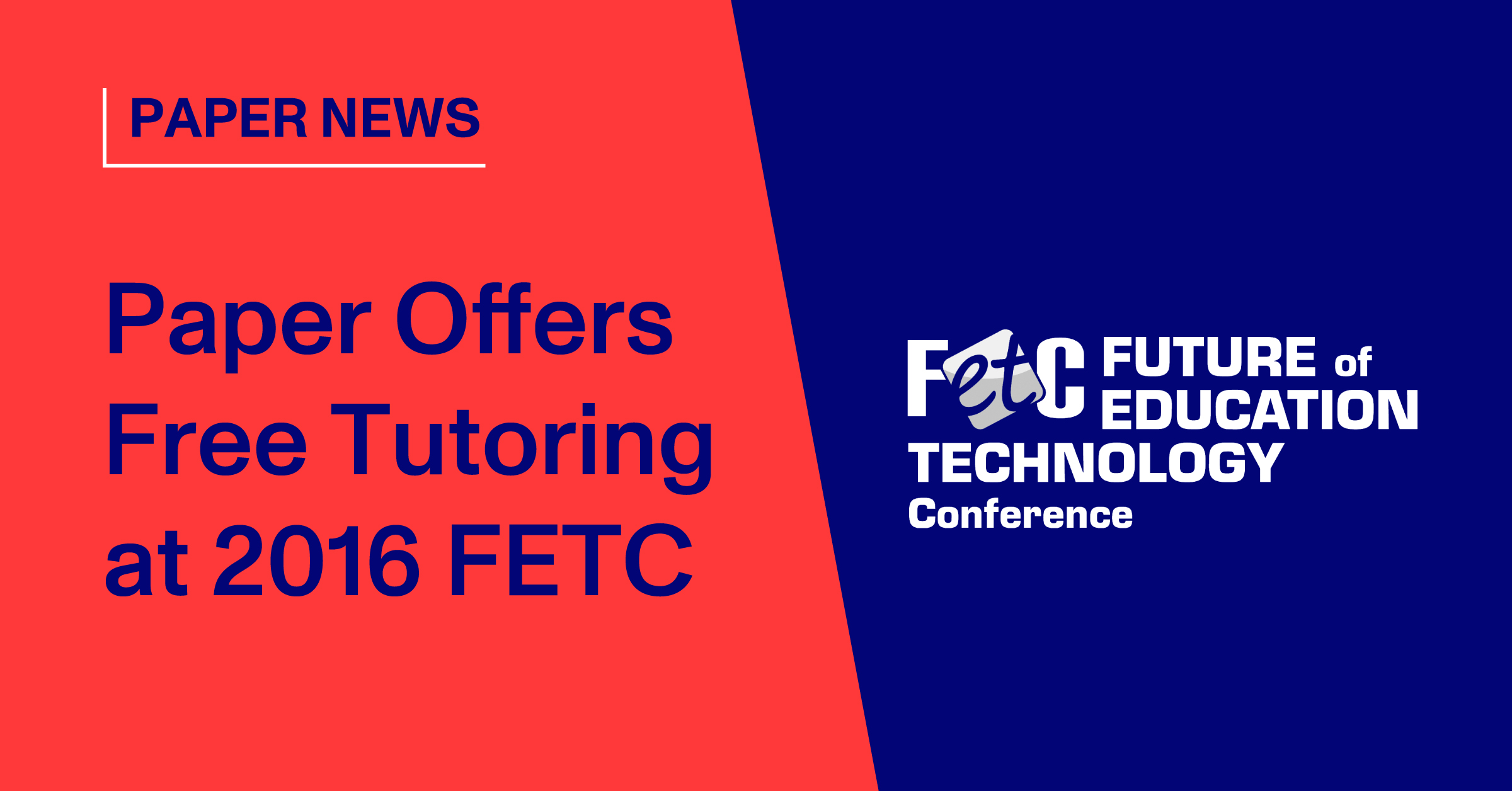 Paper Offers Free Tutoring to 2016 Future of EdTech Conference Attendees
January 13, 2016
Philip Cutler, founder and CEO of Paper, formerly known as GradeSlam, is one of the educational professionals in attendance at this year's Future of Ed-Tech Conference (FETC) held in Orlando, Florida. After entering and winning the pitch competition at this past year's 6th Annual Canadian EdTech Leadership Summit, GradeSlam was hand-picked to attend the FETC.
GradeSlam is an unlimited, on-demand tutoring service for all subjects and levels. Tutors are background checked, screened, and vetted to ensure only the highest overall quality educators become part of the GradeSlam team. As tutors are online 24/7, students can chat with a tutor anywhere, anytime. GradeSlam's simple, familiar chat-based interface is perfect for students of all levels.
Dubbed "the Netflix of Tutoring," GradeSlam has begun partnering with middle schools, high schools, and colleges across North America in an effort to make tutoring more accessible and affordable for all students. While the service operates at the low cost of $15 per month per student, GradeSlam offers its services at a discounted rate to the institutions it partners with.
GradeSlam is offering a special promotion at this year's conference. All FETC attendees will get free tutoring for their students for the remainder of the school year.
Of their decision to offer free tutoring to all FETC attendees, Cutler says it was a "no-brainer." He goes on to say, "FETC represents a community of educators, administrators and ed-techers who all have the students at the front of every decision they make. GradeSlam shares this vision and wants to give as many students as possible the opportunity to experience GradeSlam's 'Netflix of Tutoring' platform."
GradeSlam's booth will be set up all day from January 13-15 so be sure to stop by the Incubator Pavilion (#2005).
This year's Future of Ed-Tech Conference runs from January 12 - 15, 2016 and features an array of amazing speakers and workshops. The annual conference attracts over 8,500 education and technology leaders from across North America, allowing educators to see first-hand how technology can be integrated into the classroom.
If you are unable to stop by GradeSlam's booth (located in the Incubator Pavilion, #2005) at this year's conference but are interested in receiving free tutoring for your students please email GradeSlam's Director of Operations, Emily Southey at emily@gradeslam.org.
Paper is formerly GradeSlam. Read about the rebrand here.